Japan's beauty in spring is quite well-known. As the country bids close to the frigid winter weather, what comes in is one of its finest times of the year. Japan in spring gets blanketed in a comfortably temperate climate. And it's perfect for indulging in the many activities that the Japanese had to forgo the previous season!
Verdant foliage covers the rest of the country and beautiful flowers start to bloom. Spring is already everybody's favorite because it is cherry blossom season. However, there is more that Japan can offer than just that! Read on as we list down some of the compelling reasons you should set foot on Japanese shores this spring!
Beautiful cherry blossoms
Spring is a much anticipated time in Japan. It is, after all, the season when they can finally see the beautiful sakura in bloom. Locals and visitors alike look forward to seeing the breathtaking yet fleeting cherry blossoms across the country. The Japanese even have forecasts on when to anticipate the first blooms!
When the Sakura blooms, people come out in droves to anywhere in the country where there is a blooming cherry blossom tree. Throngs head to parks, mountainsides, riversides, shrines, temples, and streets to witness the delicately gorgeous flowers. You don't even need to get out of Tokyo to enjoy hanami. The capital has some of the best spots to enjoy flower viewing. Of course, the country's cultural capital, Kyoto has its list of favorite hanami spots as well.  
You do need to plan your trip accordingly if you intend to witness these fleeting blooms. Cherry blossom season usually lasts between late March to around early April. However, you'll find that different parts of the country may have cherry blossoms blooming later. Hokkaido's cherry blossoms bloom a month later than Tokyo's. Tohoku is also known for sakura blooming about 2-3 weeks later than Tokyo! Even Tokyo's own Shinjuku Gyoen National Garden is known for being a cherry blossom late viewing spot. It's famous for its Somei Yoshino trees which bloom later than other sakura varieties. If you plan things strategically, you can stretch your cherry blossom viewing experience!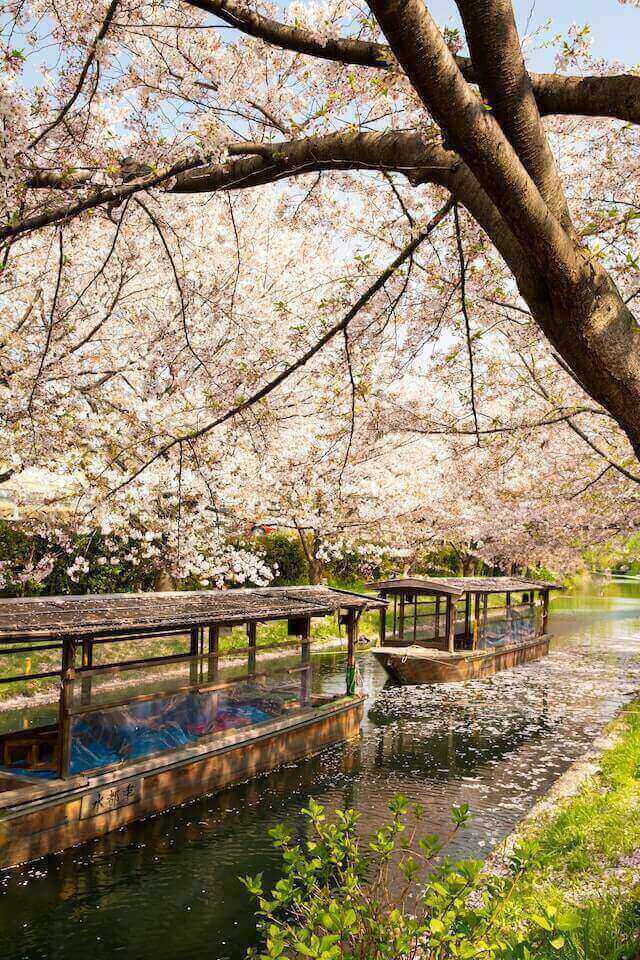 Park visits
With temperatures ranging from 17-22C, Japan in spring is perfect for spending time enjoying the outdoors. Tokyo is home to some of the best parks in the country and what better way to spend the fair weather than enjoying the views in some of the capital's well-kept parks!
Ueno Park is a popular option as it's one of the best spots in the capital to view the Sakura blooms in spring. It's also where Shinobazu Pond is located, which has its share of beautiful blooming cherry trees surrounding it. You can even rent out one of the boats in the area to go for a paddle as you take in the gorgeous natural scenery around you on a mild spring day.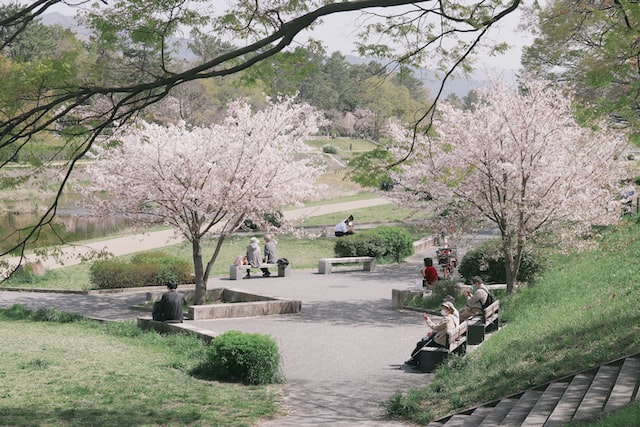 Yoyogi Park in Shibuya is also another local favorite. With its long stretches of open fields forested areas, and ponds — it's one of the capital's largest parks. Located right next to the Meiji Jingu Shrine, it's a bustling park usually filled with families on picnics, dancing, and a whole host of other activities. Spring is one of the best times of the year to enjoy the sun and nature in Japan. And spending the day in one of the many parks around the country is one of the best ways to enjoy the fair weather.
Enjoy more spring blooms
While cherry blossoms are undoubtedly the star of the season in Japan, spring is also a time when other flowers all across the country go in bloom. Many places across the country also hold their own flower festivals dedicated to these flowers. So, even when you miss the cherry blossom season, there are still plenty of other things to experience.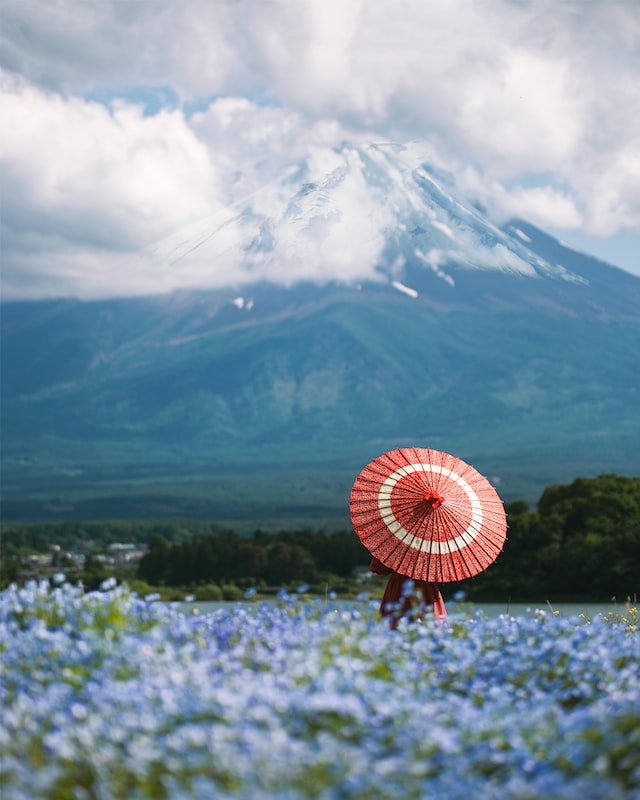 The crystal blue Nemophila flowers can be typically seen blooming in parks across the country. Ibaraki has a literal sea of these blooming flowers in spring. Shibazakura or moss phlox start blooming in April and pretty much for the rest of the spring season. There is even a Fuji Shibazakura festival at the iconic Mount Fuji which pays tribute to the beautiful flora.
If you don't want to have to travel far from Tokyo to experience a flower festival, just head over to Nezu Shrine. Particularly known for its tunnel of vermillion torii gates that closely resembles Kyoto's Fushimi Inari Shrine, it's also host to the Bunkyo Azalea Festival every spring. The celebration, which takes place right after the cherry blossom season, is dedicated to the varieties of azaleas in white, red, purple, and pink hues on its hillside garden every spring.  
Strawberry season
Spring in Japan also coincides with the country's strawberry harvest season. While historically Western, picking strawberries has become a popular pastime among the Japanese in more recent years. In the country, it's usual for people going on a trip to come home with omiyage for family and friends. And strawberries are among the most common choices for this.
Considered the country's quintessential spring fruit, many locals go on trips to some of the known picking fields across the country to experience harvesting the fruits firsthand. Most of these fields are only a few hours of train ride away from the capital, which makes for an ideal day trip or a weekend excursion.
Japan in spring is also the best time to try different varieties of the fruit! You'll even have more fun going through their whimsical names such as "Sweet King" or "Red Cheeks". Also, this is the time of the year when companies come out with limited-edition strawberry variants. So, expect tons of strawberry-flavored and themed products advertised everywhere. Many places will even offer strawberry-themed buffets!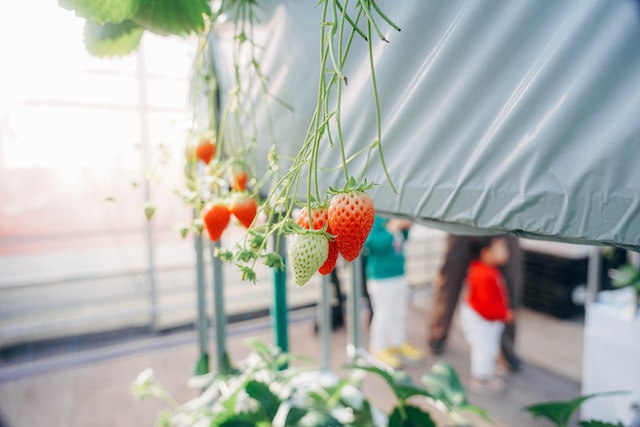 Kickstarting the festival season
As the land of matsuri, festivals in Japan take place all year round. However, spring is when the festival season gets started. While there are a few festivals that take place around autumn and winter, spring is when a good number of them take place. Add to that the mild weather and you see why people are just in the right mood to take part in the celebrations.
Taking part in Japanese festivals is a great way to experience Japanese culture up close and personal. In Tokyo, Kanda Myojin Shrine's Kanda Matsuri and Senso-ji Temple's Sanja Matsuri are among the biggest festivals. Kyoto, on the other hand, has the long-running Aoi Matsuri and the spring dance celebration Miyako Odori. Japanese festivals can be passionate and intense and fun and there's no better time to enjoy one than in spring.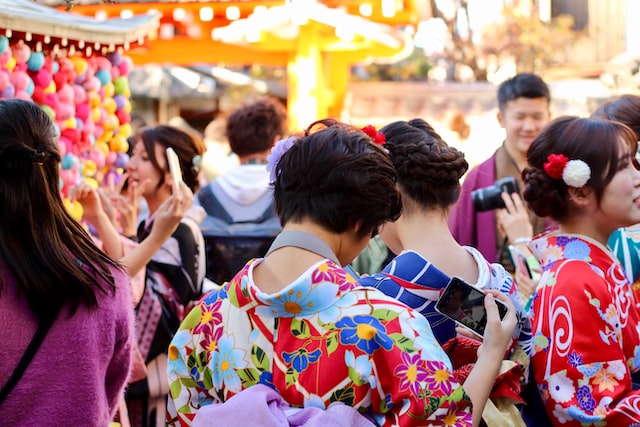 Spring skiing and onsen
While skiing is closely associated with the winter season, in Japan, many winter resorts and ski slopes stay open until spring, especially in Hokkaido. Nagano also has some ski resorts that stay open until late April to the first of May.
Many people who love winter sports tend to wait until the spring season to experience some snow sports because places can get crowded in the winter. In addition, winter sports prices can be quite expensive during peak season. So, if you want to skip the crowd and avoid the usually high winter prices, skiing in spring is your best bet.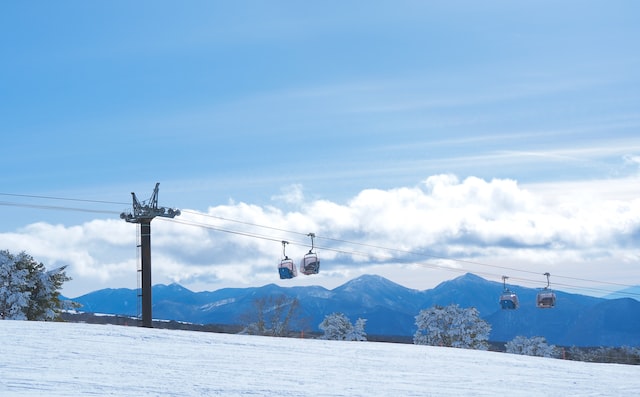 Most ski areas in the country are located close to an onsen or hot spring baths. If you want to make the most of your spring skiing holiday adventure, soaking in the mineral-rich healing onsen waters is the best way to end your day. It's a soothing and relaxing experience and after a day of intense outdoor activities, there is no better way to cap the night.
The perfect spring destination
While Japan is always a great place to visit, no matter the season, there are compelling reasons to visit the country in spring. From the breathtaking, fleeting beauty of cherry blossoms, vibrant festivities and cultural events to the pleasant weather, spring in Japan is one unique and unforgettable experience. If you're planning your next travel adventure, consider Japan in spring and get ready to immerse yourself in its natural beauty and cultural richness.