Nagano is a mountainous region known for its breathtaking scenery, onsen, and world-class ski resorts. It is also rich in history, culture, and spirituality, making it a must-visit destination for travelers seeking a unique and authentic Japanese experience. From skiing and snowboarding in winter to hiking and cycling in summer, there is something for everyone here. Read on as we will explore the top things to do in Nagano to make your visit unforgettable.
A little background
Nagano prefecture is located in the central part of Japan's main island, Honshu. It has a population of over 2 million people and its capital is Nagano City. The Prefecture is perhaps best known for hosting the 1998 Winter Olympics, which took place in several locations throughout the region. The games were instrumental in putting Nagano on the map as a world-class winter sports destination. Many of the Olympic venues are still popular tourist attractions today.
In addition to winter sports, it is also home to several famous temples and shrines, including Zenko-ji, one of Japan's oldest and most important Buddhist temples. It is also famous for its apples, soba noodles, and other culinary specialties. Nagano is easily accessible from Tokyo by train, making it a popular tourist destination. Visitors come to the prefecture to enjoy its natural beauty and outdoor activities.
Why visit Nagano?
Nagano is a beautiful place that offers a variety of activities and attractions, making it a great destination for tourists. Here are some reasons why you might want to visit Nagano:
Winter sports
Nagano is a popular destination for winter sports. It boasts many ski resorts and excellent snow conditions. It is also home to some of the best ski resorts in Japan, including Hakuba, Shiga Kogen, and Nozawa Onsen.
Natural beauty
Known for its stunning natural scenery, Nagano is where you'll find the Japanese Alps. It's also home to numerous hot springs, and beautiful parks and gardens. Visitors can enjoy hiking, cycling, and scenic drives through its mountains and valleys.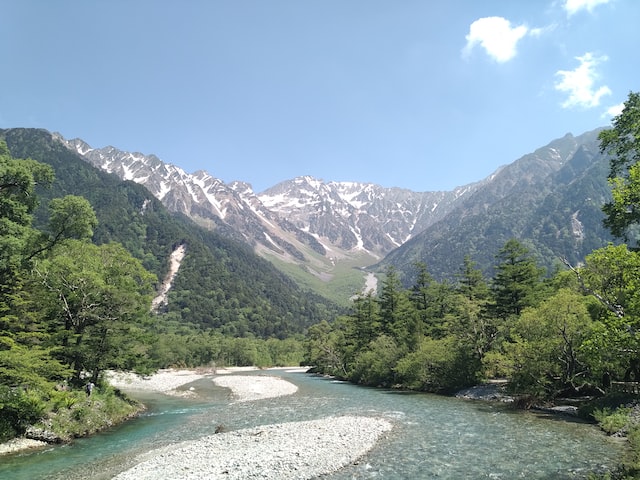 Historic temples and shrines
While Kyoto still tops the list of most historic shrines and temples, many religious sites can also be found in Nagano. This includes Zenko-ji, one of Japan's oldest and most important Buddhist temples. The prefecture also has several beautiful old towns and villages, such as Tsumago and Narai, that offer a glimpse into Japan's traditional way of life.
Cultural experiences
If you want to experience Japanese culture, Nagano is a great place to head to. It's home to the Nagano Prefectural Museum of Art and they even have a museum on ninjas. Visitors can also try local food specialties, such as soba noodles, apples, and sake.
Easy access from Tokyo
Nagano is easily accessible from Tokyo by train, with trips taking only approximately 3 hours long. This makes it a convenient destination for a day trip or weekend getaway.
Fun things to see and experience in Nagano
Nagano is a beautiful and culturally rich city that offers a wide range of activities for visitors. Whether you're a nature lover, a history buff, or a foodie, Nagano has plenty to offer.
Visit Matsumoto Castle
Matsumoto Castle is one of the most iconic and well-preserved castles in Japan. Unsurprisingly, it is a must-visit destination for anyone traveling to Nagano. Known as the "Crow Castle", it's most notable for its striking black exterior. This is in stark contrast to the all-white Osaka Castle in vibrant Osaka and the slat-covered Hiroshima Castle in historic Hiroshima.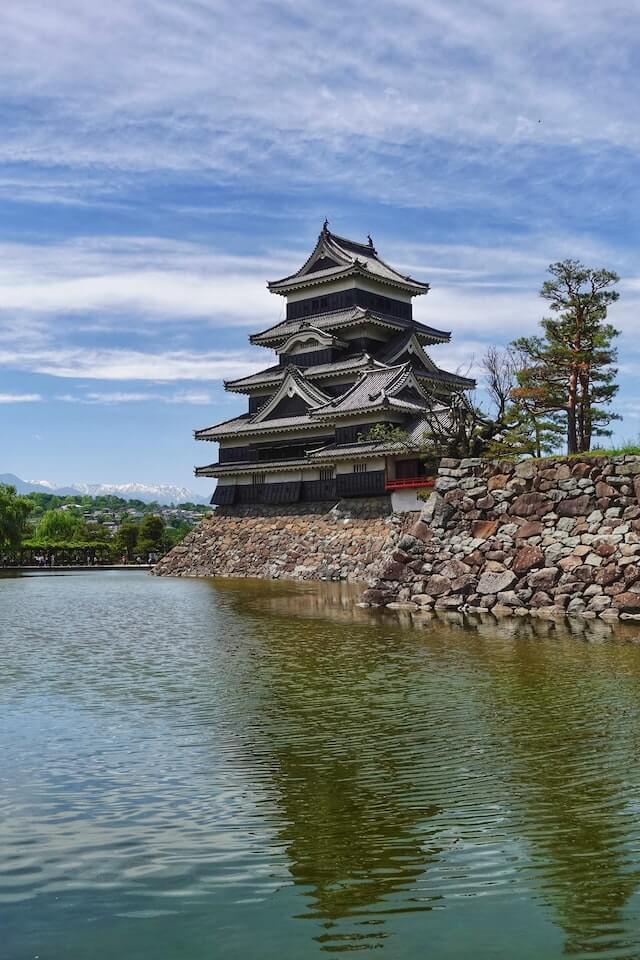 Built over 500 years ago, Matsumoto Castle served as a vital stronghold for many feudal lords throughout its history. Its unique architecture, a mix of soto and boro styles, is a testament to the advanced building techniques of its time.
Visitors can explore the castle's many levels, including its impressive collection of weapons and armor. The top floor offers stunning panoramic views of the surrounding mountains. It's a great place to learn about the castle's role in shaping Japan's history. A beautiful moat and park surround the castle, making it a peaceful popular spot for strolls.
Explore Kamikochi
Kamikochi is a breathtaking natural reserve that is one of the most beautiful mountainous regions in Japan. It's a stunning natural wonderland that features pristine rivers, towering mountains, and lush forests. The landscape is particularly striking during the autumn months when the trees turn brilliant shades of orange, red, and yellow.
The area is known for its extensive network of hiking trails. It caters to all skill levels, from easy walking paths to more challenging mountain treks. Some of the most popular trails include the Taisho Pond Trail, Kappa Bridge Trail, and Myojin Pond Trail. It is also home to a wide range of wildlife, including Japanese macaques, serows, and black bears.
Peaceful and serene, visitors can relax and unwind here, amid the beautiful natural surroundings. Nature lovers, hikers, and anyone who wants to disconnect for a bit from the rest of the world will love it here. It's a must-visit for those who want to experience the beauty of Japan's natural landscape.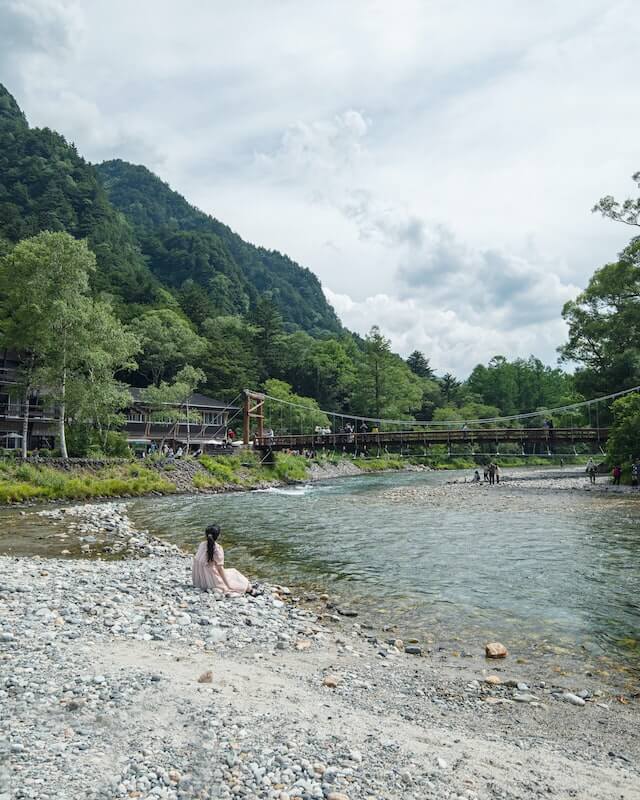 Check out Kagami Ike Pond
Kagami Ike Pond is a beautiful artificial reservoir, popular for its crystal-clear waters. The reflection of the surrounding Togakushi mountains in its still waters creates a mesmerizing mirror effect that is truly breathtaking. What's even more impressive is how the pond mirrors the changing seasons reflected in the foliage and trees of the mountain range surrounding it. Many visitors hike to the pond and enjoy a picnic on its shores while marveling at the serenity and beauty surrounding them.
Weather in the area is generally calm which leaves the pond waters undisturbed for many hours on end. As such, it effectively creates the mirror-like surface that it has since been known for. Fall is certainly one of the best times to come here and take in the view. The changing colors of the foliage in the background, mirrored in the water, make such a breathtaking effect.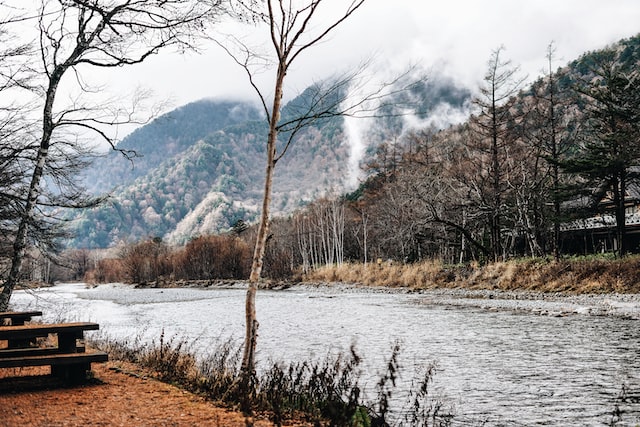 Nagano Prefectural Art Museum
The Nagano Prefectural Art Museum is a popular cultural attraction located in the heart of Nagano city. Only a short walk away from Zenko-ji Temple, it first opened in 1996. Formerly known as Nagano Prefectural Shinano Art Museum, it was renovated in 2020. When it opened its doors again in 2021 it was renamed Nagano Prefectural Art Museum.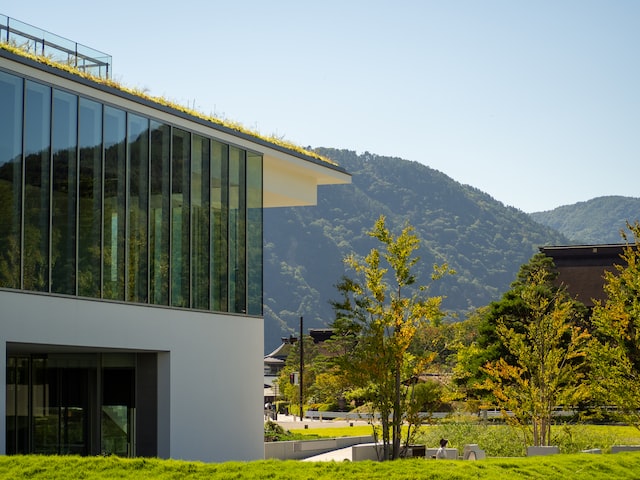 A prominent theme in the museum is "man and nature". This is easily reflected in the building's modern architecture along with its traditional Japanese landscaping. The theme pays homage to the beautiful landscapes that the region is known for. Many of the exhibitions here include paintings, photography, sculpture, animation, and videos from many famous Japanese artists. A good chunk of the works on display here are by artists hailing from the prefecture. It's a great place to see authentic pieces of Japanese art.
See the snow monkeys of Jigokudani
The snow monkeys of Jigokudani Yaen Koen offer a unique opportunity to observe wild Japanese macaques up close. Known for their ability to withstand extremely cold temperatures, the Japanese macaques can often be seen bathing in the park's natural hot springs during the winter months.
Observing these primates in their natural habitat is a unique and memorable experience that is sure to leave a lasting impression. It's a chance to see adorable wildlife with their creamy fur, pinkish faces, and human-like behavior as they enjoy a soak in the soothing hot waters.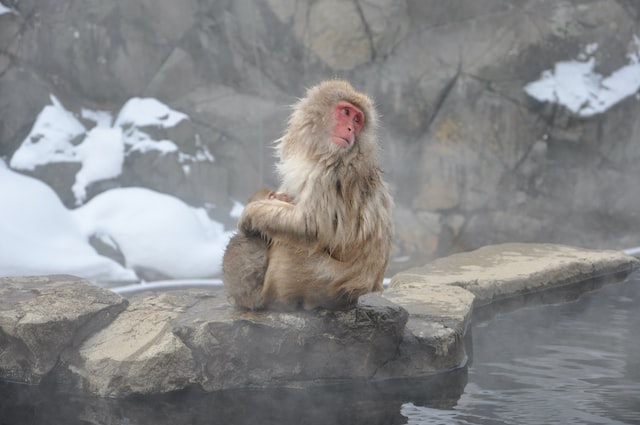 Snow monkeys hold a special place in Japanese culture. Visitors can learn more about the history and cultural significance of these creatures through the park's exhibits and informational materials. The park is also family-friendly, making it an ideal destination for visitors of all ages.
Have fun at Karuizawa
Karuizawa, located in the eastern part of Nagano, is a popular year-round destination known for its outdoor activities and scenic natural beauty. Situated in a picturesque location, Karuizawa has lush forests and the Japanese Alps surrounding it. It's an outdoor enthusiast's paradise, with a range of activities on offer throughout the year.
This high-altitude town is a favorite for skiing during the winter months. Since it is 1,000 meters above sea level, it is known for its cooler temperatures, especially during the summer months. As such, many locals come here to escape the sun. The forest surrounding the village is a popular spot for nature walks and bike trips. It is also close to Shiraito Waterfall— another must-visit spot for people wanting to cool down.
The mild slopes of the town are popular among skiers. It can get particularly swamped in the winter as even beginner skiers and inexperienced kids can join in on the fun. Fans of winter sports will certainly have a grand time enjoying the plethora of winter sports activities offered here.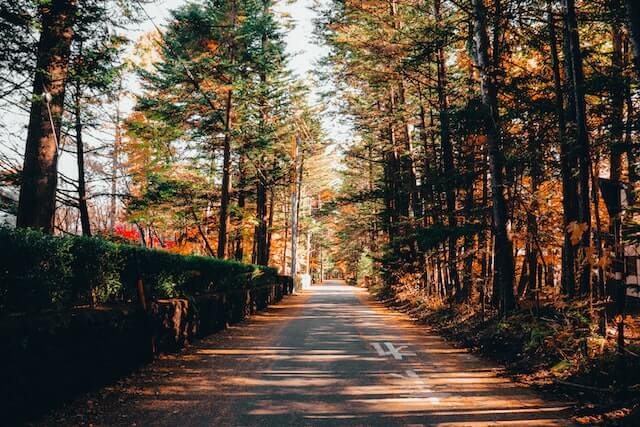 Reconnect with your spiritual self at Zenkoji Temple
Buddhism is a huge part of Japanese culture, especially in Nagano. A testament to this is the historic Zenkoji Temple. It is an important cultural site, home to some of Japan's most significant Buddhist artifacts. It's also home to the very first Buddhist statue to be brought to Japan.
The significance of Buddhism and the temple to Nagano is quite notable. In fact, the city is built around the temple — which is unique to Nagano itself. The temple's stunning architecture and artwork feature intricate carvings, murals, and statues that reflect the skill and craftsmanship of Japanese artisans.
A visit to Zenkoji Temple offers a unique opportunity to experience Japanese culture and traditions. Visitors can participate in traditional rituals and join in locating the hidden key in the underground passage. There's a prevailing belief that finding the key symbolizes the way to salvation.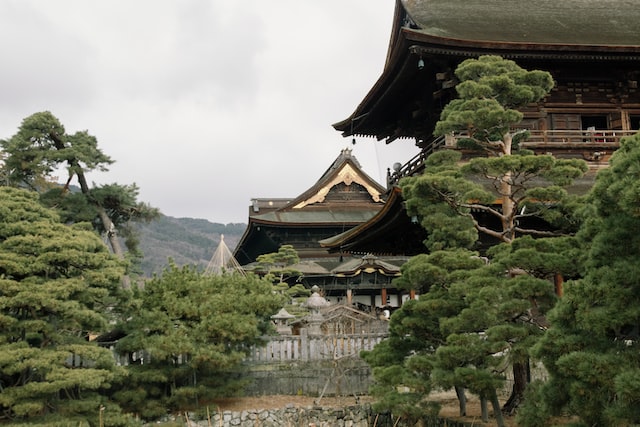 Visit the village of Naraijuku
Naraijuku is a quaint and charming old post town located in the Kiso Valley of Nagano Prefecture. It is known for being a preserved traditional Edo-era town. Many of its buildings and structures date back to the 17th and 18th centuries. Just like Kyoto's Gion district — popular for its geishas and traditional shops — walking through Naraijuku town is like stepping back in time.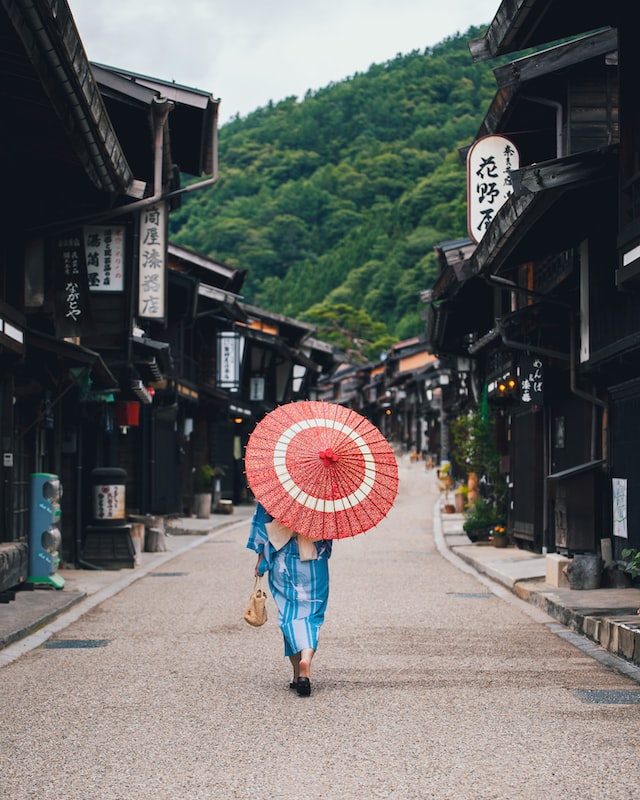 The town's buildings are designed in the traditional "machiya" style. The structures feature wooden lattices, white plaster walls, and sloping thatched roofs. The architectural design of the buildings is not only aesthetically pleasing but also provides visitors with a glimpse into Japan's rich history and cultural heritage.
Naraijuku is known for its delicious local cuisine, including soba noodles, a specialty of the Kiso Valley region. Visitors can enjoy traditional Japanese meals at local restaurants and cafes, as well as purchase local souvenirs and crafts. The town also hosts several cultural events throughout the year, including traditional festivals, crafts fairs, and live performances. These events provide visitors with an opportunity to experience Japanese culture and traditions firsthand.
Enjoy snow sports at Hakuba Goryu Iimori Resort
Hakuba Goryu Iimori Resort is a popular ski resort located in Nagano's Hakuba Valley. It is known for its consistent and high-quality snow conditions. With an average snowfall of around 11 meters, it's an ideal destination for skiers and snowboarders who enjoy the deep powder and challenging terrain.
The resort has a wide range of terrains to suit all levels of skiers and snowboarders — from beginner to advanced. Groomed runs for beginners are plenty, for novice skiers to learn the ropes and get used to the terrain. Challenging steep slopes are also available for the more experienced.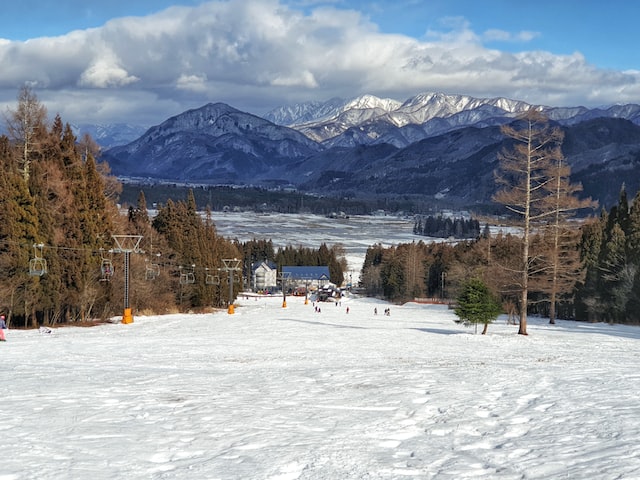 The resort has modern facilities and is an excellent destination for families. A dedicated family area and a snow park offer a range of activities for kids. Anyone looking to experience world-class skiing and snowboarding in a beautiful natural setting will love it here.
A scenic destination you must not miss
Nagano is a truly special destination offering visitors a chance to experience and immerse themselves in its scenic beauty and local culture. With its stunning landscapes, rich cultural heritage, and warm hospitality — whether you're exploring the mountainous terrain or visiting one of the many charming villages and towns — Nagano is a destination that is sure to leave a lasting impression.