No matter where you come from, there is one cuisine that brings together foodies from all around the world and across all generations: and that is ramen. Tokyo, Japan's capital, is well-known for its abundance of high-quality ramen restaurants. Each ramen shop you visit will be exceptional, with its own unique ingredients for toppings, noodles, and soup. Besides, every ramen shop has its distinct depth of flavor, making it a one-of-a-kind experience.
However, in a city full of many options, locating the top ramen restaurants in Tokyo may turn into a challenging and time-consuming task. So, if you are thinking of having a vacation in Tokyo and want to discover some delicious and authentic ramen, we got you covered. Here are ten ramen spots in Japan's capital that are sure to satisfy your ramen cravings!
#1. Gomaryu Ramen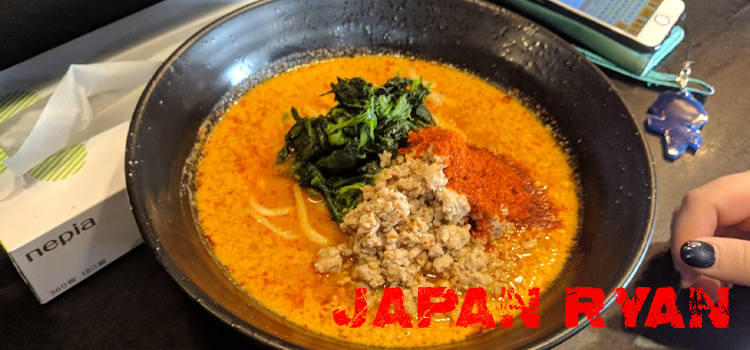 Gomaryu is my favorite Ramen shop in all of Tokyo, and this is amazing because there are only 3 of them. My favorite is right near Okubo/Shin-Okubo stations. They're known for their Tokyo spicy ramen.
The reason you should trust JapanRyan.com is because I have been all over Japan. These stories are not only second-hand information, but include a compilation of my experiences in Japan. I have cried and cried at Gomaryu Ramen Shop because of just how spicy and delicious the ramen is. No, I'm not weak, even a spice-eating champion would tear up at this delicious ramen. It is definitely one of the spiciest ramen shops in Japan.
Watch my friends and I eat spicy ramen in Japan.
Part of our 30 days in Japan Series.
#2. Soba House Konjiki Hototogisu
Soba House Konjiki Hototogisu is a widely and favorably known ramen shop that is not only well-regarded in Tokyo but throughout the world. The restaurant offers high-quality original ramen made with ingredients such as combining truffle oil and porcini mushrooms in a broth with an abundance of clams. Despite its rich flavor, the dish is simple to prepare and suitable for a broad spectrum of customers. Because of ramen's delectability, it attracts a long queue of diners.
Konjiki Hototogisu is acknowledged as one of Tokyo's finest ramen shops. Even though you may have to wait for almost an hour for a space, it is well worth the effort. The only restriction is that you may not take any photographs other than of your food while being in the shop. To pay for your meal, you must first obtain a ticket from the vending machine, which will then be delivered to your table. Further instructions or regulations to be observed in the establishment are written in both Japanese and English for the comfort of tourists and local diners.
#3. Ippudo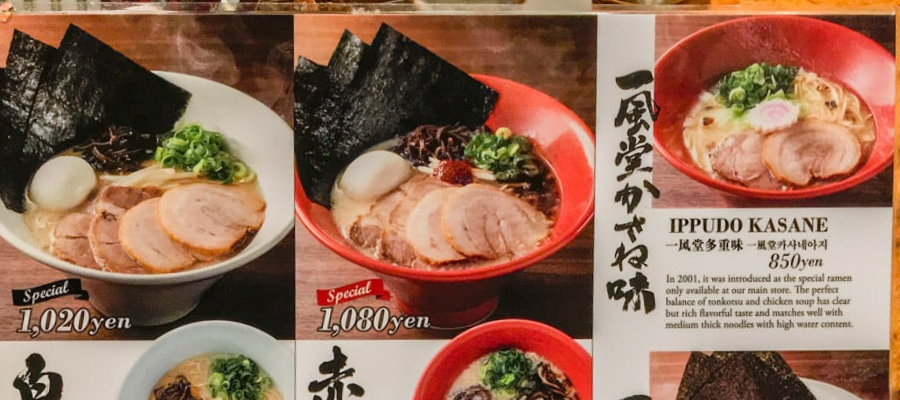 Tonkotsu Ramen is the most prominent variety of ramen in Japan, and Ippudo has had a remarkable impact on its spread. Ippudo Ebisu began as a modest ramen store in 1985, in an alleyway in Fukuoka Prefecture, and has since grown to over 280 locations in Japan. Ippudo's favorite menus, Shiromaru and Akamaru, are always in high demand.
Shiromaru Ramen, their classic pork Tonkotsu ramen, is known for its classic and mild flavor, whereas Akamaru has a hot miso flavor in the broth. If it's your first time dining in Ippudo, Shiromaru is a terrific opportunity to savor the purest Tonkotsu soup's authentic flavor. In contrast to other ramen shops that only have a counter, Ippudo has table seating which makes it easier to get lunch with a group.
#4. Ichiran Ramen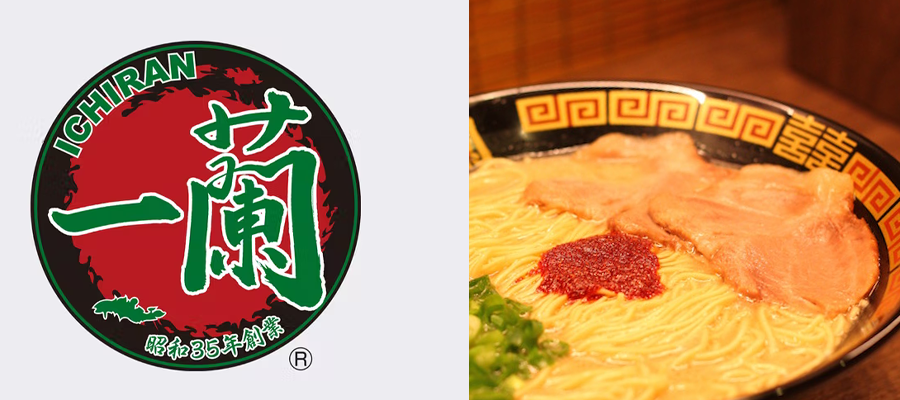 Ichiran Ramen is another notable ramen restaurant in Japan, with stores located everywhere in the country. Like Ippudo, Ichiran Ramen rose to prominence for its pig broth, known as Tonkotsu Ramen. Another striking feature of this establishment is the lack of human interaction. You place your order by machine, which is a standard system in most ramen shops.
Then they present you a sheet to fill out with your specifications, including how deep you want the soup to be and how tender you want the noodles should become. They are extremely welcoming to foreigners because they also provide English forms. Then you proceed to your small cubicle, which separates you from the person who sits next to you.
Ichiran has almost 70+ locations in Japan, and even has a location operating in New York.
#5. Ramen Hakata
One can feel the enthusiasm for ramen when reading a tagline that goes, "No Ramen, No Life." Because of its own name and surroundings, Ramen Hakata is regularly confused with other ramen establishments. Ramen Hakata is among Tokyo's distinguished ramen restaurants located near Oji station. Their specialties include tsukemen, miso, and tonkatsu. Their chashu tsukemen and spicy tonkatsu ramen are spectacular selections that most people love to order. Aside from that, they also give you the option of selecting one of three spice levels for your ramen. And wow, does the kick leave a mark on your tummy!
#6. Sosakumenkobo Nakiryu
Sosakumenkobo Nakiryu is one of only three ramen shops in Tokyo with a Michelin star, and it serves the cheapest Michelin-starred meals in the city. However, don't let the price deceive you. During the opening time, Nakiryu's scorching specialty tantanmen ramen generates hour-long lines and garners massive praises from everyone who experiences eating it. Alongside countless tantanmen variants, Nakiryu also provides a broad selection of sides and extras, from prawn wontons to slices of chashu and eggs.
Nakiryu is open for lunch and dinner, and, like many ramen joints in Tokyo, they do not cater reservations. Keep in mind that for you to secure a seat, you must wait outside of the ramen chain until a spot becomes accessible. The Nakiryu counter has no tables and only has ten seats, but because orders are only allowed to one bowl of ramen per guest, the line goes rapidly fast.
#7. Ramen Marutama
Marutama's ramen is famous for its chicken-based broth, in which the process includes cooking for approximately five hours to unveil the subtle flavors. The five-hour preparation time is necessary because the quality of Toripaitan soup is especially prone to color and flavor changes if the cook is not meticulous in processing the soup. In contrast to other forms of ramen, the chicken broth makes it specifically light and creamy.
Visitors can choose between mild and spicy flavors, along with adding extra gyoza, lemon wedges, and pork slices as a side dish. Another worth mentioning selection is the shop's Karashi ramen, which is simmered with smashed green chilies for a richer taste. In Japan, the pure milky white chicken-based soup and Karashi ramen keep on captivating and winning over the hearts of all ramen lovers out there.
#8. Afuri Ramen
Upon arriving in Japan, you will notice a plethora of BBQ places everywhere and chicken skewers on street corners, and you will realize that Tokyo isn't precisely a meat-free wonderland. Nevertheless, unlike the rest of the country, the capital is steadily coming around to the notion of non-animal product-based cuisine, and one of them is Afuri Ramen.
Afuri Ramen is a shop that takes pride in serving ramen topped with organic, seasonal ingredients and free of preservatives, artificial flavors, and colors. It should come as no surprise that this health-conscious restaurant is among those in town to feature a vegan option on its menu. With a sizzling, delectable bowl of vegetable soup and wheat noodles topped with fresh veggies, you won't be missing the meat with this savory bowl of noodles.
#9. Chuka Soba Tomita Ramen
We all know that Tokyo is a ramen battleground, with far too many remarkable ramen places crammed into a small area. Among all the ramen chains mentioned so far, Chuka Soba Tomita is unanimously regarded by noodle lovers as the no. 1 ramen shop in Tokyo. Tomita also received the Tokyo Ramen of the Year main prize for four years in a row, as well as winning several ramen tournaments.
After securing a seat, two primary dishes will compete for your attention: tsukesoba and chuka soba. The chief attraction here is the tsukesoba, which is their rendition of tsukemen dipping noodles, and it will undoubtedly surprise you. You can also choose from a multitude of meat toppings and noodle quantities. Once you taste the deliciousness of this bowl, you will understand why they pick Tomita Ramen as Japan's best ramen to exist.
#10. Mugi to Olive
Mugi to Olive is a charming cafe-style Ramen diner in Ginza, one of Tokyo's most competitive Ramen districts. If this is your first visit, get one of their Shoyu soups. There are three varieties to choose from, and we especially enjoy their niboshi and the one prepared with hamaguri clams. The chicken ramen is surprisingly tasty, and if you want it, they can also bring you triple soba ramen.
Teigaku from Kyoto is the noodle provider, and if you ever desire a premium ramen experience, Teigaku is the place to go as they will never disappoint you. One of the best aspects about Mugi to Olive is that as you get close to finishing your bowl of ramen, you can adjust the flavor profile by adding a big drop of olive oil. Isn't that brilliant?
#11. Ginza Kagari
Ginza Kagari Honten is one of Tokyo's few easily overlooked ramen places. If you are in Ginza and searching for the perfect ramen in Tokyo, this is the place to go. The Tori Paitan Soba, a kind of Chicken Ramen with egg, has become the restaurant's main course ever since its new launch. Their paitan bowl also comes in several varieties. They offer two types of shoyu: one that has a stronger flavor and is on the dark side, and another that is creamy and includes a white truffle, which the restaurant term as the deluxe variation.
Where to Find Good Ramen in Tokyo
Today, there seem to be thousands of ramen establishments, with new restaurants opening every year in Tokyo or even the whole country. Their trendy soups and popularity ranking are also constantly shifting. In Japan's ever-changing ramen world, we have created a list of the top ten exceptional ramen shops that are easily accessible that ramen enthusiasts will surely love. So, if you are in Japan, visit one or all of these ramen spots to feed your ramen cravings.