Have you finally decided to get away from the big cities of Tokyo and Osaka and come for some island rest and relaxation? Okinawa is a wonderful place for that.
What to do in Okinawa
Visit the Beach
Okinawa beaches are known for incredible and pretty white sand, crystal clear water and coral reefs, and they can be enjoyed through the year thanks to the subtropical climate a consistently nice temperature. Note that the white sand is not as soft as you might expect, because it is made from dead coral. There are hundreds of beaches on the largest Okinawa Main Island as well as remote islands with a plenty of beach activities and the world-class beach resorts. In addition, the scenery is rich in its own natural beauty that people are able to visit any time of the year regardless of season. You might also like: Okinawa Prefectural Museum of Art. The history of Okinawa dates back more than 3,000 years ago, and it was called "the land of Ryukyu Kingdom" since ancient times. Due to its long culture and natural beauty, many historical sites have been built in this region throughout the long history of Japan – from the ruins of Jodoshan (the first capital) built by Iyo Province during Kofun period, temples and shrines, Shuri Castle (the capital of Okinawa), and shrines and Buddhist statues of Naha City and other cities including Uruma, Mihama and Iriomotejima etc.
Visit the Okinawa Peace Memorial Park
One of the most cruel battles during World War Ⅱ , the Battle of Okinawa occurred on Okinawa's main island, causing a few hundred thousands deaths and massive destruction. The initial invasion of Okinawa on 1 April 1945 was the largest water assault in the Pacific Theater of World War II. The result was an allied victory. The peace park, promoting peace and remembering the terror of war, is located in Itoman City at the southern tip of the main island. There are several more monuments within the area relating to the war memorial such as Peace Memorial Museum and Himeyuri Monument.
Visit Cape Manzamo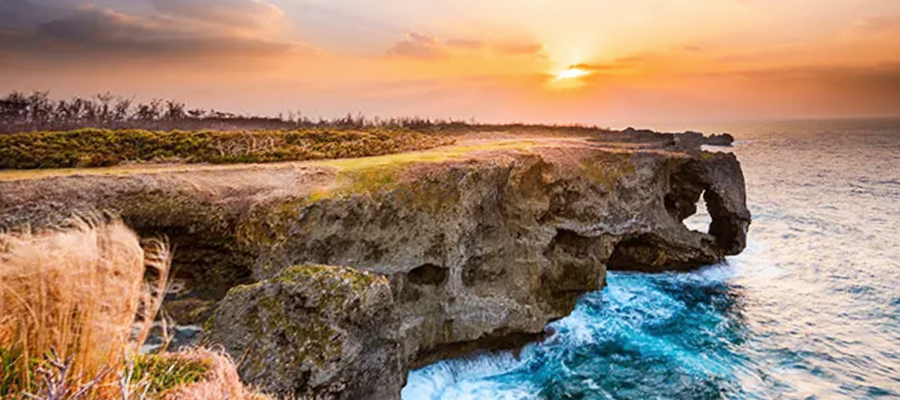 Sitting right near Onna Village, near the hotel we stayed at, you will find a beautiful and scenic site. Many tourists visit Cape Manzamo to see this rocky cliff overlooking the sea, which really comes alive with beauty during sunset. Cape Manzamo is also a great destination for scuba diving thanks to the beautiful and clear water.
Manzamo is also called Elephant Rock because, well, look at it. It looks like an elephant. Under the water the sea here is known for beautiful cravesses, tunnels, and deep walls, but also sharks and coral and critters.
Places to sleep in Okinawa.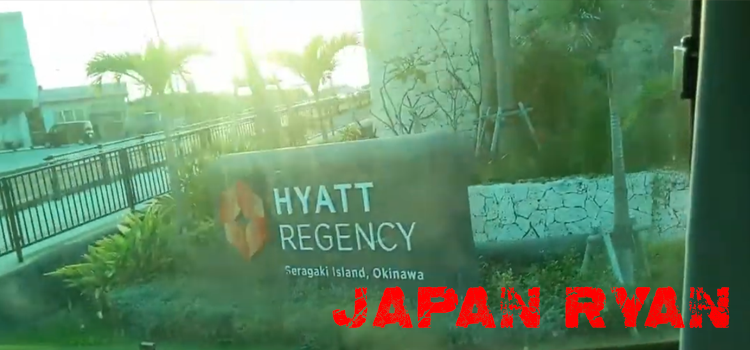 We slept at the Hyatt Regency Seragaki Island. This hotel is a unique one-of-a-kind resort on its own semi-private island. The land bridge connecting it to the rest of the island is pretty small and convenient, but it does give the impression of visiting your own island paradise.
Ryukans are another great option for visiting the island. A Ryukan is a hotel that is similar to a bed and breakfast, often managed by a lineage of friendly Japanese grandmothers (at least, based on my experience).
Okinawa is also home to a large number of top-class hotels and resorts, mostly located on the seaside of the main island. You can enjoy a luxurious vacation with first-class amenities at these various accomodations.
Video from Okinawa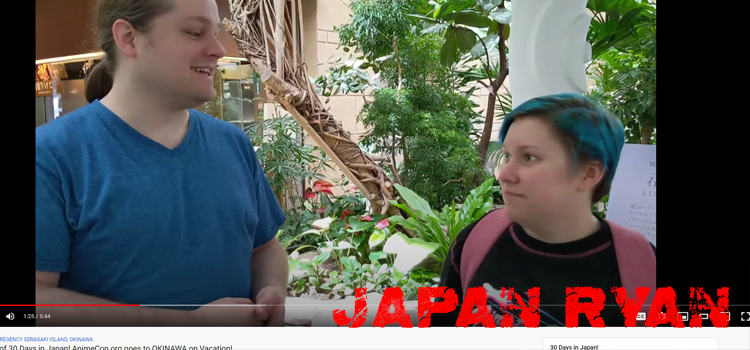 You can watch our 30 days in Japan series or you can even watch this video of me underwater diving! You can hear whale songs in the video.