Not all of us love playing sports, especially ball sports where the ball would always coincidentally hits your head or your face. However, we like watching sports game because it gives us thrill and entertainment. Fortunately, there are anime series that are about sports. This kind of anime is like giving us specific details of living like an athlete, playing sports, and pursuing dreams. Below are some of the famous sports anime that gives us entertainment.
Slam Dunk (1993)
Genre: Comedy, Sports, Drama, School, Shounen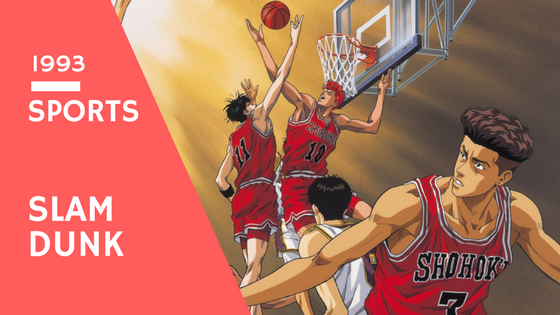 The legendary Slam Dunk is one of the famous anime in my childhood years. It portrays the hilarious adventure of a student who didn't like basketball. It is a comedic story of teamwork and passion of players in the sports they love.
Hanamichi Sakuragi, a student with a massive height and a fire-read hair, enrolls in Shohoku High with hopes that he can finally get a girlfriend. He wants to break his records of being rejected 50 consecutive times in middle school. Because of his temper and notoriety, he is being avoided by most students. After several events in school, he hates basketball. However, he meets Haruko Akagi. Haruko asks him if he likes basketball. Since Hanamichi immediately falls in love with Haruko, Hanamichi says he likes basketball. Haruko then leads him to the gym and asks if he could slam dunk. After a failed slum dunk, Haruko informs the basketball's team captain of Hanamichi's physical capabilities. Hanamichi then is slowly drawn into the sports he once resented.
Prince of Tennis (2001)
Genre: Action, Comedy, School, Shounen, Sports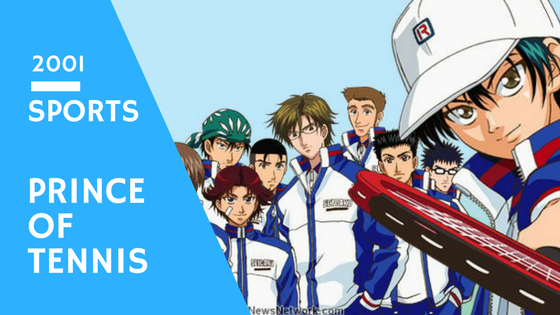 Prince of Tennis follows the adventure of Ryouma Echizen, a young from the West. His sudden arrival makes the Seishin Gakuen Junior High School, commonly known as Seigaku, even stronger. Ryouma is very determined to escape from the towering shadow of his legendary father and to prove himself that he can become one of the best tennis players in the country.
Prince of Tennis is an inspiring anime that shows one should work hard to pursue one's dreams. Pursuing one's dreams does not mean being self-centered and selfish, it also means bringing other people with you as you reach your dreams. This is about passion, teamwork, and pursuing one's dreams.
Kuroko no Basket (2012)
Genre: Comedy, School, Shounen, Sports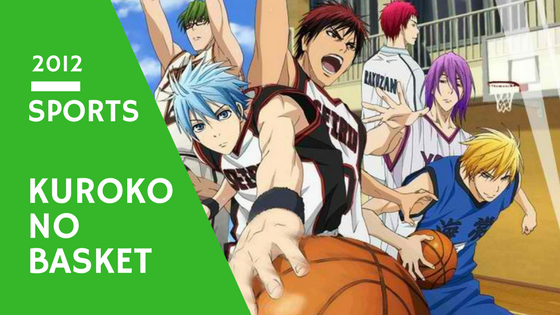 Like Slam Dunk, Kuroko no Basket is an anime series about athletes of one of the famous team sport, basketball. Unlike Slam Dunk, Kuroko no Basket has a light comedy incorporated in the series and each character has innate powers that are to be discovered. It is one of the anime series that I was hooked on because of the non-athletic physical features of Kuroko.
The anime is all about the journey of Seirin High School Basketball team to become the best Japanese high school team. The team has recruited freshmen students who have capabilities that are extraordinary for a basketball player. These are Taiga Kagami, a promising player from U.S, and Tetsuya Kuroko, an ordinary-looking student. Although Kuroko has non-athletic physical features who seems weak and lacks presence in court, his lack of presence allows him to move around unnoticed in the court. He was labeled as the "Phantom Sixth Man" of Teiko's basketball team during his junior high school.
To reach Seirin's goal of becoming the best Japanese high school team, Seirin would have to cross pathways with several strong teams. Some of these teams have one of the five players who are basketball prodigies who were known as "The Generation of Miracles", teammates of Kuroko from the Teiko's basketball team.
Free! (2013)
Genre: Slice of Life, Comedy, Sports, School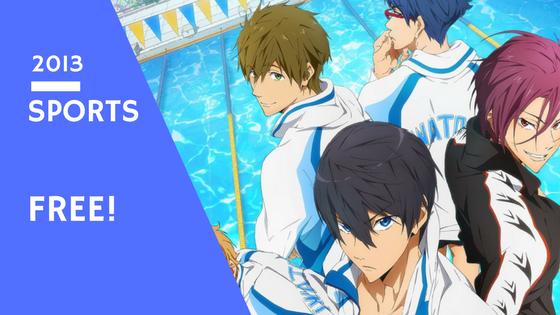 Free is an anime about people passionate about their swimming. It does not only portray pursuing what one is passionate about but also friendship. The anime greatly incorporated humor and lessons in life.
Haruka Nanase loves water and is passionate in swimming. He was reunited with his childhood friends, Rin Matsuoka, Nagisa Hazuki, and Makoto Tachibana in high school. However, Rin attends a different school and he cares less about returning their friendship as it was before. Rin even wants to prove that he is a better swimmer than Haruka. After that bitter reunion, Haruka, Nagisa, and Makoto decide to form the Iwatobi High School Swim Club. Unfortunately, they lack a fourth member so that they can take part in the upcoming tournament. Nagisa then recruits the former member of the track team, Rei Ryuugazaki. As the competition grows nearer, Haruka, Nagisa, Makoto, and Rei develop become much closer to each other. They train hard to reach on top and settle things between Haruka and Rin.
Haikyuu!! (2014)
Genre: Comedy, Sports, Drama, School, Shounen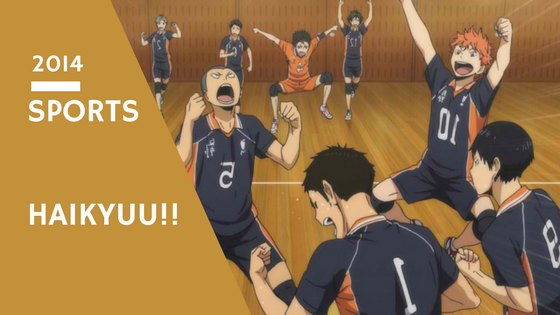 An anime about volleyball, Haikyuu is a comedic anime that shows teamwork despite the rivalry between team members. It portrays teamwork, hard work, and perseverance in reaching one's goal.
After watching a volleyball game on the television, the small Shouyou Hinata was inspired by the volleyball ace nicknamed "Little Giant". He revives the volleyball club at his middle school, but his team was squashed by the "King of the Court", Tobio Kageyama. After that, he vows to surpass Kageyama. After graduating from middle school, he joins Karasuno's High School's volleyball team. Unexpectedly, his sworn rival, Kageyama, is now his teammates.
Hinata struggles to find his role in the team because of his short height. Meanwhile, Kageyama struggles with his own problems that only Hinata can help with. As the show progresses, the rivals learn to work together for the team to be successful.
Yuri!! on Ice (2016)
Genre: Comedy, Sports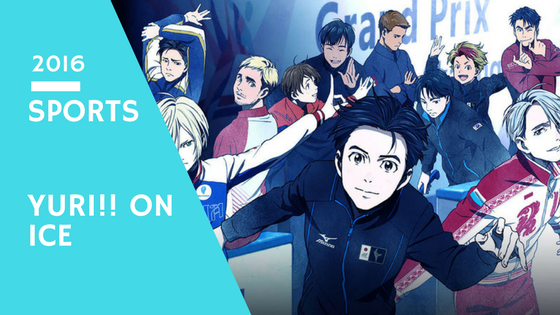 One of the interesting anime I have ever watched because it is about figure skating. It involves second chances in the field one dreams. It demonstrates standing up after falling down and never giving up on one's dreams.
After a crushing defeat at the Grand Prix Finale, Yuuri Katsuki returns to his hometown to assess his future. Yuuri was once Japan's most promising figure skater. At the age of 23, his doors for figure skating are closing rapidly. Not until his video performing a routine previously executed by the five-time world champion, Victor Nikiforov, become viral. After his video gone viral, Yuuri found himself again in the spotlight. Even his idol, Victor himself, offers to be his mentor. Yuuri eagerly accepts Victor's offer and is determined to make it back onto the world stage.
So far, these were the anime series about sports that I really like. How about you? What anime series about sports do you like and recommend?