Do you like anime? Have you heard about anime conventions? These are awesome experiences where you can come cosplay and have fun with thousands of people that like anime and video games.
The website UpcomingCons.com has the most reviews of anime conventions anywhere in the world in my opinion.
AnimeCon.org's conventions are incredibly well run and fun, but of course that's just my humble opinion. Go get tickets for the next convention closest to you and you will join thousands of anime fans for a fun weekend. Nothing can be more awesome than a weekend filled with anime and cosplaying!
What are anime conventions?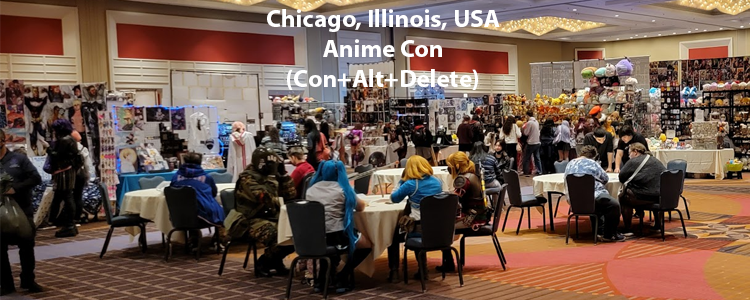 Anime conventions are gatherings of people who like anime. They typically take place inside of a hotel or convention center, however they have also been known to take place in less conventional locations including fairgrounds and malls. Smaller conventions have also taken place at libraries when they are organized by library staff.
At these conventions the attendees will typically dress up in cosplay costumes and talk about their favorite anime. Usually activities are provided including video games, board games, and sometimes even concerts. At larger conventions with hundreds or even thousands of people attending, many more events are expected including large rock band concerts with famous Japanese artists as well as autograph signings with guests from the industry.
These events may also have other things like maid cafes and places to try Japanese foods.
A main staple of anime cons has always been the exhibit hall or vendors room, where the attendees can shop and purchase anime merchandise and goods. Often even small conventions can have these rooms, but usually at smaller events the focus is more on independent artists.
What is Cosplay?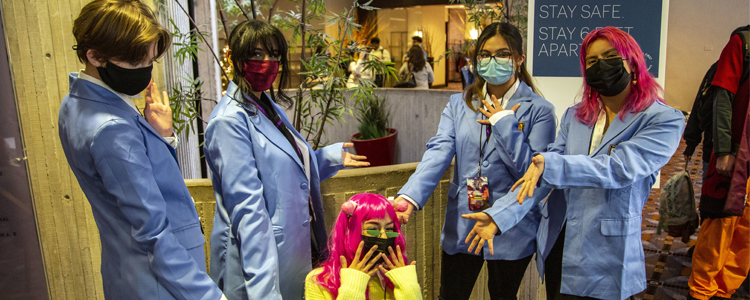 Cosplay is possibly the most important part of anime conventions! Cosplaying is the art of costumed roleplaying – but that's such a technical description for something so fun.
Dress up like your favorite characters and act like that character too!
If you are into an anime and you love the characters you can dress like those characters and it's perfectly normal and acceptable to do so at conventions! In fact at Ryan's anime conventions nearly 50% of all attendees will cosplay all weekend long, and almost 75% bring at least some kind of costume. Even the people who don't bring a costume will usually wear their favorite nerdy T-shirt.
Many cosplayers spend hundreds of hours working on their cosplay costumes by styling wigs, selecting fabrics, sewing costumes, and hand-crafting weapons and props. There are master class craftsman who participate in cosplay and who even compete in costume contest events. They spend all their free time working on costumes and compete on stage to have the best costume and the most entertaining performance.
But don't worry: You don't have to make your own costume!
Most hobbyists will simply purchase a costume or have a friend make their costume, or they may take off-the-shelf items and combine them in a way that creates their costume. Perhaps just some hot-glue and buttons can be enough to transform some normal clothes into a fun costume. No one will judge your level of skill as long as you are having fun.
The first time you attend a convention can be an overwhelming experience with so many things to do and see! Adding making a costume to the list can be daunting, so you can even just order one on Amazon.
Shopping in Anime Con Dealer Rooms
Shopping is a part of the anime convention experience as well. Whether you want a body pillow of your favorite Tsundere character or you just want some Pokémon plushies, anime conventions are the place to find them. Vendor rooms often include between 20 and 100 different vendors selling all the anime merchandise your heart could desire.
Tips for Anime Conventions
My biggest tip for attending any convention is to properly plan out your day to get the most of your experience. Make a list of panels you want to attend. Panels are what the sessions at the convention are called. For example there may be a panel called "Top 10 best anime openings" and the host will play and discuss their favorite anime openings in the panel. Many panels are far more exciting and include original content.
The schedule at most conventions is usually jam-packed, so you need to choose about 5 or 6 key events each day you want to do. But don't forget to schedule time to take a shower, rest your legs, and eat a few meals throughout the day. Proper planning is essential when attending any convention, and it's important to keep in mind that the convention experience is not just about attending panels and events. One of the most exciting aspects of any convention is the chance to connect with other like-minded fans and to explore the vendor and artist booths.
Be sure to budget time in your schedule to visit the vendor and artist booths, where you can find unique and often one-of-a-kind merchandise, such as cosplay accessories, figurines, and artwork. This is also a great opportunity to meet and chat with other fans, swap cosplay tips, and discover new fandoms and interests.
In addition to panels, vendor booths, and socializing, one aspect of conventions that you should not miss out on is the live concerts and performances. Many conventions feature musical acts, ranging from well-known J-Pop and J-Rock artists to up-and-coming indie acts. For example, Anime Midwest has featured acts including Ladybeard from Japan as well as "Anisong" (anime song) musicians. Live concerts at conventions are a unique and exciting way to experience Japanese music and culture, and are often a highlight of the convention, as these performers usually can't be found outside of these anime cons. These concerts often feature high-energy performances, colorful costumes, and interactive elements that are sure to get the audience dancing and singing along.
Additionally, it's important to remember that conventions can be overwhelming and exhausting, both physically and mentally. Be sure to schedule some downtime each day to rest and recharge, whether that means taking a quick nap in a quiet corner or finding a cozy spot to read or catch up on your favorite anime or manga. With proper planning and pacing, you can have an amazing and unforgettable convention experience that will leave you with memories to last a lifetime.
Anime Conventions that I recommend.
Professionally my job involves organizing anime conventions. These are all events that I run myself. Anime conventions are a great way to connect with other fans, discover new fandoms, and immerse yourself in the world of Japanese pop culture. There are many great anime conventions across the United States, but the best four conventions that I highly recommend are Anime Midwest, Kanpai!Con, Anime-ZAP!, and AniMinneapolis.
Anime Midwest is an annual convention that takes place in Chicago and offers a wide range of events and activities, including panels, concerts, gaming tournaments, and cosplay contests. The convention also features a large vendor hall, where attendees can shop for anime merchandise, and an artist alley, where they can meet and purchase artwork from talented artists.
Kanpai!Con is another great anime convention that takes place in Omaha, Nebraska. The convention features a range of events and activities, such as panels, screenings, gaming tournaments, and cosplay contests. It also offers a vendor hall and artist alley, as well as a ConSweet that has unlimited free instant ramen noodles.
Anime-ZAP! is a three-day convention that takes place in Peoria, Illinois, and offers a range of events and activities, such as panels, concerts, gaming tournaments, and cosplay contests. The convention also features a vendor hall and artist alley, as well as a maid cafe and a dance party.
AniMinneapolis is a large anime convention that takes place in Minneapolis, Minnesota, and offers a wide range of events and activities, such as panels, concerts, gaming tournaments, and cosplay contests. The convention also features a large vendor hall, artist alley, and autograph area, as well as a variety of unique events, such as a masquerade ball and a massive ConSweet with Karaoke and a Maid Cafe too.
Overall, these four conventions offer a unique and unforgettable anime convention experience that is sure to delight fans of all ages and interests. I chose these four in part thanks to their diversity of location, and someone from the Midwest might be able to attend all four of them. From the exciting panels and events, including live music concerts, comedy shows, and performances, to the bustling vendor halls and artist alleys, these conventions are a must-visit for anyone who loves anime and Japanese pop culture.