You've arrived in Tokyo and are eager to get out and tour around. One thing you must not miss is visiting one of the city's most vibrant neighborhoods: Shibuya. There are a variety of things to see and do in Shibuya. To help you narrow down your options, here is a list of the top 15 places you should never miss.
1. Shibuya Crossing
Walking on the busy crossing of Shibuya is something you shouldn't miss. Shibuya Crossing has been seen in so many films that it's only inevitable that many of us connect Tokyo with it. Shibuya crossing at night looks like something from a sci-fi film with its feel, hues, and flawless motion.
At peak traffic, it's not rare for 2500 individuals to cross the street each time the signals turn green. Almost a quarter of a million individuals are using this crossing every day. Everybody seemed to know exactly how and when to cross and where to move to prevent collisions.
2. Hachiko Statue
The "Shibuya-Hachiko" is a popular meeting place for the locals. "Hachiko," the devoted dog that waited for his master to return in front of the Shibuya station for ten years. He had no idea his master had died. Every day, many individuals wait for someone to meet them there. The tourist information media take up this position in their publications. It's also a popular picture location.
It will take you a minute to walk from the Shibuya station's Hachiko exit. Countless people may be seen standing and waiting for somebody to meet them from early evening till late at night.
3. Meiji Jingu Shrine
Meiji Jingu Shrine and the surrounding Yoyogi Park, located immediately outside the JR Yamanote Line's famous Harajuku Station, provide a huge wooded space amid the highly built-up metropolis. The expansive shrine grounds include strolling routes ideal for a stroll.
It features a museum with artifacts from the shrine's collections, featuring valuable prized possessions of the emperor and empress, as well as the carriage for which the emperor journeyed to the official announcement of the Meiji Constitution in 1889.
The Inner Garden takes up a big portion of the southern half of the shrine grounds. However, you'll need to pay an entry charge to access this part of the shrine. Whenever the irises bloom, which takes place in the middle of June, the garden becomes crowded.
5. Shibuya Night Life / Shibuya Meltdown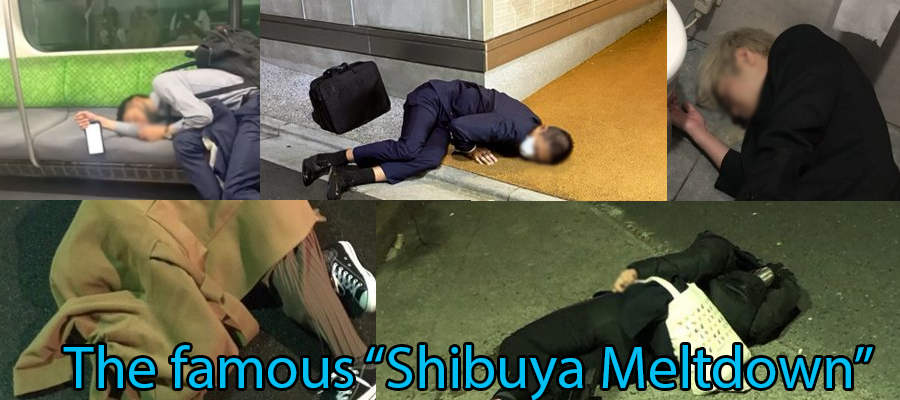 Onto a much more irreverent subject, let me introduce the Shibuya Meltdown.
Shibuya has a rocking night life scene filled with partying. People work hard during the day and then come out to the various nightclubs and bars in Shibuya and just end up absolutely wrecked by the end of the night!
If you've never heard of Shibuya Meltdown, this Instagram and Twitter account shows you exactly what you might see late at night in Shibuya. Salarymen passed out in the street. Drunks stumbling home. Hundreds of them! It's quite a sight!
While I don't recommend getting THAT drunk in Shibuya, it's an interesting place to be. Sometimes it makes you worry for the people who are there on the streets, but the police seem to do a good job of checking on people and sending those in the worst of shape to the hospital.
Remarkably, despite all the drinking, fighting and crime is still incredibly rare.
5. Yoyogi Park (Yoyogi Kouen)
A tranquil park visit may not spring to mind when people think of things to do in Tokyo. Just three minutes from Harajuku Station, Yoyogi Park is the third largest park in Tokyo, among the relatively urban backdrop of the Shibuya district. As opposed to Shibuya's rush and commotion, it's quite a difference, and in some sense, it gives a bit of relaxation.
This big park allows you to get away from it all and appreciate nature at its finest, particularly during the cherry blossom period, when its 730 cherry trees blossom.
Yoyogi park has large open space that serves as a venue for a variety of events, including concerts, festivals, and markets. The park features several jogging and bike paths that are popular with runners, cyclists, and families. Yoyogi Park has several playgrounds, sporting facilities, like a basketball court and athletic track, and picnic areas, making it a popular destination for families and sports enthusiasts. Most people just go to the park to enjoy the trees and escape the city, enjoying the peaceful surroundings.
The park is right near Harajuku, the Meiji Shrine, and the border of Shibuya and Shinjuku.
4. Takeshita Dori/Takeshita Street (Harajuku)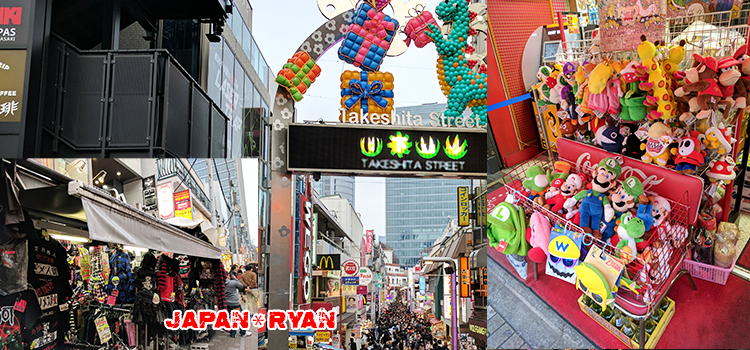 Harajuku Station is a different train stop than Shibuya Station, so why is it on this list of Shibuya things to do? Because Shibuya is actually the name of the much larger area including Shibuya Station, Yoyogi Station, Harajuku Station on the Yamanote Line, similar to how Shinjuku includes Takadanobaba and Okubo.
It is undoubtedly Shibuya's busiest street, particularly on weekends. Here you can see folks dressed in dazzling outfits and people who dress in entertaining T-shirts.
Delightful crêpe shops with long queues of customers eagerly queuing can also be found on Takeshita Dori. It's worth noting that Omotesando, which is well-known for branded items and pricey merchandise, is just a few blocks away. Harajuku Street also has some reasonably priced items.
6. Aoyama Farmers Market
Despite being only open on weekends, the Aoyama Farmers Market is among the largest and greatest farmer's markets in the Tokyo area, owing to its incredible range of fresh seasonal fruits and veggies and ready-made foods.
While you cannot take fresh fruits and vegetables along as keepsakes, many of the vendors at this market sell their own preserved jams, condiments, spice mixtures, teas, handicrafts, and other non-perishable things. Any of these would make a fantastic and unique remembrance of your stay in Japan.
7. Miyashita Park
About a three-minute walk from Shibuya station, you'll see Miyashita Park. Various events are organized regularly at this park, including the "Miyashita Park Summer Festival" in August. They offer grounds for climbing, football, and skating so that you may experience some activities in the city's center.
At nighttime, you may listen to freestyle rap music here. It is particularly popular with young Japanese celebrities. It is a perfect location where you may get a glimpse of the culture of today's youthful Japanese generation.
8. Shibuya Hikarie
Shibuya Hikarie, a shopping center launched in 2012, is a large-scale shopping complex comprising the Tokyu department store "SinQs" and the Musical Theater "Tokyu Theater Orb." You can go to almost 200 stores in this mall. You may get there by taking the Shibuya station's No.15 exit.
This retail center offers shopping and excellent snacks and desserts for you and your family to enjoy. You may appreciate the stunning night-view of Shibuya when you're there at night.
9. Shibuya 109
This Shibuya commercial facility is well-known across the world. It's towering across from Shibuya Scramble Junction. It is the source of the most recent trending clothes for young people in Tokyo.
Many Japanese and foreign personalities frequently promote themselves in SHIBUYA 109. You could even run into them when you are there. If you're interested in the latest Japanese fashion, you should go here. They also provide a variety of foods with distinct flavors that differ from those found in other commercial establishments.
10. Village Vanguard
A journey to Village Vanguard is recommended for those searching for something different. The main branch is in Shibuya and is part of a franchise having sites throughout Tokyo and Japan. This assorted products shop has several levels and sells Japanese-made items relating to pop culture, anime, manga, books, clothes, and accessories.
Make sure also to check the store's unique food assortment, which is generally not available in Japanese supermarkets. Spend at least an hour here exploring the vibrant, fascinating, and occasionally amusing merchandise. Many one-of-a-kind products will be available for purchase, making them excellent for souvenirs and presents.
11. Ganguro Café
The ganguro female subculture of the 1990s is still present and thriving in Shibuya. Ganguro Café is the best representation of it. This café delivers delectable cuisine and drinks, all serviced by ganguro females.
This subculture emerged before the century, with bronzed skin and vivid cosmetics that take a lot of time to complete. It isn't just a café, and you can get near ganguro females. For 6,500 yen, you can even receive a full makeover to appear like a ganguro girl.
12. Tsuribune-chaya Zauo
Isn't experiencing the local culture one of the pleasures of sightseeing? This well-known pub features a large living well where you can catch fish! You may ask them to cook the fish you caught in the shop.
For youngsters, they provide a hands-on sushi-making lesson. You will be awarded a Sushi course completion certification when you have mastered creating sushi. Isn't it going to be a pleasant memory from your trip? You can only get a taste of it at this place.
13. Hachigatsu no Kujira Bar
Hachigatsu No Kujira is a little-known Shibuya bar specializing in movies and exquisite drinks. Every drink on the menu is inspired by a film, highlighting different films every month. New movies are continuously inspiring cocktails here, making it a popular hangout for cinema buffs.
If you're looking for a relaxed, enjoyable location to have a drink and unwind, this is the place to go.
14. Nabeshima Shoto Park
Shibuya's Shoto is a high-end residential neighborhood. The peaceful Nabeshiam Shoto Park is a 15-minute walk from Shibuya station. It was formerly a tea orchard, but in the 12th year of the Taisho-era, it was officially opened as a children's park (1923).
Different flowers enhance the park's appearance all around Yuusuichi pond, which also features a water mill.
The cherry blossoms in spring and the shifting hues, notably vermillion red, in fall are spectacular. It is a tranquil and soothing park for those who want to pass some time peacefully.
15. Yamatane Museum of Art
Japan has a diverse range of cultures. Japanese paintings, in particular, have received widespread appreciation. This Museum of Art is the country's first specialist museum for Japanese paintings.
It has showcased 1,800 Japanese artworks since it began with Mr. Taneji Yamazaki's collections. It has a long history as an art museum. The paintings of Taikan Yokoyama, the renowned master of Japanese painting, are also on display. It's a once-in-a-lifetime chance to view so many Japanese artworks in one exhibition.
Takeaway
Shibuya offers nearly everything a tourist would want in Tokyo. Having plenty of places to go and limited time to do so, makes it difficult to decide where to go for the day. When you are there, try to experience the city at its finest.
Have a good time in Shibuya! Take this as your guidebook if you want to make the most of a day in Shibuya.