Before your travel planning you need to know if you have enough money saved up to go to Japan, and what things really cost. This is an area where I have plenty of expertise, having been a budget traveler my whole life who still expects certain home comforts. I refuse to stay in a hostel with strangers, for example, because they are rife with thieves and dishonest people.
Total Travel Costs for Visiting Japan

There are three main categories of expenses for going to Japan.
Airfare & Travel
Airplane travel is not cheap, even though it has been commoditized and made more and more accessible with budget airlines.
Lodgings & Hotel
Where you stay can vastly affect your experience. Choosing between a luxury worldwide hotel brand versus staying in a cheaper apartment can make all the difference in your travel experience.
Food and Sustenance
While you can pig out on gourmet in Japan pretty easily, you can also survive on 7-11 microwave meals and bento boxes; which are still notably fresh and edible.
Note: Prices fluxuate all the time, but these rough estimates have been consistent over the past 5 years.
Cost of flying to Japan
It costs between $800 and $1600 on average to fly to Japan. If you fly from the West Coast or if you find a budget deal you might be able to slash this to $600. From the United States only the major airlines are able to afford the cost of international flights, which makes it difficult to find cheaper flights as there is not as much competition for customers. However some government-subsidized airlines from China and the Middle East are changing that on some routes, Japan is not always among them from the US.
Cost of sleeping in Japan
A good quality hotel can cost about $100 per night, a normal Airbnb can cost $50-80 per night, or if you are lucky and plan ahead you might be able to find a nice Airbnb for $30 per night (especially if you split a larger Airbnb with friends).
Cost of eating in Japan

A simple meatless noodle dish at the convenience store might cost $3-$5, or you can find a soba noodle shop with big bowls of soba for 390 yen or currently $3.41. In the $6-7 range you can find ramen and beef bowls. Be warned prices closer to the station can be higher unless you find a place known for rapid guest turnover.
You can eat like a king and still be pretty cheap if you eat foods like Japanese curry, but if you decide to go for yakiniku then your wallet will suffer a little.
Most local train trips will cost between $2 and $5 USD. It also costs $30-$50 to get from the Narita airport to central Tokyo. Fortunately there are no tips at restaurants or taxis, so you do not need to factor tips into your costs. Vending machines for a soda or water will usually be about 100-150 yen, or around $1 USD.
Final Daily Cost of Visiting Japan
"I only drink water at restaurants to save money cheapo": $15 Food + $5 Trains + $50 Sleeping = $70 per day.
"I need a beer with my meal luxury": $35 Food + $10 Trains + $55 Sleeping = $100 per day.
"I can sleep with the animals in the barn": $15 Food + $5 Trains + $30 Sleeping = $50 per day.
As you can see, Tokyo can be expensive. If you only make even $15 per hour you have to work nearly 7 hours to afford a single day of a luxurious trip in Japan.
Cost of Getting to Japan
Now we have to tally up the cost of getting to Japan. Assume you're not in a major city and you've got your $1400 flights, and $50 in travel to and from the airport at home, and $100 in travel from Narita to Tokyo.
Total cost to get to Japan: $1550
How can I reduce the cost of going to Japan?
Saving money when travelling is always an option for a traveler who doesn't expect certain comforts.
Stay in a Hostel
Cost: $20-$30/night, sometimes less
A hostel is like a college dorm; rooms are shared with other guests. This also means that your belongings are left out in the open and are unsafe. If you travel with even a laptop or a nice cellphone, I would never recommend staying a hostel. If you travel with only clothing and toiletries then hostels are a fabulous option.
Stay in a Manga Cafe
Cost: $15-$30/night, sometimes more
Staying in a manga cafe might seem like an Otaku dream, but it is far from it. First off, you don't get a real bed. You get a cubicle designed for the size of your average Japanese person from the decade past. While you can mostly lay down, it's usually not quite big enough to be comfortable, and privacy is minimal as you only have six foot walls separating sleeping spaces. But if you're travelling with only a backpack, this is definitely an option. At some locations there's also a crazy option of paying about $600 ($21/day) to stay for the whole month that includes all-you-can-eat of a rice dish called takikomigohan. A great way to save if you're really okay roughing it.
Book Rooms with Friends
Cost: Subtract between $10-$40 per day
By splitting the cost of an Airbnb or hotel you can definitely save big money when travelling. A business hotel room might cost $100 per night, but that's just $50 per person if you split it. Be warned though: Japanese accommodations are far far far smaller than those you get in America.
Drink Only Water or Green Tea
Most restaurants offer free hot green tea with meals, and drinking this instead of getting a soda or a beer can dramatically cut the cost of eating out.
Price Shop Restaurants
If you can learn to search Google using Kanji characters you can find all the restaurants in an area and view the menu before ever visiting. You'll also find big differences in prices at restaurants even within a couple of blocks of each other. A restaurants facing the main street is likely to be 20% more expensive than a second-floor restaurant or a restaurant on a side street. But there are plenty of exceptions: many super fancy places are also hidden off side streets.
Get Street Food
The street food in Japan is fast, easy, and above-all cheap. Grab some Takoyaki or skewers and enjoy the cost savings of eating outside.
Fly Budget Conscious
Cost: Can reduce flight costs to around $700-800
Some travelers might find flights far out of their price range, but not realize that you could take a budget airline to a coastal city like LAX and then fly to Tokyo Narita Airport (TYO / NRT) for far less. This is only a smart option if you travel lightly. If you have a huge suitcase the extra baggage fees, possible delays, and potential missed flights can make this a nightmare. If your earlier cheapo flight gets cancelled your second airline may charge sizeable change fees, because they have no obligation to change your flight for free. If you fly all on one airline then they are obligated to change your flight at no cost if there is a delay out of your control.
Sightseeing Costs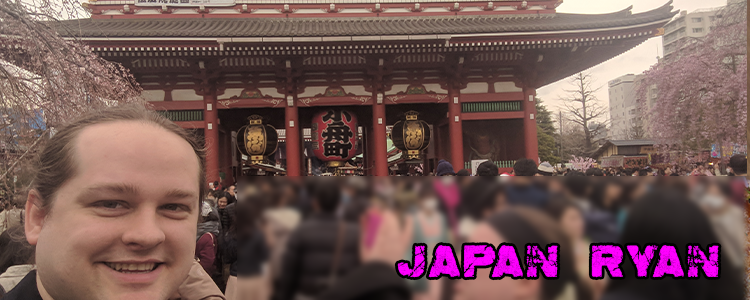 There's no way you're going to visit Japan and not be interested in sightseeing, unless you're travelling exclusively on business and you're not a fun person. But sightseeing doesn't have to be expensive in Japan!
General sightseeing.
Shrines and Temples
Nearly all the shrines and temples you can visit are free to see. You can spend months in Japan visiting ancient shrines and majestic temples without paying a cent. You can always buy souvenirs, like little good luck charms, to support these sites.
Nice Views and Landscapes
The Tokyo metropolitan government building offers great views for free. Some other sightseeing spots, like Tokyo Tower, cost $10-$20 for admission.
Touristy Stuff
Anything super touristy is going to be expensive. A train to Mount Fuji can be $10-$20 one way. Tokyo Disney and Osaka Universal Studios both are pricey to get into, and also pricey once you are there.
Sightseeing in specific areas.
Kyoto
Kyoto is one of the more expensive cities to visit in Japan because it is so small, somewhat remote, and very busy with tourists. Everything is priced a little higher here, due to its location nestled in the mountains, less competition due to less available space, and crowding. There are plenty of free activities in Kyoto. Strolling through the historical neighborhoods of Gion and Higashiyama is free and reminiscent of pre-war Japan. You can take a hike up to Mount Daimonji to enjoy panoramic views of the city, or walk along the Philosopher's Path to enjoy seasonal scenery.
Osaka
The bustling oceanside city of Osaka is the opposite of Kyoto in that it is often quite cheap. It is densely populated, meaning that restaurants can operate with lower margins and higher volume, yet there are not quite as many tourists and this keeps prices lower. It is free to stroll through Dotonbori, which is practically the Venice of Japan with its central river featuring prominently, but you will likely be tempted by all the delicious street food. Other free things to do in Osaka include exploring the grounds of Shitennoji Temple, one of the oldest Buddhist temples in Japan, which offers free entry to its gardens and some of its buildings, or visiting the Umeda Sky Building, which offers free entry to its rooftop observatory on the 39th floor.
Overall Cost to See Japan
Overall if you have $2,000 to $5,000 you can experience Japan! The more you have the longer you can stay and the more you'll be able to see and do.
More Cost Breakdowns of Japan Travel
Activities Cost
Visit a resort-style Onsen: Yunessun costs 3500 yen, or less than $35, but the cost of getting there is another $35-$50.
Relax in a sento bath house: Sekai Yu costs 470 yen, or less than $5.
Watch the Robot Restaurant show: Admission costs about $40-$60, depending on if you find a coupon.
Renting a kimono can cost $20-$30.
Getting to the very top of Tokyo Tower costs $30, while the main deck is just $10.
Kabuki theater tickets can cost from $30 (one-act-only) to $200 for box seats.
Food Cost in Japan
Udon and Soba costs $3 to $5 for a big bowl of noodles.
Indian and Japanese curry costs $5 to $8 depending on time of day and what you order.
Gyudon is probably the cheapest meat you can get, and it can be $4-$6.
High-quality yakiniku is $10 to $50 per person.
Sushi-go-rounds are about $1 per piece.
Chef-made sushi is $5+ per piece.
Of course there's fast-food and those prices are similar to the price in other countries.
Soda is always an extra charge at restaurants, except as part of some "set menus".
International Travel Costs
The city you fly from will dramatically affect the price of your flights. Flying from a West Coast city like Las Angeles is 50% cheaper than flying from the Midwest!
Don't forget the cost of parking at the airport that you departed from ($5-$30 per day!), or the cost of an Uber to the airport ($20-$50), or you can get a friend to drop you off at the airport.
Domestic Travel Prices
The cost of a bullet train from Tokyo to Osaka is $143 one-way, while a flight is just around $50 one-way but is far more hassle as you have to deal with airport procedures.
A highway bus from Tokyo to Osaka is a much cheaper $30-$40, but takes far longer.
Free stuff to do in Japan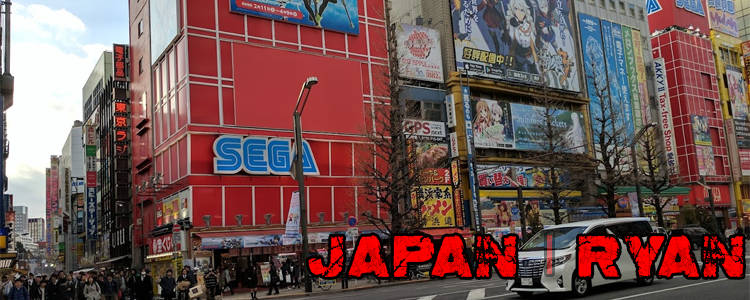 Don't worry too much if you're on a budget, you can still travel to Japan very cheaply and enjoy a ton of cool stuff! The cost of travelling to Japan doesn't have to include activities if you focus on free stuff.
Most shrines and temples don't have an admission charge. It's often customary to donate a lucky 5 yen piece if you make a prayer at many temples, but you are rarely charged just to get in. They do often sell souvenirs for a fee.
Shopping is free – if you don't buy anything, of course. So you can spend hours checking out anime stores and wandering Akihabara without spending a cent. Many fans find themselves enriched doing just this. Just don't try it if you can't control your wallet.
Most festivals don't require any entry fee. I've seen Geisha dances and amazing decorations at some free-entry festivals around Japan. Maybe I was just really lucky with my timing when I visited Kyoto.
Parks like Ueno Park and Yoyogi Park are free to enter, unless you decide to visit a place like Ueno Zoo inside of the park. So you can enjoy relaxing green space at no charge. Note: During some festivals, there is a charge to lay down a blanket and have a picnic, because these spaces have been reserved in advanced.
During July and August there are hanabi festivals with fireworks all over Japan and these are free to enjoy.
There's a free tour at the Toyosu Fish Market but it is limited to the first 120 people who get there, so you'll have to arrive quite early.
The Tokyo Metropolitan Government building doesn't charge to use it's observatory to check out the city.
Certain museums don't charge for admission, though after COVID this may change with some locations. These include The Edo Shitamachi Traditional Crafts Museum, The Origami Gallery in Ochanomizu, The National Astronomical Observatory Of Japan, The Scholarly Museum Intermediatheque, The Advertisement Museum in Shiodome, The Textile Culture and Ukiyo-e Art Museum Amuse in Asakusa, and The Suginami Animation Museum.
How to Save Money on Japan Travel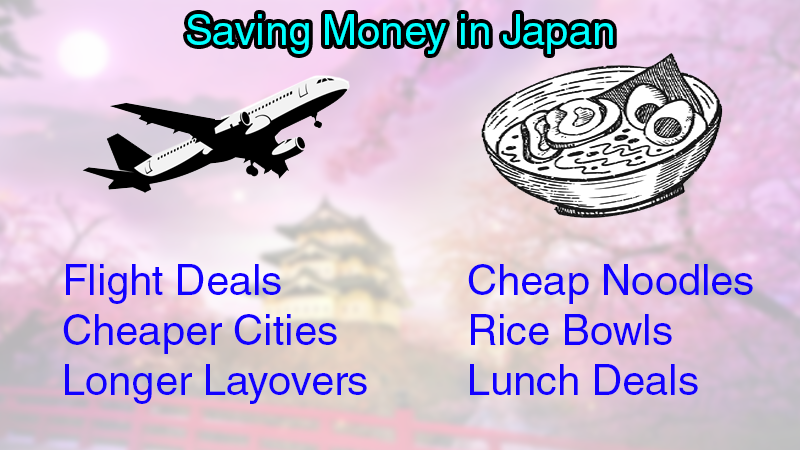 Saving Money on Flights
Flights are probably your largest single expense when it comes to travelling to Japan. If you can shave money off the cost of your flight, you can shave anywhere from $100 to $500 off your travel costs. There are several ways to save money on flights:
Look for bargain dates. Google Flights and other tools now have date suggestions that will tell you when flights are the cheapest. Keep checking flight prices regularly and you can snag lower prices. Prices fluctuate all the time. Prices could be $1200 on a random Sunday and drop to $1000 by Tuesday. This is all due to airline algorithms; if more people book on Sunday than Tuesday, then Sunday prices will be higher. It's not just about when you travel, it's also about when you book.
You can also sometimes work out cheaper flights by taking long layovers or flying to a cheaper city on a budget airline. But be warned if you combine airlines, your more expensive flight has no obligation to wait for you or reschedule your booking if the first flight is delayed.
Saving Money on Food
Eating in Japan is a treat, because even their cheap food is wonderful. No longer do you have to rely on the McDonald's dollar menu to fill up for just a few dollars. The udon and soba noodle shops all around the country offer remarkable food at low prices. Eating noodle dishes like udon or rice dishes like gyudon will save you a fortune versus getting pizza or chicken wings.
Also note the incredible lunch deals that many restaurants offer. Many places have a "one coin" lunch deal, where you pay 500 yen for lunch at a place that normally costs $10-$15! By making lunch your biggest meal you can save.
Save up just $2000 – $5000 and you too can explore Japan with me!