Arashiyama which is located in western outskirts of Kyoto, Japan, is one of the top tourist destinations in the country. Arashiyama, meaning Storm Mountain, is popular for the wonderful and serene view it offers, especially during cherry blossom and fall color season. Though it is located near a mountain, Arashiyama does require any hiking and gives a welcoming and comforting experience for visitors. A lot of attractions, aside from the pristine river, can be seen in this place.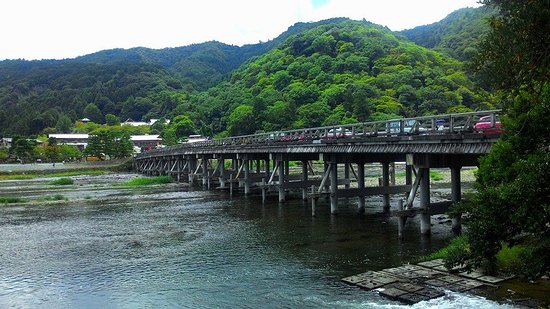 Tourists often start their sightseeing at the Togetsukyo Bridge, a central landmark where many small shops and even restaurants can be found. This place is often incredibly crowded by both foreign tourists and native tourists alike, though the views are still wonderful even when crowded. If you want to avoid the crowds and the tourist-centric activities you can walk a little further to the Kameyama-koen Park or to Tenryu-ji Temple and the Bamboo Grove.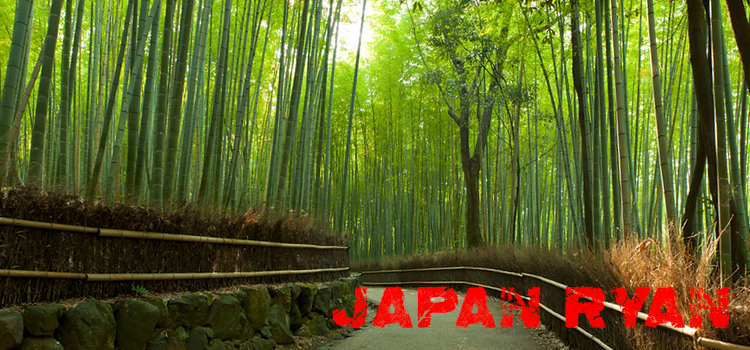 The exciting part of having an overwhelming experience in Arashimaya is renting a bike and riding through the bamboo forest. The groves are attractive when there is a light wind and the tall bamboo stalks sway gently. The bamboo are also used to create different kinds of products such as baskets, boxes and more.
Standing underneath the soaring bamboo stalks of the Arashiyama Bamboo Grove is like being an Isekai character transported to a new dimension. The experience is surreal and fantastic. If you go deep enough through the bamboo groves you will reach the section where the bamboo is over 50 feet high and eerily blocks out the sunlight. As you enter it suddenly gets darker and spookier. However just a few feet later you reach an open park and can enjoy a great view and even hold a picnic in the park.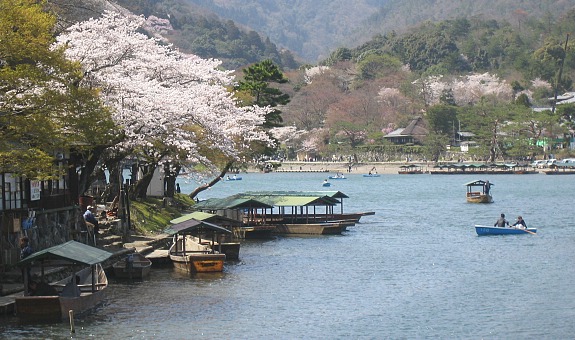 Visitors at Arashiyama can also rent pleasure boats on the river and can cross the river enjoying the nearby views of the whole area. One of the most unusual and least crowded ways to explore the Arashiyama area is by renting a boat and rowing around the gorgeous lower Hozu-gawa area. The sights are especially noteworthy during cherry blossom season as the pedals dance all around you.
LOCATION
The main area you're going to visit at Arashiyama is in the far west of Kyoto, at the base of the namesake mountain. It is actually some distance from the center of Kyoto, which is a relatively small city as it is, so expect about 30 minutes to get there by bus or transit. It's easily worth the small excursion.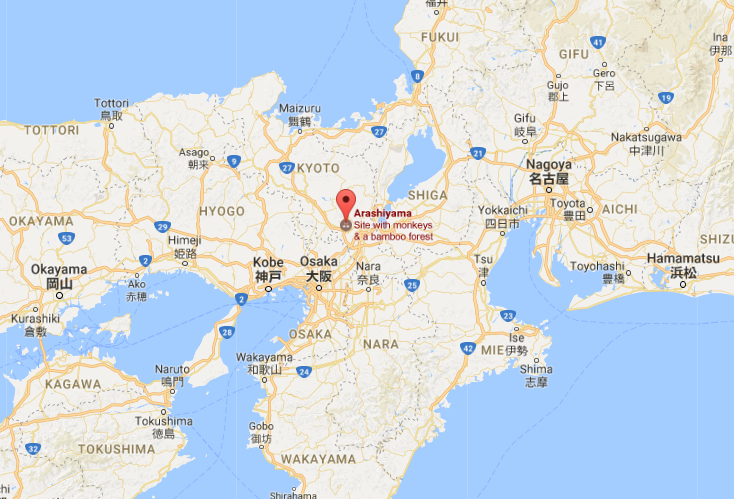 Sights to See at Arashiyama
Tenryu-ji Temple
The Tenryu-ji Temple is probably the most famous sight in all of Arashiyama. The temple is a sprawling Zen temple with one of the most charming gardens in Kyoto, resplendent with wonderful mountain views. Tenryu could mean "heaven dragon", as "ten" means heaven and "ryu" means dragon.
Kameyama-koen Park
The monkey park is like nothing else. But be warned, they will steal from you if they are given the chance, so keep your possessions close and don't approach the monkeys too closely. Kameyama-koen Park is unlike anywhere else. Getting all the way to the monkey park involves a decent hike up the mountain, so be sure to wear comfortable shoes and bring some water with you. When you reach the monkey park you'll be able to purchase food to feed the monkeys from behind a wire fence, and they will take it right from your hands!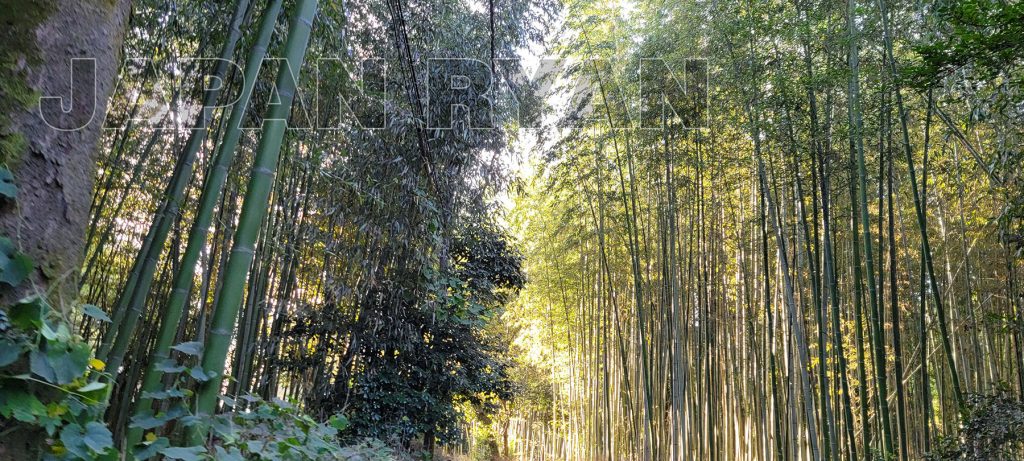 Arashiyama Bamboo Grove
Making your way to the Arashiyama Bamboo Grove and letting the bamboo tower over you is like an out of body experience. The bamboo is so tall it makes all your problems seem small.
Do not get distracted by the bamboo forest and decide to call it quits partway through. Take the entire path through the forest, because the bamboo gets taller and taller, and it feels drastically different as you get to the deepest part of the bamboo grove.
Bamboo has a long and rich history in Japan, dating back thousands of years. Bamboo is native to Japan and has been an important part of Japanese culture and tradition for centuries. Bamboo has been an important symbol in Japanese culture and has been featured in many works of art, literature, and folklore. In Japan, bamboo is considered a symbol of strength, flexibility, and resilience, and it is associated with good luck and prosperity.
Bamboo has also been used in traditional Japanese arts and crafts for centuries. It is a versatile material that has been used for everything from baskets and mats to furniture and musical instruments. It's been used in Japanese gardening and landscaping for centuries. It is often used to create fences, gates, and other structures, as well as to add visual interest to gardens and landscapes. In modern times it is used for a wide range of products, including paper, textiles, and building materials, and it is also an important source of food for some animals in Japan.
Okochi-Sanso Villa
Okochi-Sanso Villa is another top city, and it rivals many of the city's other imperial destinations. No reservations are required, making this an easy place to visit.
Nison-in Temple
Nison-in Temple is a Tendai sect Buddhist temple famous for a maple-and-cherry-lined wooden arcade leading to the main halls.
Katsura Rikyu Imperial Villa
Katsura Rikyu Imperial Villa is regarded by many as the heights of Japanese architecture and garden design. It's tranquil and peaceful, and its beauty is often very subtle.
Tenzan-no-yu Onsen
I love baths, and hot springs to me are just big epic baths. Tenzan-no-yu Onsen is a huge natural hot spring bath and spa complex, and one of the few onsen in Western Kyoto.