One of the most popular holiday destinations in Japan is Okinawa prefecture. People that want to get away from the hustle and bustle of Tokyo often head here. Its wonderful location and moderate climate mean that its stunning beaches are going to be open no matter the time of the year. Whether you're holidaying on its main island or its equally stunning remote islands, beautiful scenery and nice, warm weather will always greet you. That said, here are our top picks of the best beaches in Okinawa.
World-class beaches
What makes Okinawa popular among tourists and locals needing some downtime is its plethora of beautiful beaches. With white sand and crystal-clear waters, its moderate climate is also another thing that draws people in all year round. Many of these beaches are open to visitors no matter the season.
The beautiful scenery no matter which part of the island you are in is more than worth the trip. Add to that the clear waters that are perfect for a whole bunch of water activities—from swimming to snorkeling and you're in for a grand time. It doesn't hurt that here you'll find some of the cleanest and most pristine coastlines in Asia. It's no wonder it is at the top of most people's list of preferred destinations come the summer season.
What makes this even better is that most of these beaches are easily accessible. Public transportation is quite efficient and pretty reliable on the island, after all. Things do get busy around July and August as these are school holidays in Japan. However, most of the beaches in Okinawa tend to be quieter and calmer for the remainder of the year.
Top beaches in Okinawa
If you want to get away from the buzzing modernity of Tokyo, the delicious food scene in Osaka or the sublime old-world charm of Kyoto, a trip to Okinawa is certainly in order. Below are some of the most stunning beaches in the prefecture:
Furuzamami Beach
Furuzamami Beach is perhaps Kerama archipelago's most famous beach. One of the many reasons for this is because it has some of Okinawa's most stunning coral reefs. These days, however, part of the reefs are now closed off to the public. This is to ensure that they are protected against damage, especially in light with the recent coral bleaching in the area. However, there's still plenty to see as the area is teeming with sea anemones, sea snakes, colorful clownfish, and even a variety of butterflyfish.
People also love the fact that the area is significantly underdeveloped. As such, the white sands have remained pristine, soft, and clean. There is a lone shop on the beach that offers cold drinks and Japanese snacks. So, do make sure to bring your own food when coming over. Thanks to the beach's warm waters, it is possible to enjoy a dip here no matter the time of the year. In the summer months, the coastline buzzes with activity. Customers can rent one of the many beach umbrellas along the coastline to shade them from the sun.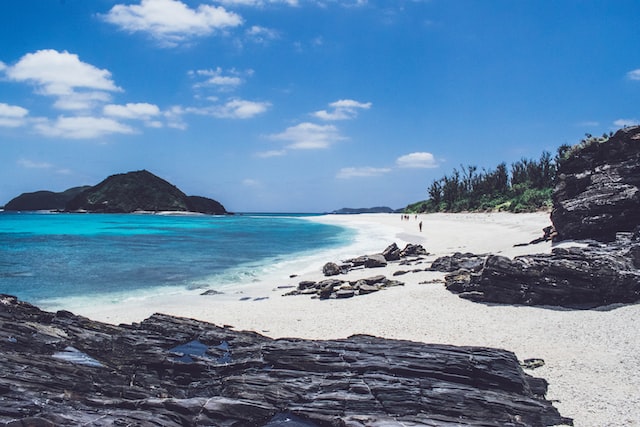 Onna Village
Onna Village is particularly famous for Manzamo. The cliff meadow faces the East China Sea and is known for its stunning views, especially during sunset. However, there's more to Onna Village than that and its selection of local beaches is equally as beautiful.
Diamond Beach and Moon beach are among the most popular options here. Both are known for their clean and clear waters and their abundance of corals. Visitors will also love how significantly quiet these locations are. Even in the busiest months, it's never a problem to find a place to hunker down. Another striking beach in the area is Moon Beach. Located right in the heart of the vicinity of the Sekiryo Mountains, it is most notable for its long and narrow stretch of clean, soft sands.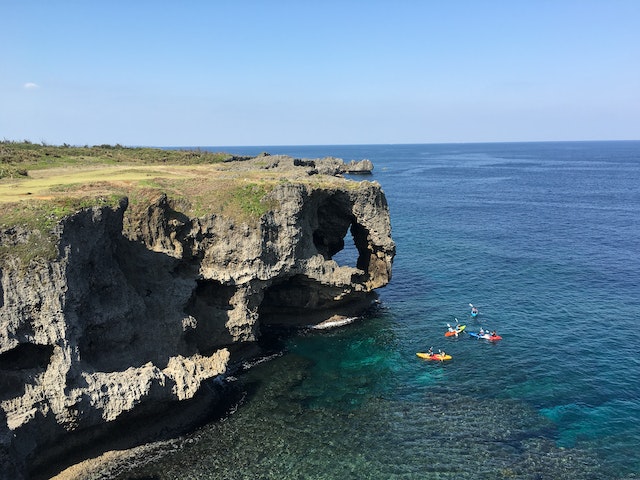 Sunayama Beach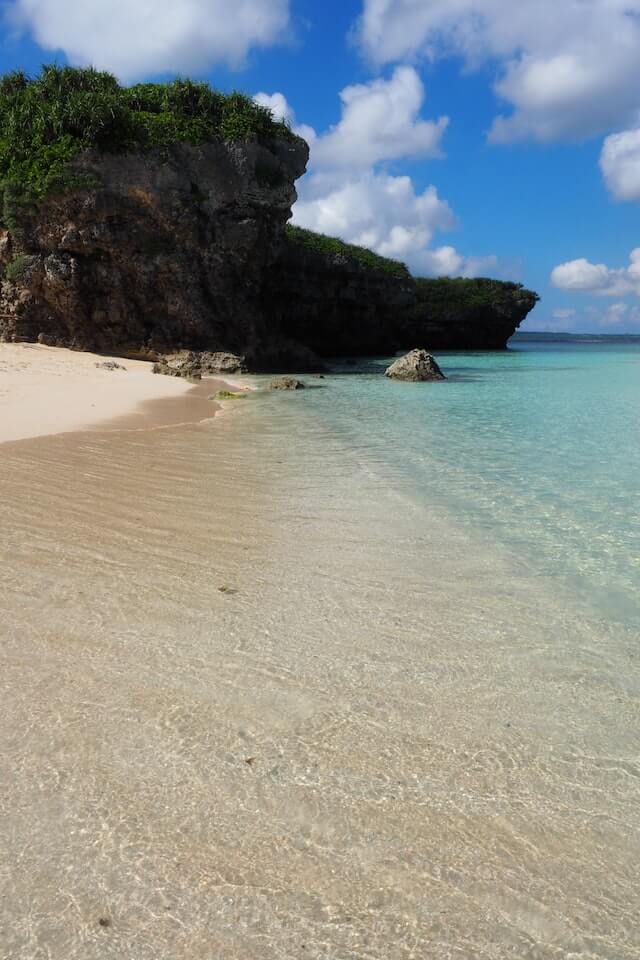 What sets Sunayama Beach apart is its emerald waters, beautiful sunsets, and striking arch-shaped rocks. Located on Miyakojima island, this is one quiet hideaway for people that want to spend some private time. The trip to get to the beach is an adventure in itself. You'll have to tread through sandy paths, trees, and thick vegetation. Eventually, you'll be rewarded as you make your way up a hill which opens up to the breathtaking views of the beach.
The shoreline is 70 meters long even made more beautiful by its spotless soft sands. The water here is calm, clear, and warm, making for the perfect snorkeling and swimming spot. There is an even more private part of the beach which can be accessed by crowing over the stone arch. The area is shaded, which makes for the ideal cooling spot when you want a little break from all the heat and sun. While Sunayama tends to see more crowds during the day, it gets quieter at nightfall.
Kouri Island
Kouri island is a long-time favorite in Okinawa for its pristine waters. Its bottoms tend to be sandy and shallow too. Accessible via the Kouri Bridge, many local families tend to head to the island for a quick escape from city life. Fun activities are available and amenities including beach umbrellas and snorkeling gear are available for rent.
Perhaps one of its most popular beaches is Tinu beach. Open all year round, it's a great place to enjoy a swim no matter the season as the area is known for its generally mild weather. The beach is also famous for the couple of heart-shaped rocks that can be seen above its waves. As such, the island has rightfully earned the name "Love Island". The island is not developed, and no restaurants or hotels can be found nearby. It can even look deserted especially during windy or rainy days— perfect for beachgoers that are big on privacy.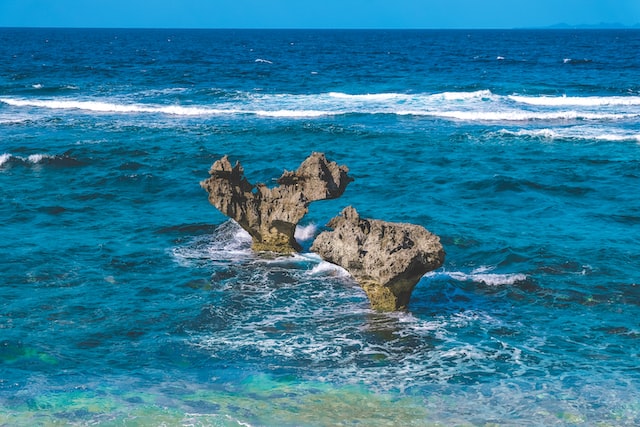 Mibaru Beach
There are a number of reasons why Mibaru Beach is one of the best in Okinawa. For one, it's the perfect destination for relaxing and swimming and you'll love its gorgeous waters and white sands. You also get a beautiful backdrop of beautiful corals surrounding the area. A variety of marine activities including snorkeling and jet skiing are just some of the many ways you can have fun. You can also enjoy tours on one of the glass-bottom boats in the area.
Beautiful and quiet, it is a wonderful day to relax and unwind. When the tide is low, you can explore the abundant coral reefs around the beach. The waters are relatively safe too jellyfish sighting is relatively rare. It's a great place for families to head to. Since there is lifeguard protection, it makes for an ideal destination for people who want to bring the little ones along.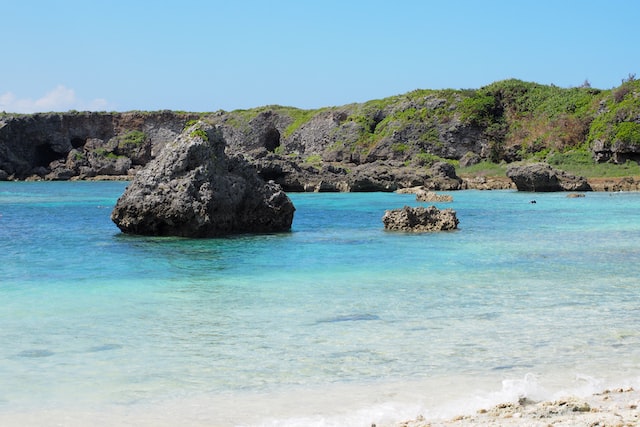 Zanpa Beach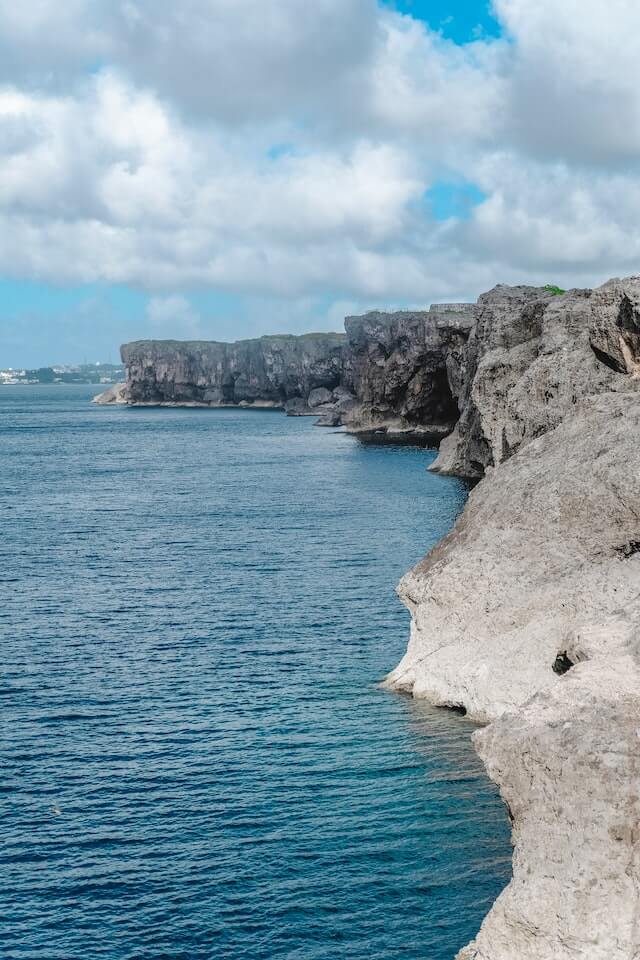 If you want to go swimming somewhere that will let you take in some grand views, Zanpa Beach is the place to be. With Cape Zanpa's towering cliffs surrounding the area, it offers some panoramic views of the turquoise waters below. Many people head here for some hiking fun as well. Since the beach is shielded from the surf, it is a safe place for kids to swim and have fun regardless of whether it's low or high tide.
Chairs and umbrellas that are set along the coastline's beautiful white sands are available for rent. It's a great place to take in the view, relax and read a book, enjoy a drink or two, or just while the hours away while taking in the beautiful views. For fun, visitors can enjoy a banana boat ride or go kayaking. There are barbecue pavilions across the street which you can rent if you want to get some grilling action going. A small petting zoo is also nearby for people that want a short break from all the waves and sun.
Aharen Beach
If you're looking for beaches in Okinawa that are not going to cost you an arm and a leg to plan a trip to, Aharen Beach is the one! Known for its soft, white sands and aquamarine waters, it's a place where many locals head to. It's a great location to spot sea turtles too if you get lucky in one of your snorkeling excursions.
The waters in this part of Okinawa make it more than worth it. The waters are warm, making it perfect for snorkeling or just enjoying a relaxing dip. The beautiful natural setting of the beach is picturesque and has a great view of the sunset. In addition, the area boasts a number of restaurants. There are also plenty of fun activities that you can enjoy if you want to explore the rest of Tokashiki Island. More importantly, it is budget-friendly.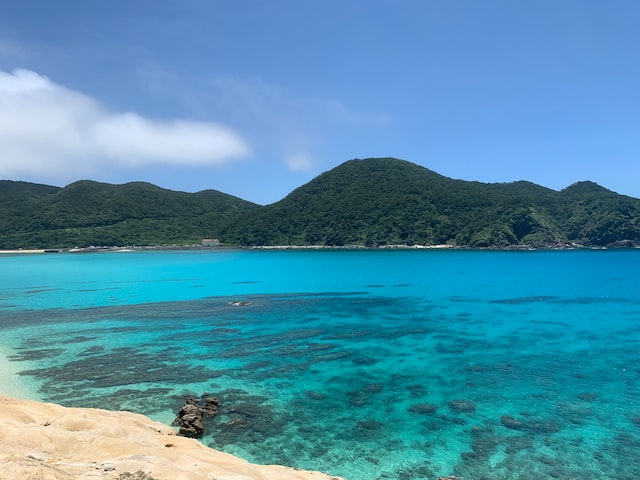 Sesoko Island
Home to several beaches, Sesoko Island is a small island accessible via a bridge that connects it to the main island. When the tide is low, it is possible to access the island on foot. The many beaches on the island offer a wide range of fun options for visitors, with some more private than others. You can expect, however, that every single one features crystal clear waters and wonderfully soft sands.
One of the island's most famous beaches is Sesoko Beach. The perfect spot for some swimming, snorkeling, and banana boat rides, it is ideal for families with kids. Swimming gears and other beach gears are typically available for rent, so you don't need to bring your own. While not overly developed, the beach offers a few stalls that sell drinks and food. Amenities such as shower facilities, lockers, and changing rooms are also available.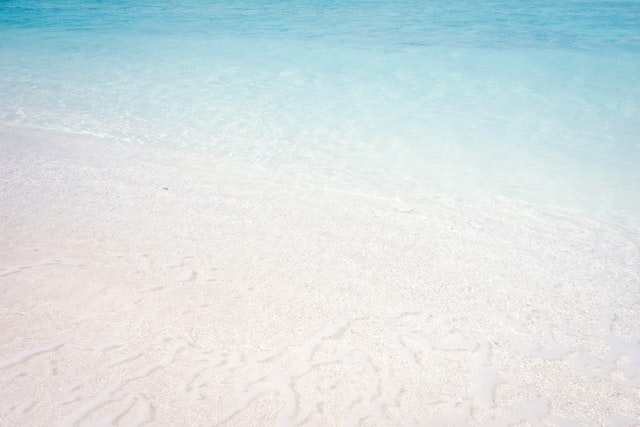 Akajima Island
Reachable by ferry, Akajima Island is another popular holiday destination in Okinawa. Known for its rich sea life, it is also a well-known spot for snorkeling and diving. The area is also known for its humpback whales. Regular sightings often occur during the early parts of the year with April to October being the high seasons.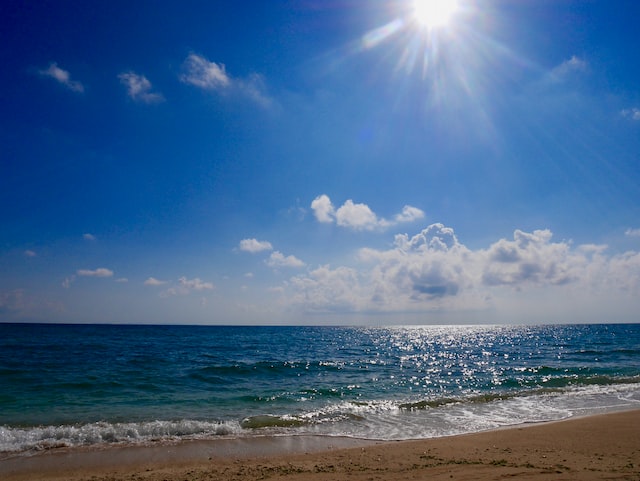 Here are several wonderful beaches that call the island home. There's Nishibama Beach which can be reached via bicycle. Bicycles are the preferred transportation mode on the island, so make sure to rent one. Nishibama Beach is part of the island's natural preserve. Its coast features soft, white powdery sands and is a top snorkeling spot. Hizushi Beach is also another popular option and is known for its stunning views and breathtaking sunsets.
Enjoy the crystal-clear waters
Japan is a beautiful country, but there is just something about Okinawa that makes it irresistible! The wonderful weather, welcoming locals, and stunning views of its coasts have set it in a league of its own as far as holiday destinations go. And the beaches in Okinawa are just breathtaking! Whether you love swimming, soaking in the sun, or a whole host of marine activities, there is something for you in Okinawa. So, stop putting-off that much-deserved holiday and plan a trip to Okinawa today!