Ueno Park is one of the largest green spaces in central Tokyo. With its many attractions, it's no wonder it gets more than 10 million visitors each year. It's a great place for sightseeing, picnics, and strolls with your loved ones.
If you only have a limited amount of time to visit the city, you'll want to make sure your itinerary includes checking out this impressive park. Read on as we explore all the best places to see in Ueno Park and what activities you can do there.
Visit Ueno Zoo
The Ueno Zoo is one of the most famous zoos in all of Japan. First opened in 1882, it is the oldest in the country too. Today it is home to over 3,000 animals, made up of more than 400 species.
Ueno Zoo is most famous for its Giant Pandas. Interestingly, only three zoos in the country have giant pandas namely: Ueno Zoo, Wakayama Adventure World, and Kobeshi Ritsuoji Zoo.
The zoo boasts a large collection of animals, especially some of the most protected species in the country. Among these are the red-crowned crane, the Japanese stork, the Japanese giant salamander, and the Japanese serow. At ¥600, it is more than worth the admission fee.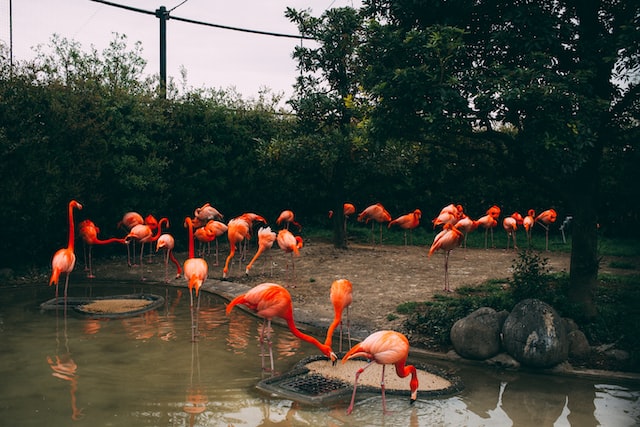 Check out Tokyo National Museum
Ueno Park is the home of one of Japan's most important museums. The Tokyo National is home to a vast collection of national treasures and cultural items.
As the country's largest and oldest museum, it has five different buildings that you can explore for an admission fee of ¥620. The many artifacts housed here are nationally significant treasures, which include artworks from a wide range of time periods and styles.
A variety of calligraphy, scriptures, paintings, and other decorative arts are also housed here. It also houses the Horyuji Treasures gallery, with over 300 treasures displayed on 2 floors of the museum.
Despite the many traditional items displayed inside the museum, the building is actually quite modern. As such, visitors also have the option to enjoy viewing the treasures housed here through their digital archives.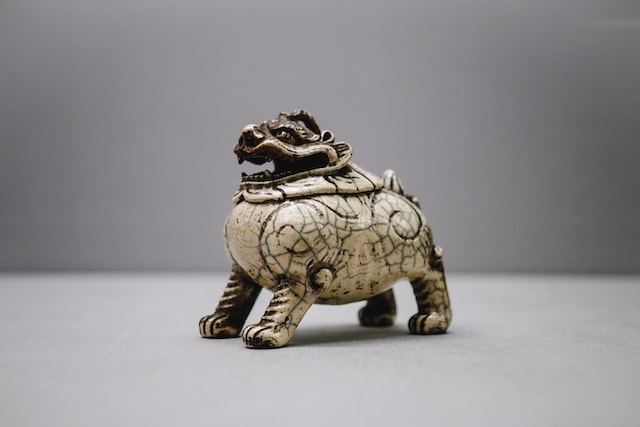 Enjoy the cherry blossoms
If you're lucky enough to time your visit to Tokyo in spring, then you're in luck. Around late March to early April, the cherry trees are in bloom and Ueno Park is a wonderful place to enjoy some flower viewing.
Locals and tourists alike flock to the park to enjoy the beautiful view of the more than 1000 cherry trees in the park in bloom. The different sakura varieties found in the park are what make it an ideal flower viewing or hanami spot in all of Tokyo. Some of its trees even bloom earlier than in other parts of the city.
During hanami season, visitors to the park would go on picnics to fully take in the view. It is advised to bring loads of food, snacks, and drinks too that will last until the evening. This is because at night after the sun sets, the place gets lit up with 13,000 lanterns which is such a sight to behold.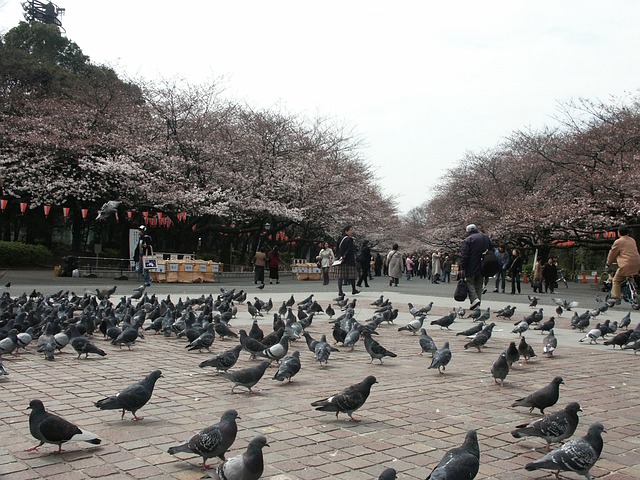 Visit the shrines and temples inside
Ueno Park is also home to a number of temples and shrines which hold significance not only for the deeply spiritual but also for those that appreciate the considerable link they provide towards Japan's history and past.
Bentendo Temple
Located right at the center of Shinobazu Pond, this hexagonal temple is dedicated to the goddess Benten. The temple grounds feature some unique stone monuments of glasses, puffer fish, soft-shelled turtles, and even knives.
This spot is especially popular when the cherry trees bloom. During the flower viewing season, it gets packed with a wide array of stalls featuring some of the best Japanese street food.
Toshogu Shrine
One of the very few structures from the Edo era, Toshogu Shrine is indeed a survivor. It has survived both wars and earthquakes that Tokyo has experienced through the years. Before 1868, it used to be a part of Kaneiji Temple.
An outstanding representation of Shinto architecture during the Edo Period, it was first established in 1627. In 1651, Tokugawa Iemitsu renovated the shrine, and it has significantly remained mostly intact since. This beautiful jewel stands out even when the cherry trees bloom as its path is lined by beautifully blooming sakura.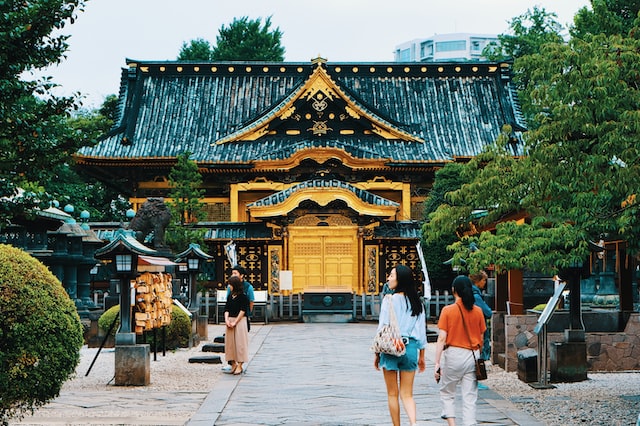 Kiyomizu Kannon Temple
The temple's design takes inspiration from the famous Kiyomizudera in Kyoto. Initially part of Kaneiji Temple, many women come to the temple to pay their respects. It is connected to the goddess of conception, Kosodate Kannon which is why it is popular among women who wish to get pregnant.
Built in 1623, it is notable for its platform that overlooks a circle made from a pine tree. It is also referred to as tsuki no matsu or pine tree of the moon. Unfortunately, a storm in the Edo Period obliterated the original tree. The current tree has been there since 2011.
Kaneiji Temple
This Buddhist temple used to be Tokyo's wealthiest temple, but got destroyed in the Boshin War. The temple used to encompass the entire Ueno Park. While seemingly unremarkable today, its notable historical value makes it worth checking out when in the park.
Within the area, you can also see a statue of Saigo Takamori. A very influential samurai during his time, he was a commander in the Meiji Restoration in 1868. His discontent with the government fueled him to lead a rebellion, taking the samurai to their final battle. If that sounds familiar, don't be surprised as he inspired the famous Tom Cruise movie, 'The Last Samurai'.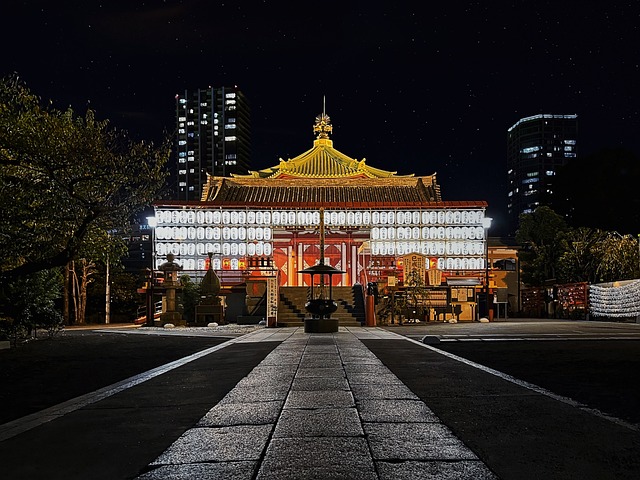 Hanazono Inari Shrine
Fushimi Inari Shrine is a very famous shrine in Kyoto mainly because of its red torii gates. Tokyo, specifically, Ueno Park, also has its version, albeit a smaller one.
If you are visiting the Kannondo Temple, just make your way down and then turn right. On the left, you will see the very iconic vermillion torii gates. The shrine is just one among the more than 30,000 shrines across the country dedicated to Inari, the god of rice.
Sunbathe at the Shinobazu Pond
Home to a large number of Japanese carp, Shinobazu Pond is a great spot for sunbathing. Lotus plants partly cover the pond for the most part of the year, although it gets entirely covered in the summer.
This makes it a popular spot for people who just want to enjoy some peace and quiet. It makes for such a scenic photography spot too!
A variety of stationary and migratory birds are also found along the pond. It is also home to various fish species. While the pond is all-natural, it has also been modified over the years and has been drained a few times.
Visitors can also enjoy a bit of fun by renting out one of the many duck-shaped boats on the pond. All in all, it is one great destination to head to when you're in Ueno Park, especially when the sun is out and you want to enjoy a bit of warm downtime from the constant buzzing of busy downtown Tokyo.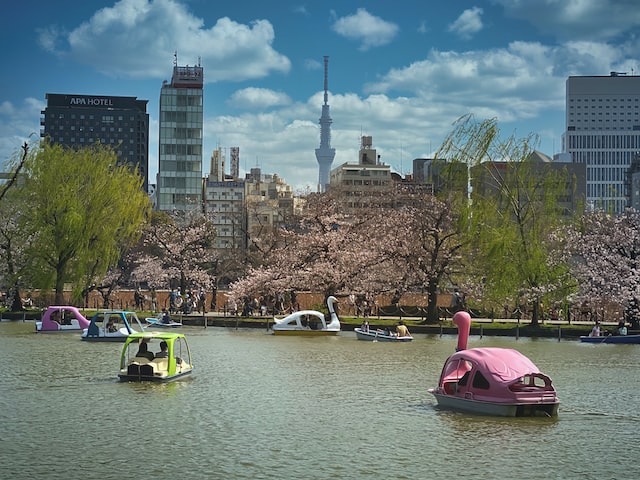 A visit you won't want to miss
Ueno Park is one of the most important and interesting parks in Tokyo. This expansive green space is home to some of the city's most famous landmarks and is packed with things to do no matter what time of year you visit. Whether you're a history buff, a casual tourist, or just love spending time in nature, Ueno Park offers something for everyone. And it's a place you won't want to miss on your next visit.