Sushi is one of the most popular Japanese dishes and there is no shortage of great sushi restaurants in Osaka. As Japan's kitchen, it is no surprise that there are so many excellent sushi places in the city. From ramen joints to street food in Dotonbori, Osaka is the ultimate food destination, after all.
If you've had enough exploring the city's many popular attractions and have had your fill of the wonders of Osaka Castle or the shrines and temples in the area, here are our recommendations on where you can enjoy the best sushi.
What is sushi?
Sushi is a dish that consists of cooked vinegared rice, usually with some other ingredient such as fish, vegetables, or egg. Typically served with soy sauce and pickled ginger, wasabi is also a common condiment when eating the dish.
There are many different types of sushi, and restaurants that serve them in Osaka offer a wide variety to cater to everyone's taste and preference. Some of the most popular types of sushi include nigiri, maki, and sashimi.
Whether you are a sushi aficionado or a novice, you'll never run out of great sushi in Osaka. From kaitenzushi to sit-down sushi restaurants to budget-friendly sushi spots, here are our top picks of the must-try sushi restaurants in Osaka.
Amano
A Michelin-star restaurant, Amano is in Fukushima, Osaka, making it very accessible if you're around the Umeda area. The restaurant is known for its top-notch sushi selection. Offering a variety of quality sushi dishes, it is also known for its incredibly reasonable prices.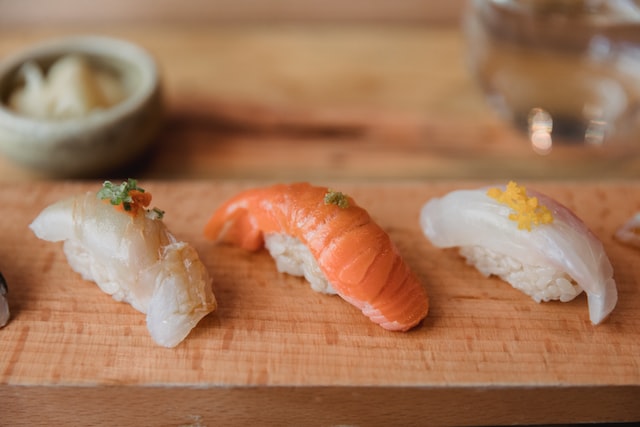 People that are looking for both quality, quantity, and the best value for their money will enjoy their time dining here. A la carte dishes are also available, with prices ranging between ¥15,000-20,000.
Amano is only a minute away on foot from Shinfukushima Station and is closed on Tuesdays. The restaurant only has fewer than 10 seats located on the counter, so early reservations are needed if you want the spot.
Toki Sushi
This sushi restaurant is easy to spot as it is close to the Namba Grand Kagetsu— the city's renowned comedy theater. If you're a fan of seafood, then you'll love the selection of sushi dishes served here, made up of only the freshest seafood ingredients.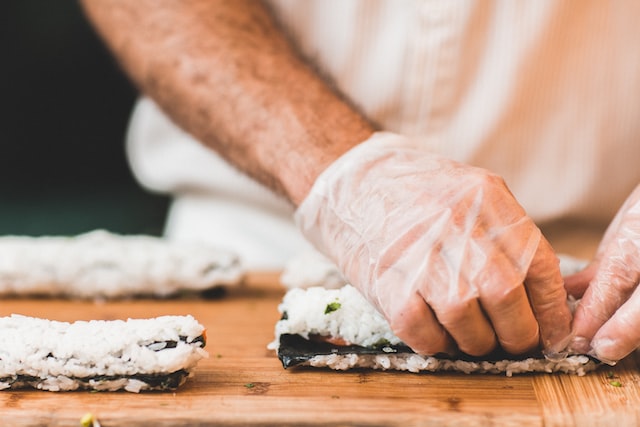 Known also for their reasonable prices, the place offers seasonal toppings for their sushi dishes. Seasonal toppings are sourced every day straight from the local market, so you can expect no less than the freshest selection.
High-class toppings that would normally cost you an arm and a leg in other restaurants elsewhere in the country can be had here as well. Among the most popular options, they offer include abalone, toro, or fatty tuna, as well as uni or sea urchin.
A definite must-try if you ever find yourself booking a spot in this restaurant is the Mega Mori. Priced at
¥150 a plate, you'll get a plate of piled-high negitoro— minced tuna with toppings of spring onions— it completely covers the rice underneath.
If you're into voluminous sushi servings, this is the place to be. With quality dish selections at competitive prices, expect to get the most bang for your buck.
Genrokuzushi
If you've ever heard of conveyor belt sushi, then this is one place in Osaka you should definitely head out to. This is where kaitenzushi first started, after all!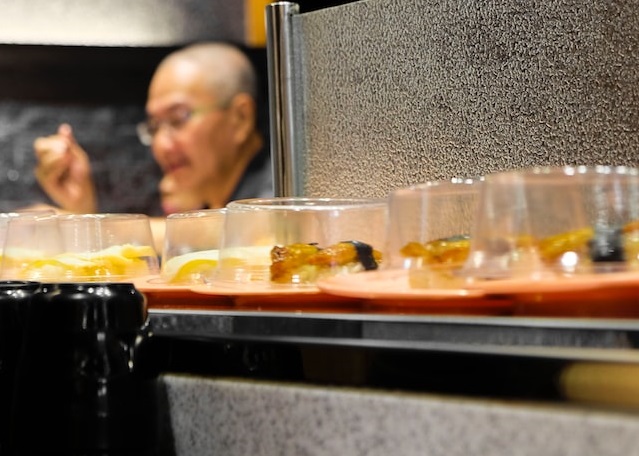 Conveyor belt sushi restaurants are ideal for people that want to experience as many types of sushi as they want. If you have a specific sushi dish that you prefer, then this makes for an ideal dinner destination too. 
Assorted sushi dishes on covered plates are placed upon a conveyor belt than runs straight from the kitchen straight to the customer's tables. Whatever dish strikes your fancy, you just take it off the belt and dig in.
Customers at Genrokuzushi can either grab a seat near the counter or right where the sushi chefs (itamae) are. The latter is most ideal if you want to see the masters whip up dish after dish right in front of your eyes.
One great thing about this kaitenzushi is that it is not as intimidating as eating in a traditional sit-down joint. They offer menus to make it easier to pick out specific plates you'd like to try. The green tea they offer elevates the whole experience, especially if you want to enjoy sushi in true Japanese fashion.
Nakatani
Another Michelin-star restaurant, it's no surprise it's one of the top-rated sushi places in Osaka. Located in Hozenji in Dotonbori, it stands out from the plethora of gastronomic options in the area, thanks to the top-notch ingredients they use for their dishes.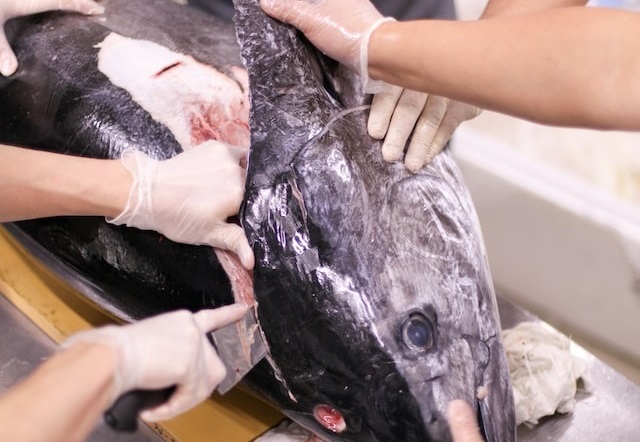 The master chef in this sushi joint is renowned for his on-point fish judgment. To make sure that his dishes are kept at top quality each time, every time, fish is bought fresh daily. Ingredients are carefully picked and every dish is made delicately.
Nakatani is known for having about 10 different kinds of Japanese sake available. Depending on the types of dishes you order, the chef will then pick the most suitable for your meal.
The place is famously known for having only 8 seats available. As such, early reservations are necessary if you want to secure a spot.
Open from 5 PM to 11 PM, the restaurant is only 5 minutes away on foot from the Osaka Metro Namba Station. Customers that dine here can expect to pay between ¥20,000- ¥30,000 per meal.
Sushi Monji
If you're a fan of fresh seafood as your main sushi ingredient, then this is one restaurant you need to try. Known for their fresh and seasonal seafood sushi offering, Sushi Moji is widely known for their exquisite-tasting dishes.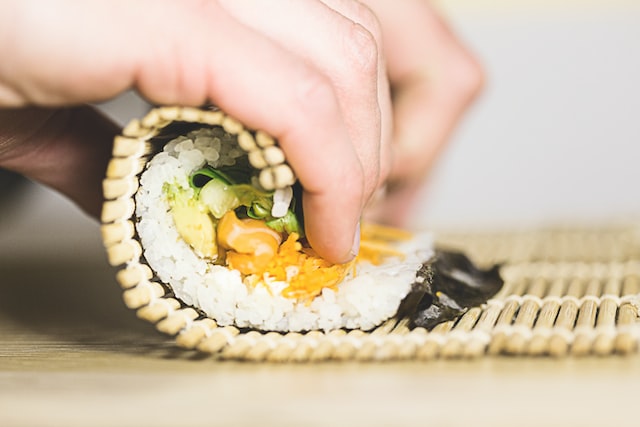 Customer satisfaction is at the fore of this restaurant's operation, which is why every dish is carefully and delicately prepared. The master chef is known for fussing over perfecting the balance between the seasoned rice and fresh seafood.
Their nigirizushi is a must-try. Another crowd favorite is the very colorful and highly appetizing futomaki sushi. It's made from a plethora of ingredients in generous amounts including shrimp, herring roe, eel, and eggs.
If traditional Japanese sushi dishes are not your thing, the restaurant also offers more modern cuisine. Meat dishes are also available for those that want to experience diverse meals while dining here.
Kame Sushi Sohonten
This long-established restaurant is one place you don't want to miss if you want to enjoy an ambiance that feels very much like how sushi restaurants in Osaka were in the past. Add to that their reasonable prices and tasty dishes and you know you're in for a treat!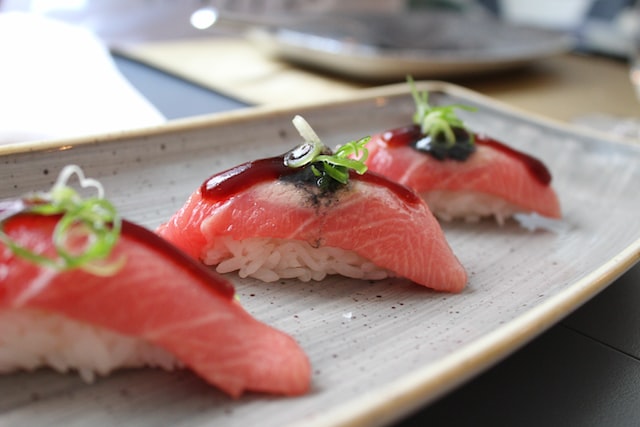 Guests that do not speak the Japanese language will love how they offer an English menu. So, picking out a dish won't be a problem even if you don't know a word of Nihonggo. You'll also love how they are a non-smoking establishment, which allows you to truly relish your meal.
The maguro is top of the list of the things that you should try when dining here. Procured on the same day by the chefs, you can trust that it is fresh and tastes great. Pro tip: Start with the lean meat first before digging into the fattier portions. This will help you get a better appreciation of the tuna's umami flavors.
If you want a dish that is fully packed and gives great value for your money, try the Tekka Maki. It's tuna rolled in seaweed and rice and the taste is phenomenal for a dish so simple!
Sushi-Cho Haru
If dining at a leisurely pace is more your thing, then Sushi-Cho Haru is the place. Known for their seasonal sushi offerings paired with carefully selected sake, experience only the best and freshest ingredients to tickle your palate here.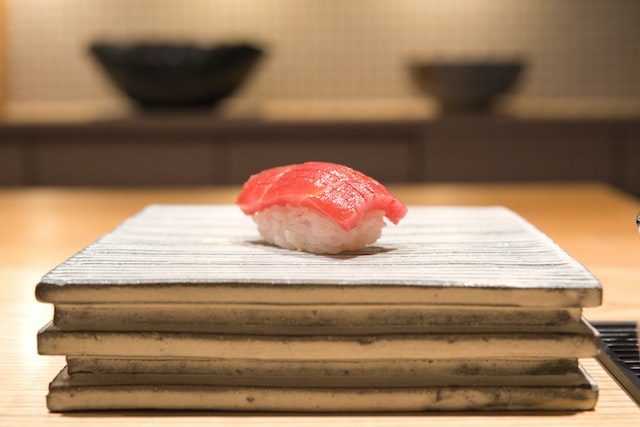 The master chef is known for being very particular in selecting only the day's freshest and most in-season ingredients. He's also known for simplifying his dishes to allow the ingredients' umami or savory taste to truly stand out. 
Another crowd favorite is their anago nigiri or sushi made from conger eel. The eel is bought straight fresh from the Osaka-Sakai area. It is then grilled until tender before serving.
Aside from their ever-popular selection of sushi dishes, the place is also known for their super-mini rice bowls. Only 7 minutes away on foot on the JR Tozai Line from Osaka Tenmangu Station, expect to pay around ¥8000 for every meal.
The freshest ingredients at reasonable prices
Among the many things that stand out with sushi restaurants in Osaka is how they're very particular with the freshness of their ingredients. It doesn't hurt that they are in an area where access to fresh seafood every day is possible. Top that with prices that are very wallet-friendly and you know you're in sushi heaven. Whether you're new to sushi or a self-proclaimed connoisseur, you'll never run out of choices in Osaka!