Dotonbori is one of the most popular tourist destinations in Osaka, and for good reason. This lively district is home to a wide variety of restaurants, bars, shops, and entertainment venues, making it the perfect place to enjoy a night out on the town.
Whether you're looking for a delicious meal, a fun place to drink, or some great shopping, Dotonbori has something to offer everyone. Read on as we list down some of the many fun things you should do to truly experience this side of Osaka.  
Get lots of snaps at Dotonbori Street
No trip to Dotonbori is ever going to be complete without taking a selfie in front of the Glico sign! Often regarded as the heart of Osaka, this colorful street is well known for its amusement park-like ambiance.
Giant 3D billboards greet tourists and locals alike. Whether it's the Kani Douraku crab, a giant pufferfish, or an octopus, you just have to take snaps of them all for posterity. If you're ever wondering how food-centric this is— it's because Osaka is the country's food mecca.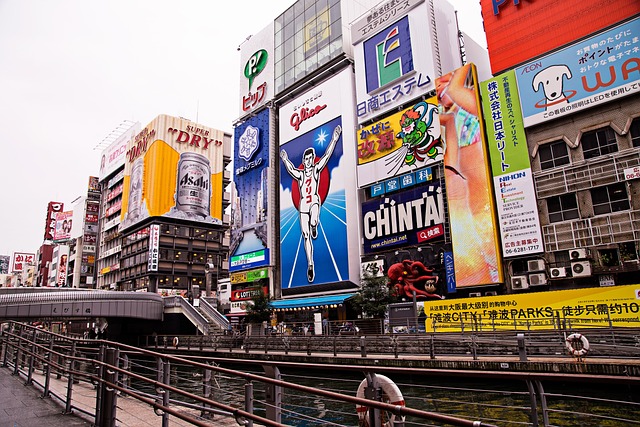 And of course, nothing beats the most popular of them all— Glico's running man! It's become one of the very first things to do in Osaka to strike a pose with the Glico sign in the background. With the surge of both locals and tourists walking about along this area, however, it can get tricky sometimes.
Take a stroll along the riverwalk
If you're planning on taking in the sights of this part of Osaka, the best time to do it is at night. Thanks to the neon lights illuminating the district, the canal lights up as well. This makes for an ideal spot for those that just want to take a stroll and enjoy the view.
You'll be surprised at how busy things could get at night, especially along the Tonbori Riverwalk. Already a hub of activity during the day, things get amped up even more at night. As locals come out looking for spots to dine and drink and get entertained, Dotonbori is the place to be.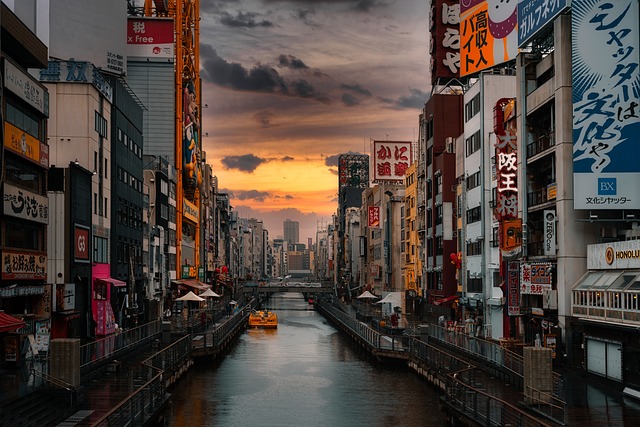 You'll never run out of interesting things to do as the place is filled with a plethora of shops you can do some spot shopping in. If you start to feel the pangs of hunger, then the many al fresco restaurants and street food stalls about will be more than ideal for grabbing a bite. The place is also buzzing with live music performers for some on-the-spot entertainment.  
Enjoy a river cruise
Want to amp up the experience? There is always the Tonbori River Cruise for you to enjoy! Lasting for 20 minutes, it is another way to enjoy the sights. It's such fun too to just start waving randomly at passersby as the cruise glides by the waterway.
Even light rain can't stop the cruise from getting on the way. Unfortunately, you won't be allowed on board with an umbrella when there's a drizzle. So, don't forget to bring along a raincoat. Pro tip: look after your belongings as they can get wet if you aren't careful.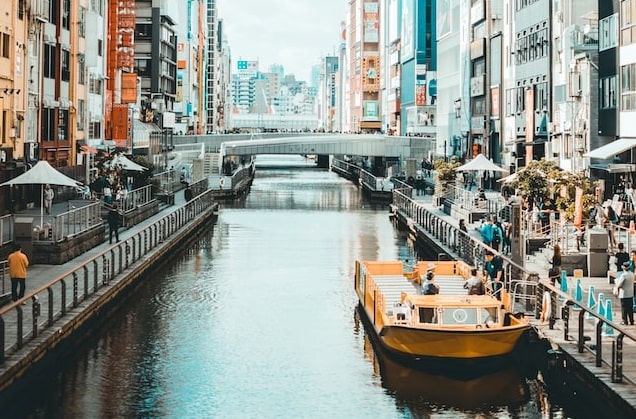 When getting tickets for the cruise, note that reservations are not allowed. You can get them on the same day of the cruise. Tickets are available at the Donki (Don Quijote) Dotonbori at ¥1000.
Enjoy some peace and quiet at Hozenji Temple
Japan's ties to Shintoism and Buddhism mean there are always going to be shrines and temples wherever you are in the country. Somewhere in the bustling Osaka downtown is the Hozenji Temple.
This unassuming spot might seem a little out of place in the middle of the busy city. However, it is the perfect respite for those who want to slow down a bit from their busy days. Having been around since 1637, it has even survived World War II.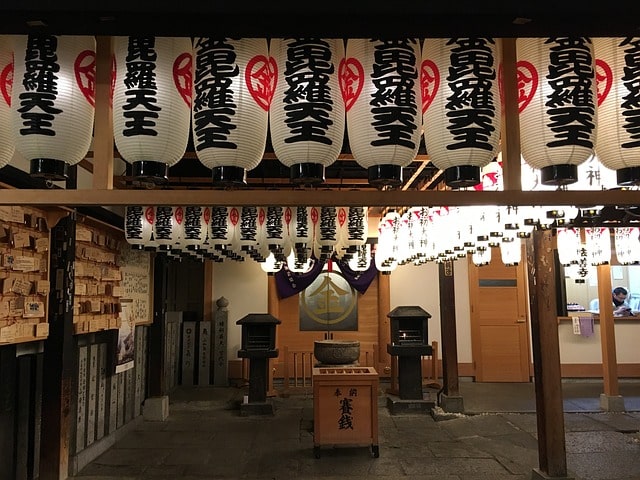 Perhaps its most popular deity is Fudo Myoo. A sculpture covered in moss, it is believed that he conquers demons, grants wishes, and is a protector against evil. Locals that visit the shrine can often be seen splashing water in offering to Fudo Myoo.
Step back into the Edo period on Hozenji Yokocho Street
A stone-paved narrow street, this historic alley has been around since the Edo period. If you are interested in Japanese history and want to get a feel of what it looked like then, this is a great spot to be.
Stepping into this street is truly a contrast to the overall feel and ambiance of Dotonbori. Instead of the usual billboards and giant signs and neon lights, you are greeted with how things used to look back in the Edo era.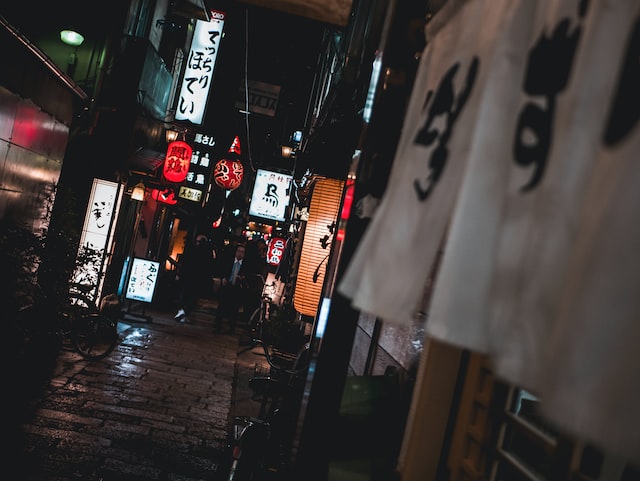 The alley is lined up with several cafes, all family-run. If you're hoping to get a taste of some authentic traditional Japanese food, this place won't disappoint. Whether it is okonomiyaki, sushi, fugu, kushikatsu, or a traditional full-course meal, you can all find that here. And at such reasonable prices too!
Immerse in Japanese culture at Shochikuza
One of the many things that Japan is internationally known for is Kabuki. A traditional art form which combines dancing with traditional theater, the Shochikuza theater is the best place to enjoy kabuki.
If you're aiming to get some exposure to Japanese culture, then you can't get any more traditional with kabuki. While plays are performed in Japanese, kabuki is performed in a way where the visual presentation makes it easy enough for the audience to understand the storyline. This means that despite your limited to non-existent knowledge of the Japanese language, you can still enjoy it!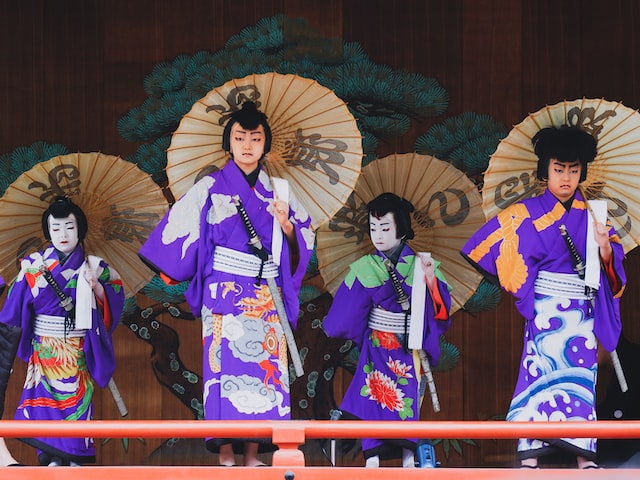 Even without dropping by to enjoy a kabuki show, the building itself is worth a visit. It is an impressive structure. It's modeled after Milan's Teatro alla Scala upon its opening in 1923.
Learn how to make Takoyaki
A visit to this part of Osaka can be quite educational too! If you're a foodie who's not only interested in eating good food but in making them as well, then a visit to Takoyaki Takomasa will delight you!
One of Osaka's signature dishes, there is no shortage of places where you can buy and enjoy delicious takoyaki on Dotonbori. However, if you want to both eat and learn how this delicious dish is done, then Takoyaki Takomasa truly stands out.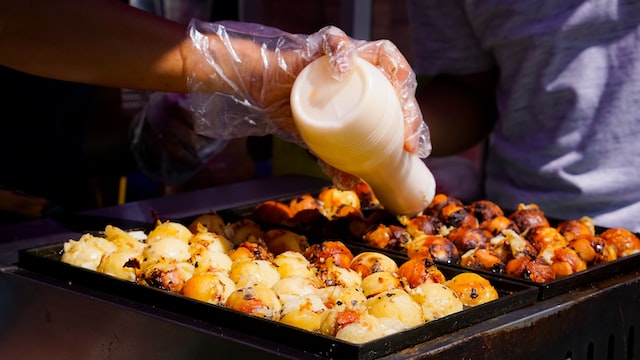 Once you secure a table, you can start pouring the batter into your own grill. For the inexperienced, the staff can help you grill your own food. Straight from the grill— takoyaki does not come any fresher than this! Do note that reservations are needed, so be sure to book yours ahead of time.
Grab a bite at Soemoncho
It's impossible to complete a trip to Dotonbori, or anywhere in Osaka for that matter, without food being involved. Right at the heart of Dotonbori is Soemoncho.
A setting filled with karaoke joints, restaurants, and bars, it certainly comes alive at night. But thanks to its bustling nightlife, many of the restaurants and diners in the area are known to stay open until the early hours of the morning.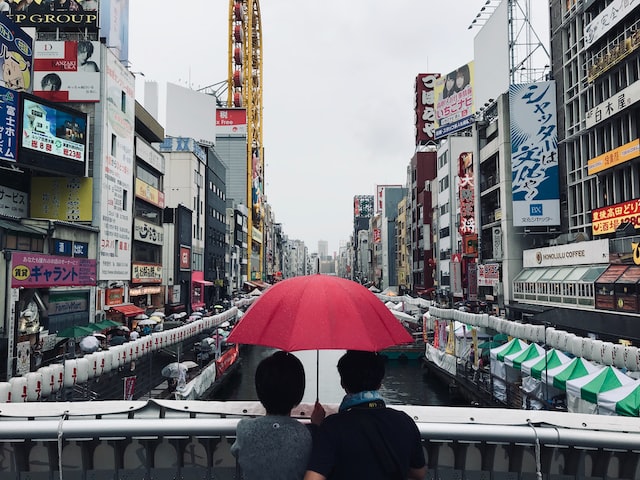 Whether hoping to grab a bite to end a night of drinking and clubbing, or you just want to enjoy an early morning meal, this is the perfect spot. Some of the ramen joints in the area are known to stay open 24/7. So, grab yourself a bowl and get slurping to recharge and start the day!
Go souvenir shopping
No travel can be complete without shopping for souvenirs and travel to Osaka is no exception. If you're looking for traditional Osaka souvenirs, then head over to Ichibiri-an Dotonbori Honten.
The shop is known for its array of unique Osaka souvenirs. And they live up to their reputation! Offering interesting, cute, and unusual items, some 4000 pieces could line up the store at all times!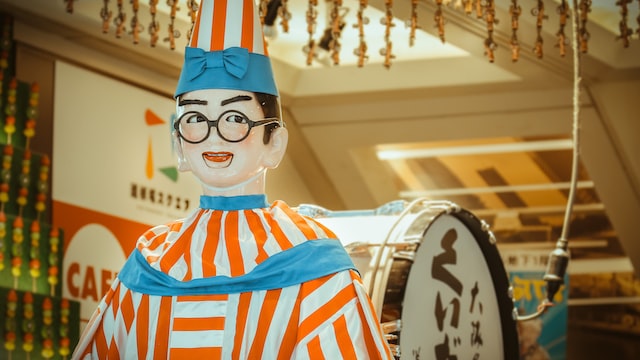 Even if you have no plans of making any purchases or you've run out of funds, it is still a great place just to browse around. You'll be delighted to find a variety of interesting Osaka souvenirs that are unique to the place.
Always worth a visit
Dotonbori is always worth visiting because it is one of the most vibrant and lively areas in all of Osaka. There is never a dull moment here, as there is always something to see and do. From the bright and colorful neon lights to the delicious food, there is always something to catch your attention. If you want to experience the best of Osaka, Dotonbori is the perfect place to go.