Golden Gai is a small, intimate neighborhood in the heart of Tokyo that's worlds away from the city's bustling streets and impressive city views. This is a place where you can find traditional Japanese bars tucked away in narrow alleyways, each with its own unique atmosphere.
Tucked away in a back alley of Shinjuku, this tiny enclave of bars and restaurants feels like stepping into a different world. While it is one of those places that's hard to find, it is well worth the effort. It's easy to spend an evening wandering from one bar to the next, sampling different drinks and chatting with the locals.
The atmosphere is casual and relaxed, and the bars are small and intimate. It's the perfect place to while away an evening, sipping on a drink and chatting with friends. You might even find yourself staying out until the sun comes up! And if you get hungry, there's no shortage of places to eat.
A look at Golden Gai's history
This unique neighborhood in the heart of Tokyo is known for its small, cramped bars and its bohemian atmosphere. The area has a long and storied history, dating back to the post-World War II era.
Despite its small size, Golden Gai has a rich history that has shaped the neighborhood into the unique place it is today. In the aftermath of World War II, it was known as a seedy, crime-ridden part of town and a haven for prostitutes.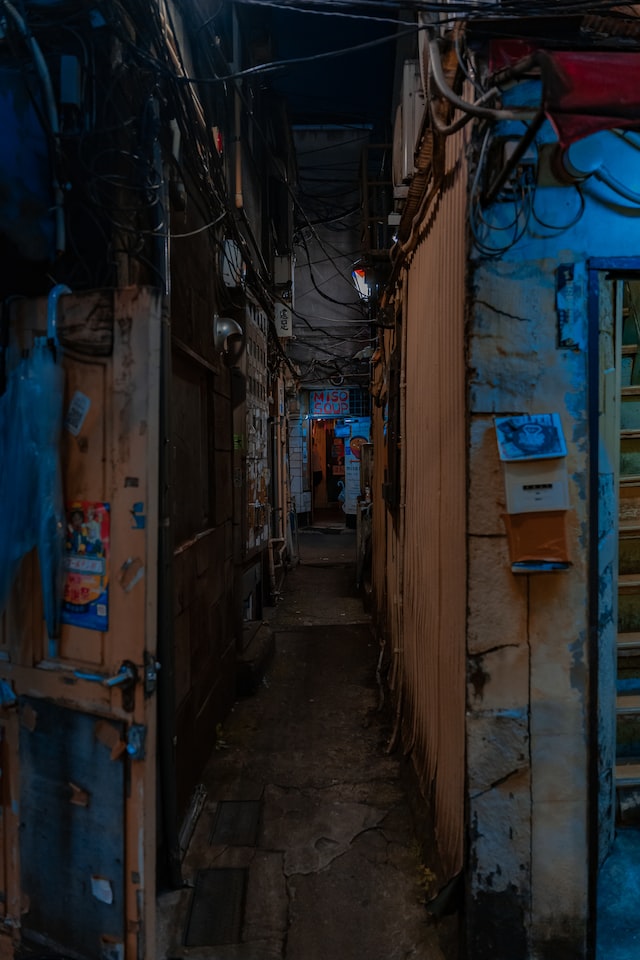 This reputation began to change in the 1960s when artists and writers began to flock to the district. Many of them are in search of cheap rent and a creative community. It was during this time that the area established a reputation for being a favorite destination for creatives.
The 1980s saw the Golden Gai getting threatened by the Yakuza. Bar and shop owners were being threatened into leaving so the land can be sold to rich developers. The business owners, however, refused to budge. Instead, they took legal action to remain in the area.
As a result, the area has remained the same as it has always been since the 1940s. In recent years, the area has become even more popular, with new bars and clubs opening up to cater to the ever-increasing visitor demand.
Despite its popularity, Golden Gai remains a small and intimate neighborhood. The bars and clubs here are often cramped and crowded. However, that only adds to its charm. This is why it is a favorite among locals to end a long day. It's also the perfect spot for tourists to experience a different side of Tokyo.
Things to do in Golden Gai
Soak in the unique atmosphere
From cozy bars with only a few seats to lively bars with live music, there's something for everyone in Golden Gai. But what makes Golden Gai unique is that each bar has its distinct personality, and they're all packed into such a small space.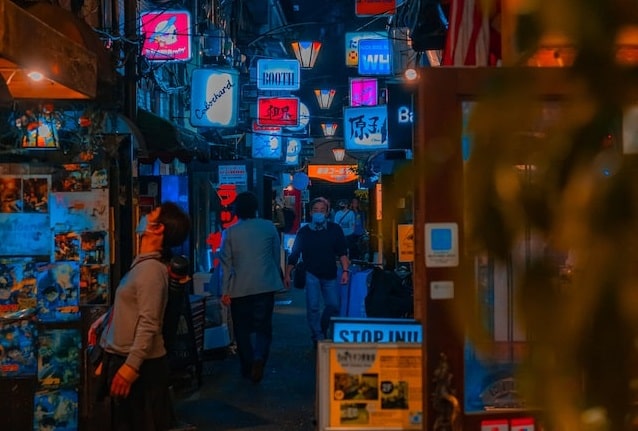 Because the bars are so small, you can really get to know the people who frequent them. It's not uncommon to strike up a conversation with the person next to you and end up spending the whole night chatting. If you're looking for a truly unique and authentic Japanese experience, this is the spot.
Enjoy a traditional Japanese bar experience
If you're looking for the perfect place to enjoy a drink and soak up the atmosphere of old-school Japan, this is it. The bars here range from izakaya to dive bars to classy cocktail bars, so there's something for everyone.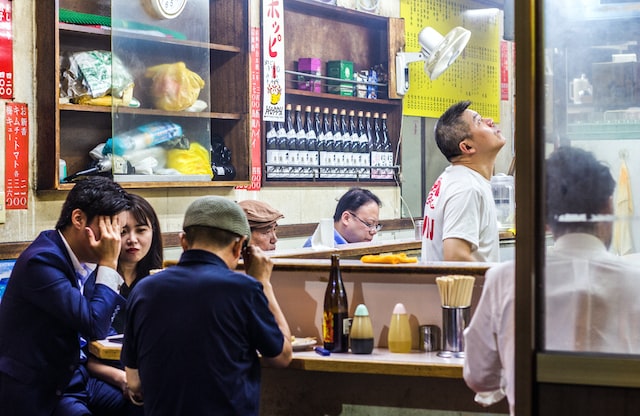 You'll find bars that specialize in sake, whisky, and even shochu (a type of Japanese distilled alcohol). And many of them have a cozy and relaxed vibe, where the bartenders are always happy to chat and recommend drinks.
Enjoy some good food
Golden Gai has a good selection of food spots if you know where to find them. Some of these places are known for their relaxed ambiance while there are also spots that offer a restaurant experience.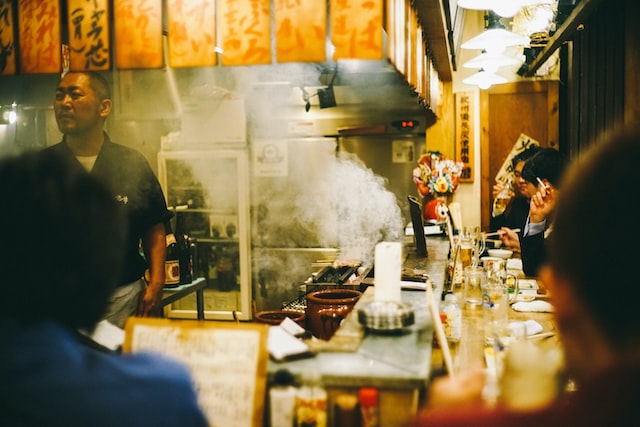 However, Omoide Yokocho which is poorly translated as Piss Alley is a well-known spot for good food. The alley has lines of tiny restaurants and diners serving anything from yakitori to seafood to ramen. It's a favorite spot among locals needing something to munch on to end a long night of bar crawling at Golden Gai.
Have fun exploring the themed bars
Half the fun of exploring Golden Gai is picking out a bar. With about 300 bars to choose from, it's not going to be easy.
You'll be especially delighted to find that the place is known for its plethora of themed bars. There's everything here including a hospital-themed bar, grass-covered walls, music-themed spots, Gothic, and a death metal-inspired bar among many others.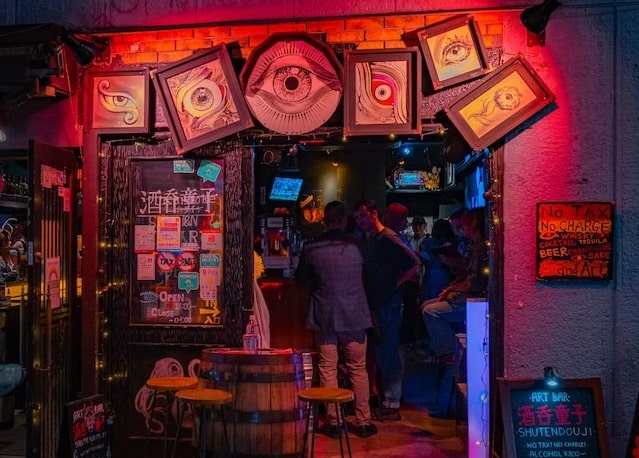 Most first-timers would do well dropping by at Ace's. They offer reasonable drinks, a great atmosphere, and an eclectic playlist. The English-speaking staff can help you feel more at ease too. They're also known for being friendly to foreigners.
Another tourist-friendly spot is Kenzo's Bar. It's easy to spot, thanks to its leopard-print wallpaper, and is also known for its 80s music. The host is very friendly and is a known screenwriter and actor too. He's also more than happy to accommodate foreigners.
For the artists and filmmakers, the best spot is La Jetee. This is where fans of French cinema meet. A number of known artists and filmmakers are known to frequent here including Tarantino and Wenders. So, if you're a film connoisseur, you would fit right in.
If you're looking for a place where you can while away the hours of the night to the early morning, then head over to Orange Prince. Also known as Bitter Orange, it's a great place for those looking to enjoy a variety of cocktails, beer, and wine. More importantly, it stays open until 5 AM.
Golden Gai rules to remember
It's important to observe certain etiquette when hanging out at Golden Gai. Typically, the bars here open around 9 PM, but some establishments are open as early as 5:30 PM. If you want to experience the place bustling with activity, make sure to come a little after the regular opening time.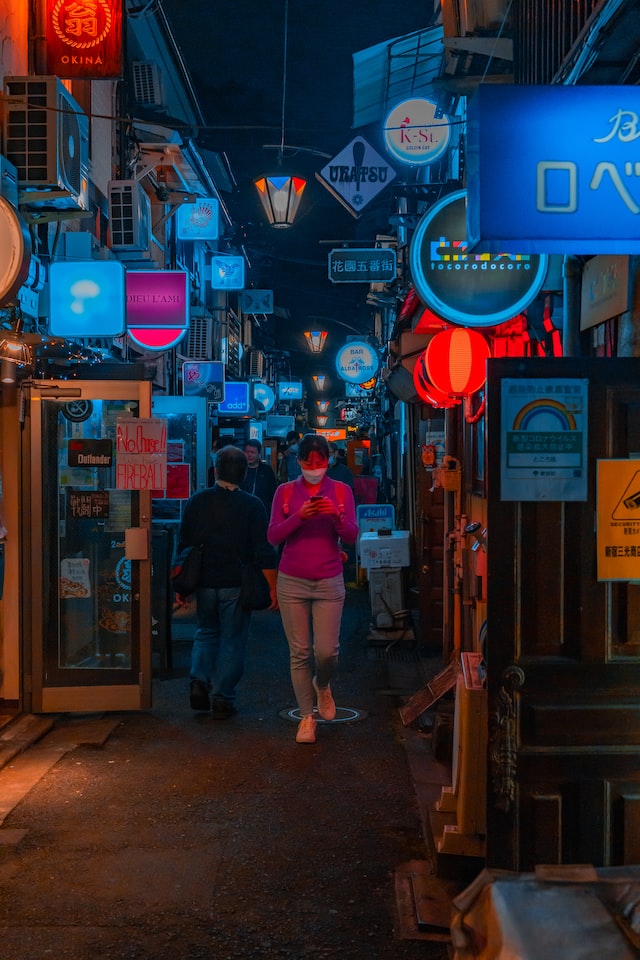 When in the area, remember:
not to smoke unless in designated areas or do drugs
not to take pictures or videos without asking for permission
not to loiter
not to sing our shout
not to take or drink your alcoholic beverages out of the bars
not to climb on fences or buildings
Cover charges may be charged by certain bars, while others don't. This should be indicated in their entrances, so you will know ahead of time. Most of the bars here do not accept credit cards. Also, some may charge you for sleeping or passing out.
Do note that the bars here are very small. Hence, seating capacity is quite limited. This is why it is best not to come in big groups.
Also, some bars will have "no foreigners", "no tourists", or "locals only" on their doors. Be sure to respect that. After all, there are more than enough foreigner-friendly bars you can hang out in the area.
A great place for a good time
If you're looking to experience a different side of Tokyo, Golden Gai is the perfect place to start. This unique neighborhood is full of character and charm and is a great way to get a taste of the city's more alternative side. If you're looking to get to know Tokyo the way the locals do, be sure to check out Golden Gai.