Yakiniku is a Japanese grilled meat dish. It's served in the form of small slices of beef, chicken, pork, or other types of meat. Inspired by Korean BBQ, yakiniku restaurants are common in Japan. You can find one just about anywhere and Tokyo is no exception.
A wonderful foodie destination, the Japanese capital is more than just about ramen, kaitenzushi, themed restaurants, or animal cafes. It is also peppered with a wide array of restaurants serving top-notch yakiniku.
They tend to vary depending on the types of meats and cuts, the ambiance, and the price range. This does make it a bit of a dilemma to decide which yakiniku place to head to if you decide to enjoy some "grill-your-own-meat" experience for dinner.
Yakiniku restaurants are perfect for dining with friends because everyone can cook their own food. Every table is equipped with an electric grill provided by the restaurant, which makes for a unique dining experience.
In Tokyo, as it is with the rest of the country, there are many different types of yakiniku places— from high-end establishments to more casual places. Read on as we list down our top picks for the best yakiniku restaurants in Tokyo where you can enjoy this amazing type of cuisine!
Yakiniku dining tips
When it comes to dining at a yakiniku place, it is always best enjoyed with a larger group. Depending on the restaurant, there are some cases when the grilling may be done by staff. Most of the time, however, the grilling must be done by you!
While you'd e forgiven to think that it is nothing but a simple and straightforward grilling experience, there is actually more to it than that! Learning some tips and tricks before heading out to a yakiniku place does help elevate the experience.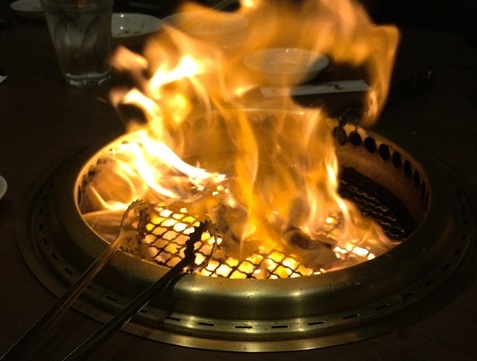 Order the larger platters
There's a reason why yakiniku is a communal experience. It is because when you're with a larger group, you can order a larger platter, which will allow you to sample a wider array of meat cuts. More importantly, the bill won't be too heavy on the pockets, since there are others you can split it with.
Don't start grilling right away
Do wait for a bit until the grill is thoroughly heated up before you start grilling. Grilling meat on an insufficiently hot cooking surface is not just frustrating. The resulting taste won't also be as good.
Start with the seasoned meat
It's common for meat platters to come with meat that is both seasoned and unseasoned. Start with the unseasoned cuts first. Leaving the seasoned meats later will help keep the grill clean. This also prevents the other meat cuts from absorbing the sauce, which could affect their taste.
Get a change of griddle
At some point, your cooking surface will have cooking marks all over. Note that you can always ask the staff to have it changed out or get it cleaned.
Best yakiniku places in Tokyo
Aside from its stunning city views, Tokyo is every foodie's dream destination. And if you're grilled meat, you'll be delighted to know that the metropolis has plenty to offer. Whether you prefer grilling wagyu beef or want to dine at an all-you-can-grill-and-eat establishment, here are our top picks of the best yakiniku restaurants in Tokyo.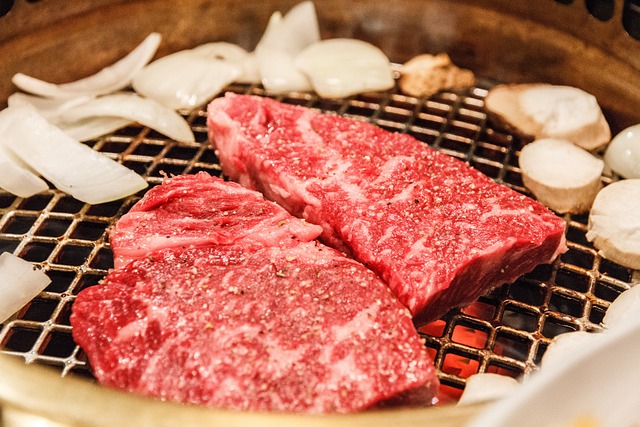 Yoroniku
Located in Minami Aoyama, it's a 10-minute walk from Omotesando Station. A very popular yakiniku destination, it is most known for its "silky beef". The restaurant is also known for its wagyu beef sushi, which is apparently invented.
The beef served in this yakiniku place is sourced from Hiyama. They've earned a reputation for serving only the best quality meat and top-notch. Being a highly popular establishment, it is advised that you make reservations ahead of time as getting a table can be a challenge.
Han no Daidokoro
Just a couple of minutes on foot from Shibuya station, this yakiniku is known for its Korean-style set-up. They are known for purchasing Yamagata beef with an A5 rank. This gives the diners the chance to taste other Wagyu beef parts that aren't usually served in other places.
With 140 seats available, the restaurant is quite spacious. There are also private rooms that can hold 4-6 people. The lunch options they offer are significantly budget-friendly, especially if you consider the quality of the meat they serve.
Yakiniku no Meimon Tendan
This yakiniku place in Akasaka is a popular destination among businesspeople and locals in the area. With 13 private rooms, each with a distinct interior, they are ideal for large parties and business meals as they can accommodate up to 32 people.
They are known for serving meat cuts that are significantly larger than what other yakiniku places offer. Patrons also love their gochujang miso paste sauce which salty and spicy taste, makes for the perfect yakiniku combination.
Rokkasen
Located in Shinjuku, this yakiniku restaurant is known for specializing in Wagyu beef. This includes the top-tier "black hair Beef" and "Matsuzaka Beef", known for their melt-in-your-mouth taste.
In 2015, the restaurant was even awarded the "Certificate of Excellence Award' by TripAdvisor, which is a testament to the quality of the dining experience they offer. Thanks to its accessible spot, it is a very popular destination not only among locals but foreign diners as well.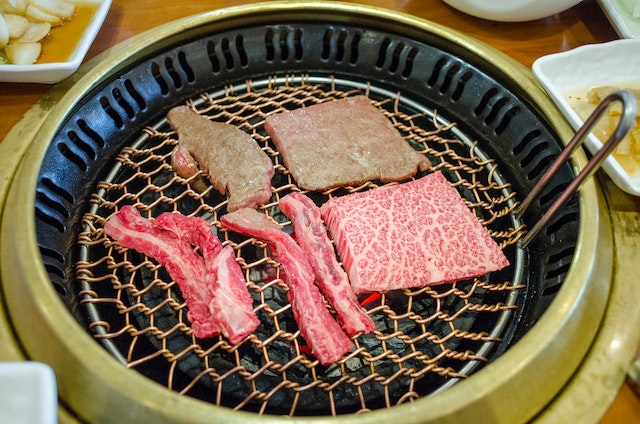 Matsunaga Bokujo
Known for their diverse yakiniku offering, Matsunaga Bokujo has 18 different courses that customers can choose from. Whether you're coming in for a business dinner or celebrating a special occasion, they have the right courses to fit your grilling mood.
They're known for serving Japanese black beef. The meat is certified in Shimane prefecture and is known for its top-notch quality. To preserve the meat quality, it is only cut once an order is received. The "Matsunaga Bokujo Selection" is a must-try as it features a wide array of top meat cuts including skirt steak, shoulder, and galbi. It also has enough to serve 2-3 people.
Ikuta
If you're looking for a yakiniku place that specializes in Kobe beef, then this is one spot you need to check out. It doesn't hurt that the place is only just a couple of minutes away from the JR Yoyogi station.
Diners will love the fact that the restaurant offers the option to try out the different parts of beef other restaurants around would not normally serve. Lunch is the most ideal time of the day to come and dine here. Their lunch options are affordable and at the same time, offer top-notch meat for grilling.
Toraji
Located in Ikebukuro, the place is known for its sumibi-yakiniku. Their dining setup involves tabletops set up with charcoal braziers where all the grilling action happens. The restaurant is ideal for both private parties and groups.
Known for their Korean-style cut Japanese black beef in its marbled perfection, their Ultimate Sampler is also a favorite among meat lovers for its special selection of meat cuts. An easily accessible place, it is a short walking distance from Ikebukuro station's west exit.
Dogen
Notable for its Japanese izakaya feel, a Japanese lantern hangs by this yakiniku place's entrance to welcome diners in. The grilled beef inner organs served here are very popular among patrons. They're also known for their Kuroge wagyu beef along with a variety of other beef types and cuts.
The place also has a very popular menu item called Apple which consists of a shoulder roast meat with thin strips of apple wrapped around it. At ¥500 apiece, it certainly is a must-try if you get the chance to drop by. Located at a very accessible spot, it takes about 7 minutes to get here on foot from JR Shibuya station's Hachiko exit.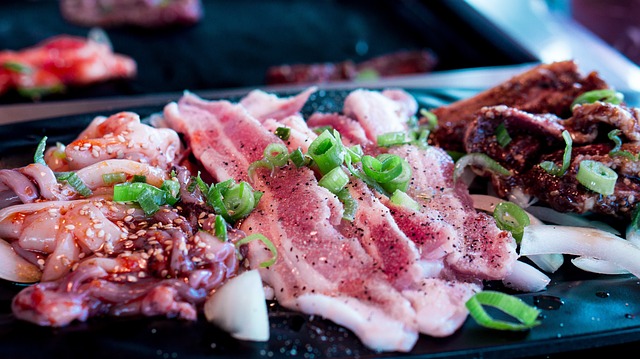 A unique dining experience
Have you ever tried yakiniku, or grilled meat dishes in Japanese restaurants? Yakiniku is one of the most popular dining options for Japanese people to enjoy eating together with friends and family. It's a unique dining experience and something worth a try if you ever find yourself in Tokyo!
Learn about all the cuts of Yakiniku or other amazing dishes in Japan.