There's no doubt that Mount Fuji is one of the most iconic spots in Japan. For the best views of Fuji-san, there is no better place than Kawaguchiko— and there's no shortage of fun things to do here as well!
The biggest of the Fuji Five Lakes, it's the most accessible too. With direct transport by train or by bus from Tokyo, it is certainly worth a day trip or more, if you have the time to spare. It doesn't hurt that Kawaguchiko has a plethora of natural resources for you to take in and enjoy. Unsurprisingly, it is one of the best places to visit in Japan, welcoming tourists in the thousands on the regular.
Getting to and around Kawaguchiko
If going by train, there are three options from JR Shinjuku Station. The fastest route takes 1.5 hours via the Limited Express Fuji Excursion which is a direct service. If you're looking for a cheaper option that does not take too long, head to Otsuki via the Limited Express Kaiji. You'll then need to get on the Fujikyu railway which will take you to Kawaguchiko.
If you want the cheapest option, get on a local train that will take you to Otsuki. This does increase the travel time by 2.5 hours.
Going by bus but don't want to deal with the usual queue at Kawaguchiko Station? There are highway buses you can catch from various stations in the capital including Shibuya, Shinjuku, and Tokyo. The ride can take up to 2 hours.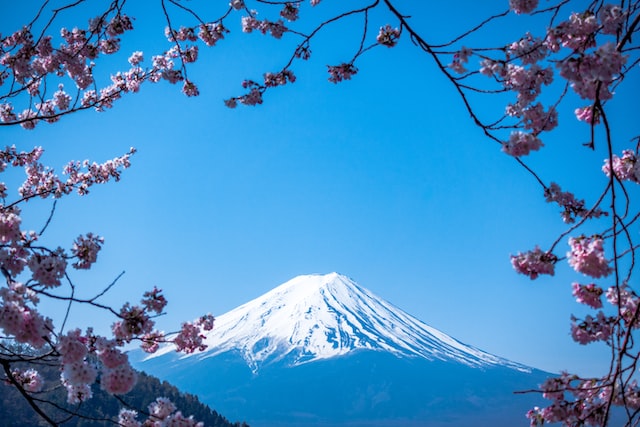 If you're not confident enough to figure out the intricacies of Tokyo public transport, there are day tours to Kawaguchiko which you can sign up for. Most of the time, these trips will include popular spots such as Chureito Pagoda, the Healing Village, and Oishi Park.
There are sightseeing buses in Kawaguchiko which offer the easiest way to access most of the popular sights in the area. You can choose from the Blue, Green, and red bus lines. These buses offer a one-day or two-day ticket option and passes to get on a sightseeing boat or see the ropeway can be purchased as well. Some people do choose to rent a bicycle to see the sights in the area. If this is more your thing, there are shops in the locality which can serve you.
Things to do in Kawaguchiko
Walk along the shores of Lake Kawaguchi for great views of Mount Fuji
There are so many places in Kawaguchiko where you can great views of the iconic Fuji-san. It is, after all, looking over the entire town. However, if you want to see some of the best views of the mountain, nothing beats seeing it from Lake Kawaguchi— specifically, along its north shore.
With the lake nestled in the foreground, the beautiful mountain can even sometimes be reflected in the clear waters. The lakeside is a great spot to take a walk as well, especially if you don't mind stretching your legs for a bit. Just walk over the north side of the Kawaguchiko Ohashi Bridge, which should take around 30 minutes from Kawaguchiko station.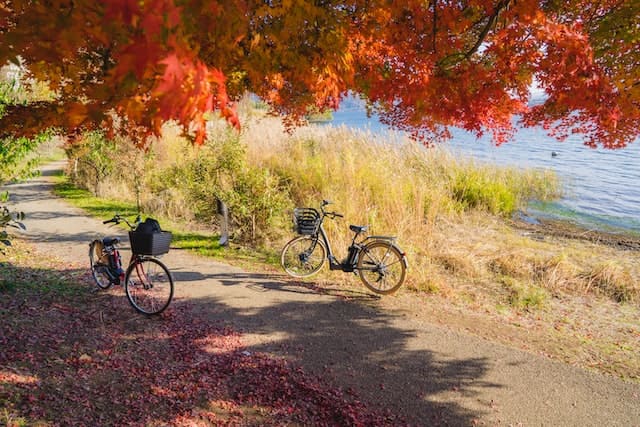 Take a boat trip on the lake
It's common for tourists to get on one of the sightseeing boats across the lake for even more spectacular views. However, if you'd rather steer clear from the crowd aboard the Ensoleille sightseeing boat, another option is to go pedal boating. You can rent one of the panda or swan boats that you can then pedal out into the lake. Typically, you'll need to pedal for about 5 minutes to get some good views of Mount Fuji. It's certainly a fun way to do it and a great way to give your legs some workout!
A pedal boat usually costs around ¥2000 and could hold up to three people. The trip lasts 30 minutes. If you want to go for a 20-minute sightseeing boat trip, adults cost ¥1000 and kids cost ¥500. Head over near the ropeway station to get into a sightseeing boat. Close by you'll find the pedal boat rentals as well. Both these boats run similar hours, usually from 9 AM-4:30 or 5:30 PM.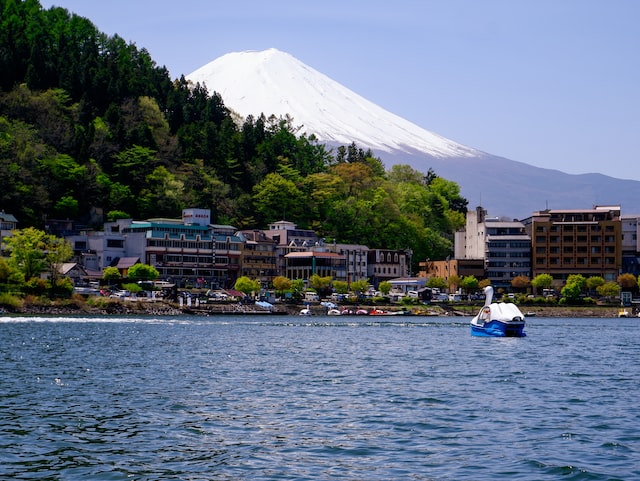 Check out Chureito Pagoda
You've probably seen a picture of Mount Fuji with the iconic pagoda before. It's not surprising as this is perhaps one of Japan's most photographed spots along with the Arashiyama Bamboo Grove, and Kyoto's Kinkakuji Temple. Located in the Arakurayama Sengen park, it takes about 20 minutes to get here with the nearest train station being Shimoyoshida.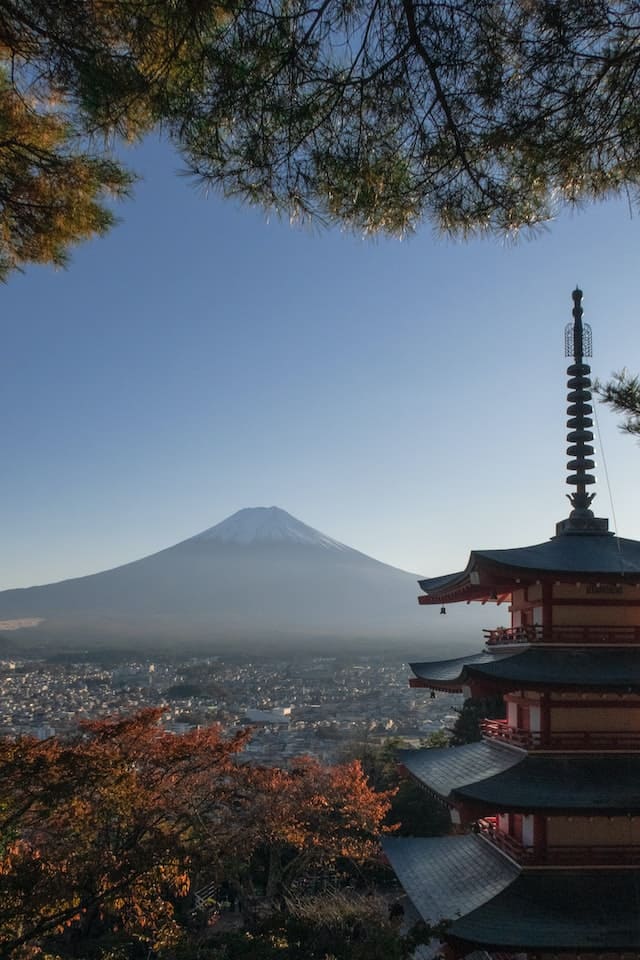 You'll want to head here in the morning before it gets a bit cloudy as they can oftentimes cover Mount Fuji. Also, it is possible to see Fuji-san in the afternoon as well, especially during the late hours. It gets particularly busy here during the cherry blossom season. It doesn't get any more classic than the combination of Mount Fuji, the red pagoda, and cherry blossoms, after all.
Be warned, however, that the spot can get busy, even during regular days. It's common to find hundreds of people waiting their turn to take a picture of the spectacular view. All the more reason to head here early if you don't want to wait too long.
Take picture-perfect photos at Oishi Park
If you want to take more breathtaking pictures of Mount Fuji, then head over to Oishi Park. With fields of blueberries and lavender in the foreground, it is as picture-perfect as it gets. The gorgeous garden where changes by the season and is just the perfect spot to snap some post-card-worthy pictures.
The lavenders tend to reach their peak bloom around the middle of June. It's also around this time that herb festivals around the area take place. If you visit around July to August, you can enjoy picking blueberries and other fruits from one of the many farms nearby. Souvenir shops and stores selling local produce including grapes, potatoes, and veggies can be found nearby. There are even ice cream stands around. Japanese ice creams are a must-try as they are delish!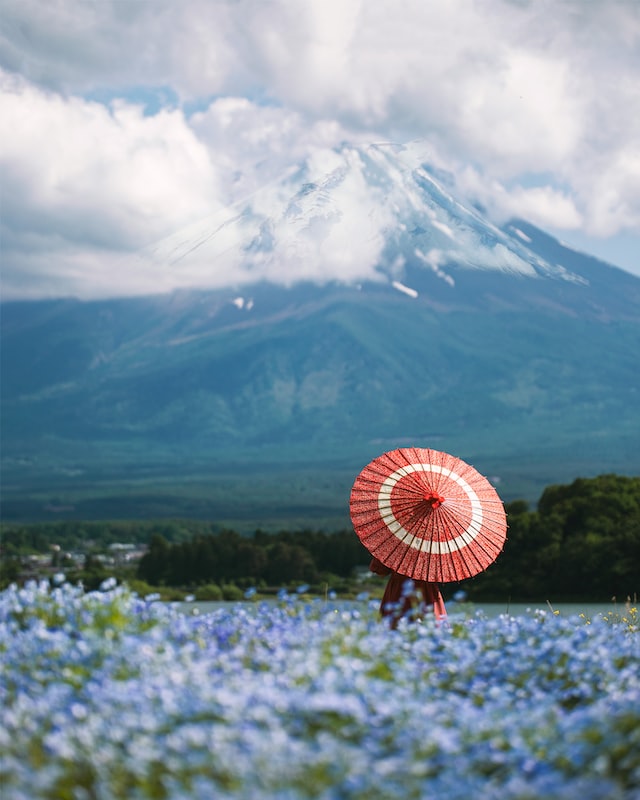 Drop by Iyashi no Sato
For those keen on experiencing some Japanese culture, a visit to the traditional Iyashi no Sato village is simply a must! Located near Lake Kawaguchi, this village museum features traditional Japanese houses in all their thatched-roof glory.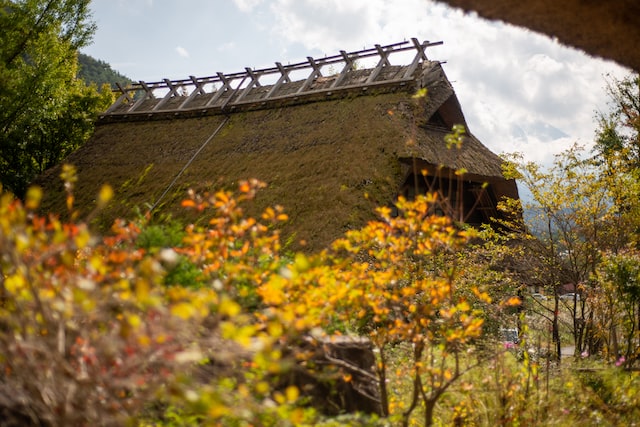 Designed to resemble an open-air museum, the village is dedicated to featuring local crafts. Some of the houses are actually workshops dedicated to basketry, making soba noodles, and making washi paper. Some serve as local craft shops featuring jewelry, kimono, and pottery. Others serve as restaurants and even art galleries. It's a wonderful place to explore. Be sure to spare at least half a day or more to truly make the most of the experience.
Check out Oshino Hakkai Village
Located between Lakes Yamanaka and Kawaguchi, Oshino Hakkai is known for its quaint windmills, magical ponds, and of course, stunning Mount Fuji views. Back in the day, it is common for devout visitors to first cleanse themselves in the village's ponds before heading up to Mount Fuji.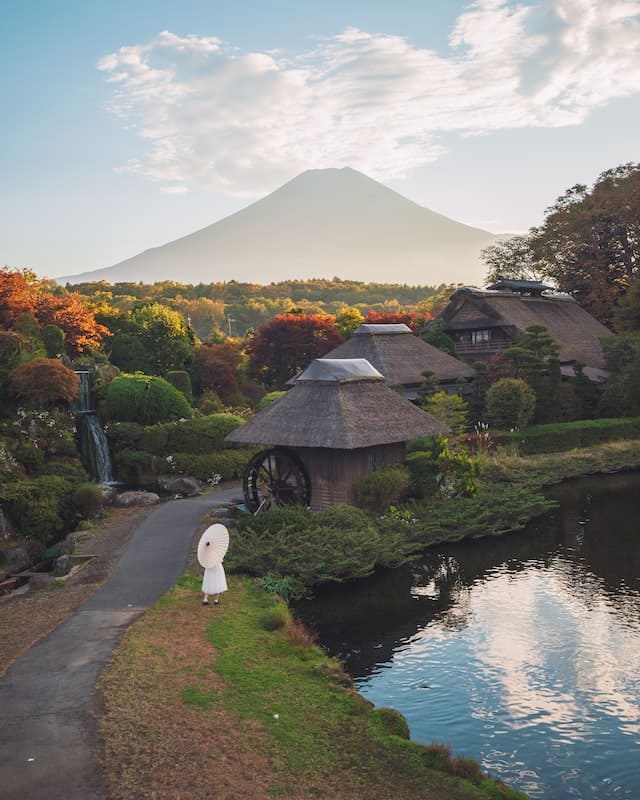 Each of the ponds namely: Shobu, Kagami, Waku, Nigori, Sokonashi, Choshi, Okama, and Deguchi, have their own history dedicated to the worship of Mount Fuji. These days, the ponds are still very much revered for their healing powers. Visitors are even encouraged to bottle up some of the water and drink it.
Aside from the magical ponds, Oshino Hakkai Village also has plenty of cafes, restaurants, and shops selling snacks. So, you'll never have to worry about where to it while there. The village is really cute and would take you a few hours to wander about if you want to find all the water ponds. Getting to the village by car can take around 20 minutes and there are plenty of parking spaces in the area. You can also get here by bus which could take around 30 minutes.
Take a walk at Aokigahara Forest
This dense forest is known for its several trails. What's interesting is how the forest grew on top of the lava flow from Mount Fuji's eruption back in 864. While very beautiful, the forest does have a bit of a reputation. If you're familiar with some Japanese horror movies and shows, you would probably have seen the forest being featured as the "Suicide Forest".
The winding, sometimes confusing paths of the forest and its population of dens, thousand-year-old trees have also contributed to people believing it is cursed. Some even think that it has demons. It doesn't help that there are a lot of people that come to the forest to commit suicide. There are trails that still have some of the stiff that the dead has left behind.
While there is no denying that there really are plenty of people that come here to end their lives, many also come due to sheer curiosity. Some come here to mourn loved ones whose lives were lost in the dense forest. There are those that come here to meditate and self-reflect. Legend aside, however, the forest is just absolutely stunning and a great spot for those that enjoy nature walks.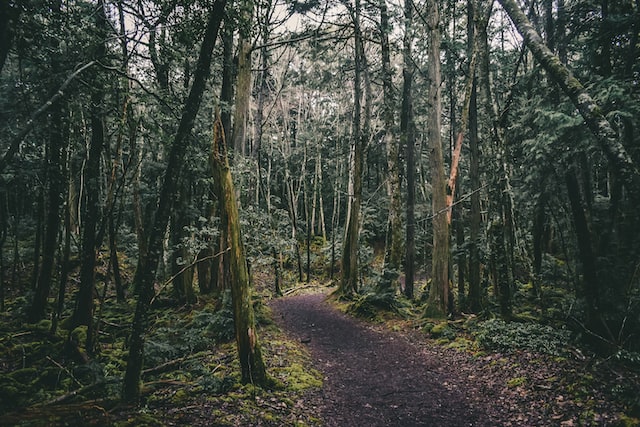 Enjoy hoto, a local specialty
A visit to Yamanashi Prefecture is never going to be complete without trying the local cuisine. And what better way to do it than tasting a local specialty— hoto noodles! The dish features unusually flat noodles with vegetables, simmered in miso soup. It's one hearty, filling, and nourishing bowl and a must-try when in the area!
The noodles, although flatter, look somewhat similar to udon. However, they are prepared much like dumplings. There are several restaurants serving the dish in the area, so just have to keep your eyes peeled. Houtou Foudo, a known restaurant chain, has branches around the lake areas and is known for quality hoto servings.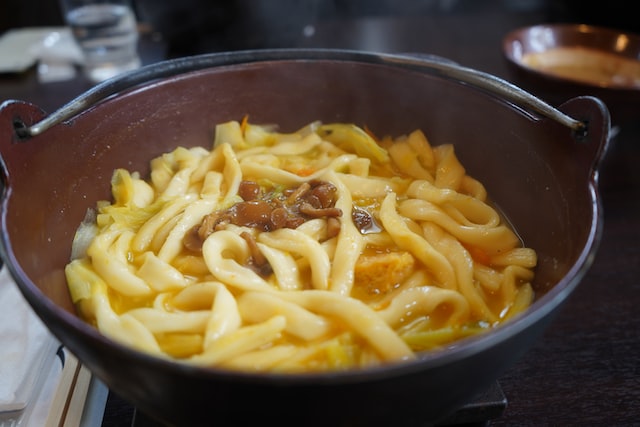 Soak in the warmth and sights at an onsen
As Mount Fuji is known for its volcanic activity, it's hardly a surprise to find numerous thermal hot springs in the area. Tired from a day of exploring and sightseeing? The only thing more relaxing than soaking in at an onsen is being in one with views of Fuji-san.
Azagawa and Funatsu-Hama are two primary onsen towns you can check out via the Red Bus Line route. You should be able to book a spot or more in one of the many public onsen and hotels in the area. Most of these places welcome day guests to soak in their relaxing baths. Some also have private onsens for you to enjoy. If you're very particular about getting a good view of Fuji-san, be sure to do a bit of research before booking to make sure this is exactly what you'll be getting.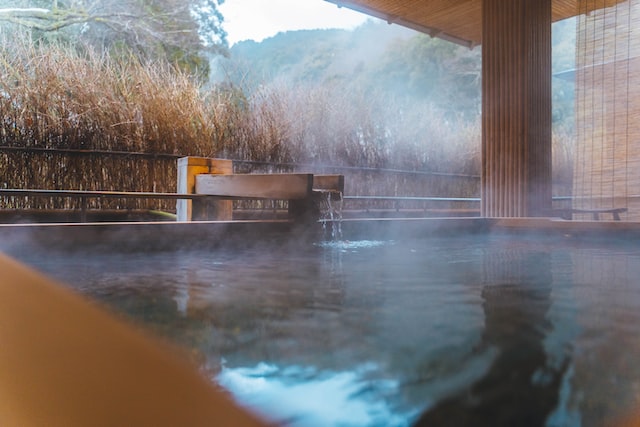 A nice getaway from the city
Seeing Mount Fuji is more than enough reason to take a trip to Kawaguchiko. But add to that all the wonderful places, stunning natural spots, and fun things to do around the area at your leisure and you know it's one trip that's more than worth it. If you need a relaxing break from checking out Tokyo's city views or Osaka's vibrant street food scene, adding Kawaguchiko to your itinerary is a no-brainer.