Kabukicho is one of the most vibrant and exciting areas in Tokyo. It is known for its nightlife, abundance of restaurants and bars, and lively atmosphere. The district, which is part of Shinjuku ward, is also known as Tokyo's biggest red-light district. If you're looking for a place to party or experience something more risqué while in Tokyo, Kabukicho is the place for you.
Tokyo's underground scene
While Japan has earned world renown through its anime, manga, ninjas, samurai, kawaii fashion, and many more, people often forget that just like a coin, it has another side to it too. In Tokyo, for instance, there is an underground scene that delves not only into the metropolis' nightlife but also its thriving sex industry.
This is hardly a surprise since the country's history has always been replete with sexual themes and arts, also referred to as erotic art. Where some countries might consider sex as a rather dark and taboo subject, it is normalized and celebrated in Japan, albeit reservedly. It's also the reason why sex shops can be found anywhere in the capital.
A lot of people often think there is a stigma attached to visiting red-light districts. But in truth, it really is not something to be embarrassed by. More importantly, Kabukicho offers more than just the adult industry. You'll be surprised how many interesting things you can explore and find here.
A little background on Kabukicho
Although the place has become known as Tokyo's biggest red-light district in recent years, Kabukicho hasn't always been that way. After the Second World War, during Tokyo's reconstruction, the original plan was to construct a kabuki theater in the area. This never came to fruition, however, but the name stuck.
Around the 1960s-1970s students can often be seen frequenting the area for drinks. The movie theater in the area used to show late-night showings which were pretty popular among younger audiences. Eventually, discos and game centers also sprung up, which helped cultivate the spot's reputation for its lively nightlife.
In the 1980s, however, laws setting restrictions on nighttime entertainment got revised. This resulted in many of the wholesome businesses in the area shutting down. In their place, adult-oriented businesses sprung up. The success of these businesses then led to the reputation that Kabukicho has maintained to this day.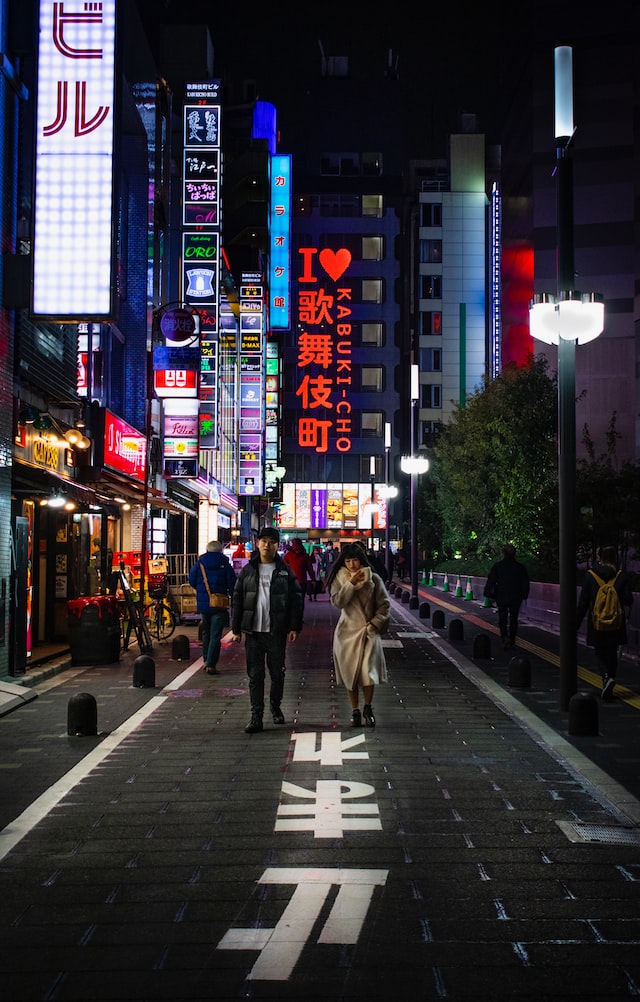 Keeping safe in Kabukicho
There are a few things you should know before heading to Kabukicho. While its sketchy reputation remains true to this day, it is relatively safe to roam around the area. You just have to keep your wits about, be aware of your surroundings, and be cautious of your belongings.
That being said, it helps to know what are the things you should avoid when exploring the area:
Street hawkers
While street hawking is considered illegal, this has not fazed many of the restaurant promoters and street hawkers in the area. Most promoters would try to sweeten deals with offers of beautiful women or cheap drinks. Unfortunately, many of these are just straight-up lies and scams. So, if you ever get approached by one, just refuse them and walk on.
Hostess and host clubs
While most Japanese media try to portray the host and hostess scene in a more lighthearted manner, don't let that fool you. It can be one of your most expensive mistakes if you're not careful. Hosts and hostesses are known to push clients to order one expensive drink after another. It's easy to rack up a ridiculously expensive bill in exchange for a little conversation and a few sips of drinks.
Fun things to do in Kabukicho
Go on a bar crawl at Golden Gai
If you're looking for a fun night out, then there's no better place to head to than Golden Gai. Compared to the rest of the red-light district, however, you'll find that the alleys here have a significantly different vibe.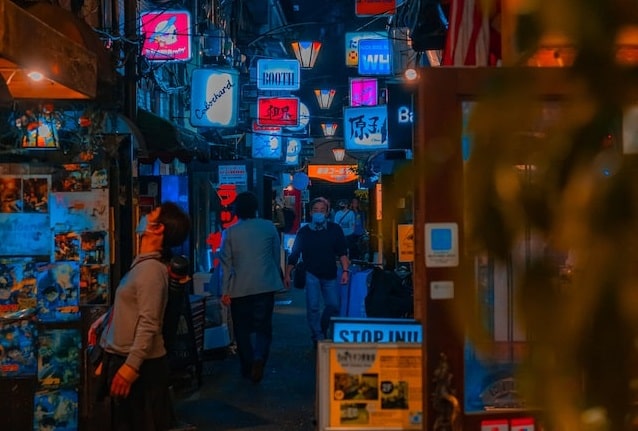 With over 200 small bars and shops to choose from, you'll never run out of options if a night of drinking fun is what you're gunning for. The area is welcoming to tourists and foreigners. However, some spots only accommodate locals. So, be sure to respect that.
Enjoy some good food at Piss Alley
Head over to Omoide Yokocho or Piss Alley to enjoy some good food. It's the perfect spot to head to after you've had your fill of drinks at Golden Gai.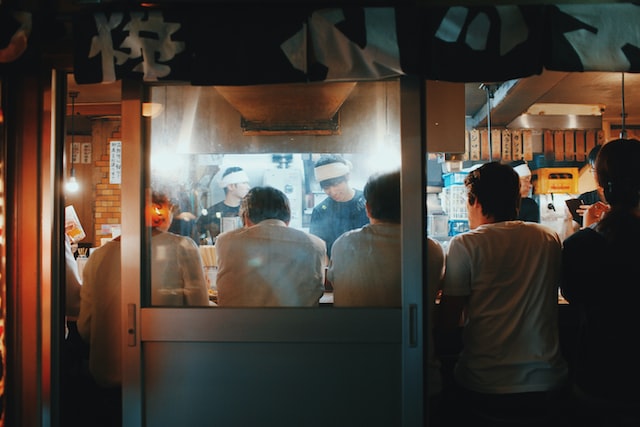 The area is lined with food stalls that serve scrumptious yakitori. Other spots sell seafood, ramen, and other traditional Japanese dishes. But if you're feeling a bit more adventurous, it has its fill of shops that serve meat offal, horse meat, or even pig's penis!
Check out Godzilla's head
Right smack in the middle of Kabukicho is the giant head of Godzilla, perhaps Japan's most popular monster. Godzilla has now become a permanent fixture of the area after being the local ambassador.
The head is actually part of Hotel Gracery. Guests can even book rooms where they can see a view of the head. Every now and then, the head will light up and even roar sometimes. So, if you're lucky, you might capture it on video!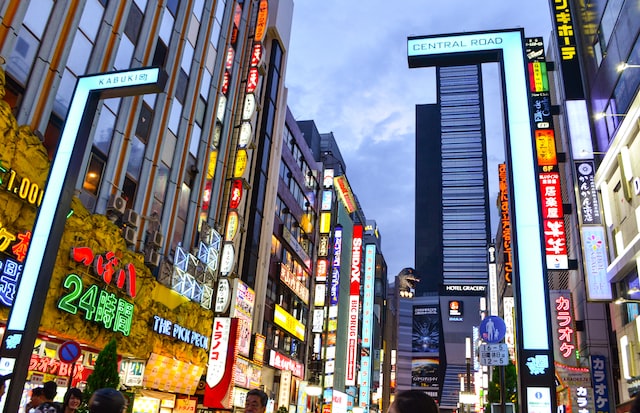 Visit a Pachinko parlor
Pachinko is a Japanese gambling game, and it's one of the most popular pastimes in Japan. There are hundreds of pachinko parlors in Kabukicho, so you're sure to find one to your taste.
It's quite easy to play. Just put in the required amount into the machine and wait as the silver balls start crashing. It's pretty similar to pinball, only vertical and with smaller balls.
Pachinko is quite cheap to play but very fun. And can be quite addictive too! Some machines do tend to have low payouts, so always check the stats on a machine before pressing play.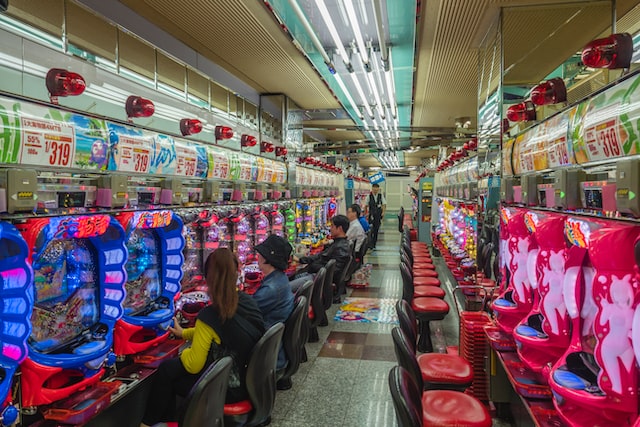 Reconnect with Japan's past at the Samurai Museum
If you're interested in seeing displays of samurai costumes, then a trip to the Samurai Museum is a must when in Kabukicho. Located in Ryogoku, it's a pretty small area but the displays here are impressive.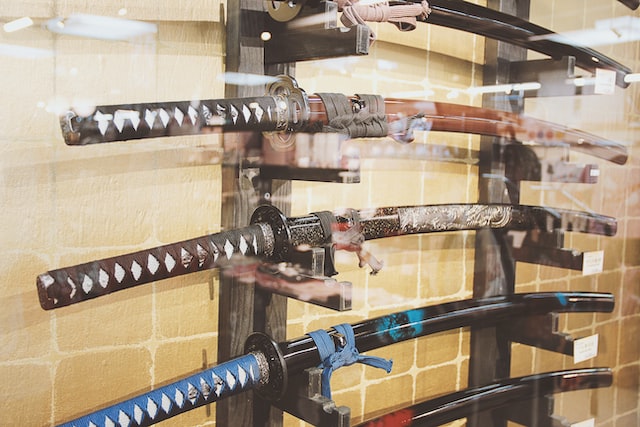 They also have very knowledgeable staff who are more than happy to attend to questions in English. The place even has trained actors to carry out demonstrations. They will even allow you to try on the different samurai costumes.
Experience a love hotel
If you wish to spend a night in Kabukicho, then there's no better place to do it than at one of its many love hotels. You can even just choose to stay for a few hours if you wish to.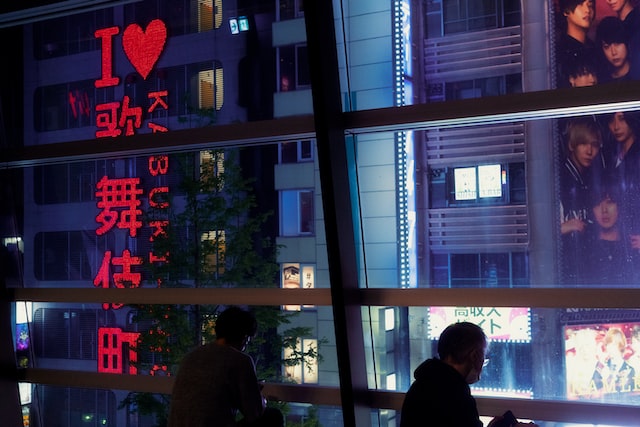 Accommodations in love hotels can include costumes, light shows, a private jacuzzi, and more depending on how much you're willing to pay. Do note that there are some unattractive love hotels in the area. So, always take the time to look for the more respectable establishments around.
Shop at Donki
Donki or Don Quijote is pretty much the Japanese Walmart. It has a huge selection of goods which makes it a great spot for shopping no matter the time of day as it is open 24/7.
These stores can be found across various locations all over the country. If you're hoping to get some late-night souvenir shopping, then this is a great place to head to. Just make sure to bring your passport with your tourist visa with you to enjoy some tax-free deals.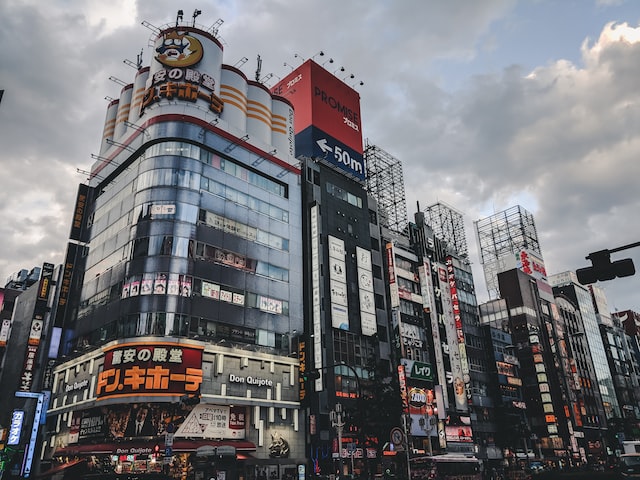 Discover a different side of Tokyo
Tokyo's red-light district is a colorful and vibrant place, replete with its own unique and interesting allure. Full of life and energy, it's a great place for experiencing the best nightlife in the city. With a wide variety of bars, clubs, and restaurants, and a plethora of risqué entertainments and activities to choose from, there's something for everyone in this lively district. No matter what you're looking for, Kabukicho is sure to have something for you.