Located in Kyoto's Higashiyama district, Gion is one of the city's most scenic parts. Owing to being designated by the national government as a historical preservation district, it offers a wide range of Japanese attractions, mostly focused on Japanese culture. It is also most famous for being the geisha district. Geishas and maikos can sometimes be seen scurrying down the cobblestone streets on their way to meet clients.
Originally, the district started along the Yasaka Shrine area. Due to the number of visitors that come to the shrine regularly, the area expanded to encompass the district that it is known now. Hanami-koji Street, known for its well-preserved machiya houses, is especially popular among tourists. Today, these traditional houses are now converted mostly into restaurants.
Shirakawa canal is also another popular spot in the district. With its line of willow trees, it makes for such a pleasant walk, especially at night. Gion is also home to some of the most notable Buddhist temples and Shinto shrines in the city. These include Yasaka Shrine, Gion's most popular shrine, and the historic Kennin-ji Temple. If you're after discovering Kyoto and its numerous traditional, historic, and religious gems, Gion is the perfect choice.
What to do in Gion
While a small district, Gion offers a whole host of interesting and fun activities to do during your stay in Kyoto. Whether it is exploring the traditional cobblestone streets, temple and shrine hopping, or taking part in one of the country's biggest summer festivals, here are some things that await you in Gion.
Take a walk down the traditional streets
Hanamikoji or Hanami Lane is perhaps Gion's most famous street. As the name suggests, it is famous especially during the summer as a hanami or sakura viewing spot. The street is well-preserved. Its beautifully paved roads are lined by ochaya or traditional tea houses. Do note that the area can be quite touristy as the old-world charm does bring in loads of visitors during the day. However, the scenery is worth a visit and is a great place to snap instagrammable photos.
Shinbashi-Dori is another street within the district that is worth exploring. The popular street is famous for its antiques. It winds along the equally famous Shirakawa canal. Cherry trees line the street. It is easily the city's most beautiful street, especially during the summer when the cherries bloom and the area is littered with different shades of pink.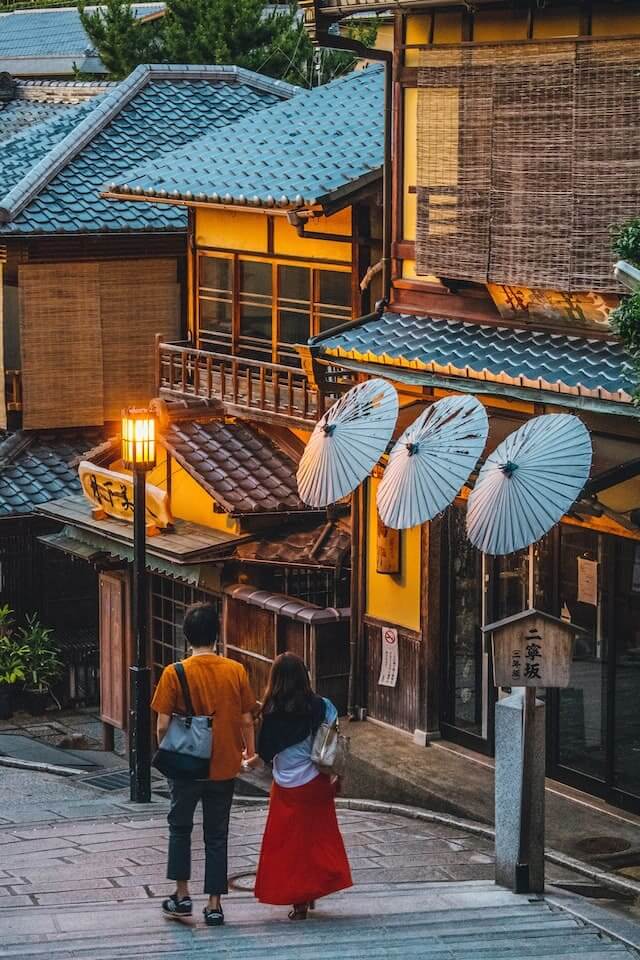 Do a temple and shrine crawl
As the country's main religious hub, Kyoto has more than its fair share of Shinto shrines and Buddhist temples. And Gion happens to have several selections to choose from for people that want to go temple and shrine hopping. Kennin-ji Temple and Yasaka Shrine are perhaps the most popular options.
Yasaka shrine, also referred to by the locals as Gion-sha, is Kyoto's most popular and important shrine. Known for its impressive display of lanterns, it is also renowned for its exquisitely impressive architecture. Every year, it serves as host for one of Kyoto's biggest festivals, the Gion Matsuri.
Then there's Kennin-ji Temple. Considered to be the oldest Zen temple in Kyoto, it is also the head temple of the Rinzai Buddhism sect. Located right at the end of Hanami-koji Street, it was razed down twice which led to it getting rebuilt in the mid-13th and 16th centuries. It is widely known for its gorgeous gardens and the ink painting of twin giant dragons on its ceilings.
Gion is also home to other smaller temples and shrines. For instance, there is the Ebisu-jinja, a small shrine with strong connections to Kennin-ji Temple. It also hosts the Toka Ebisu Matsuri which takes place every January.
Yasui Konpira-gu is a centuries-old shrine popular for its yearly comb festival. The shrine has a power stone which is believed to help end bad relationships and pave the way for good ones.
Chugen-ji is another temple located in Gion which temple hoppers can check out. Also called Meyami Jizo, it belongs to the Jodo Buddhism sect. It is believed that the temple's deity can heal people's eye diseases.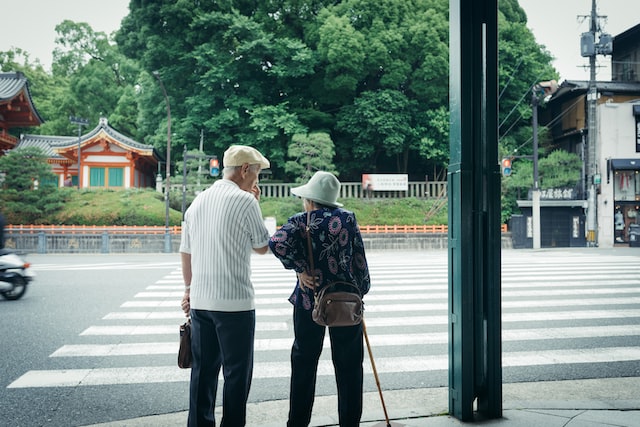 Rent a kimono
If you want to immerse in the Japanese traditional culture, then there is no better way than wearing a kimono. With Kyoto's kimono-wearing culture you'd easily fit right in. Wearing the exquisitely colorful Japanese attire while roaming about the Gion district and discovering the numerous cultural and historical heritage spots in the area will make you feel right at home. Besides, wearing a kimono can make for some wonderful photos.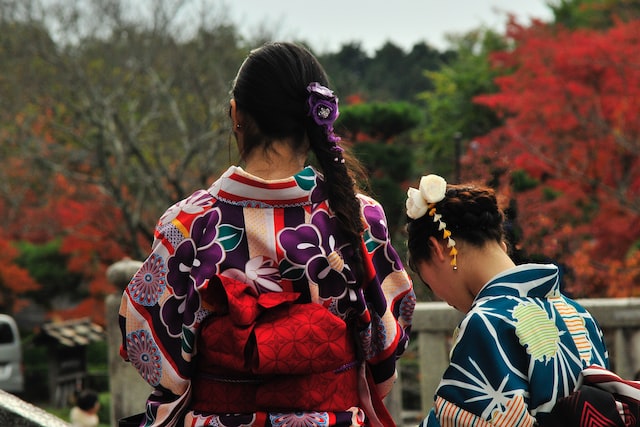 A variety of packages are available for interested tourists in the city. Some businesses offer the basic kimono-only rental setup. Others offer additional services including hairstyling. There are even businesses that also include a photo shoot while wearing the kimono in the package. Some offer a walking tour on top of the kimono rental. Considering how you get to explore the Gion area dressed in traditional Japanese garb, this is certainly a very reasonable offer.
Spot a geisha
Gion is Kyoto's geisha district. This is also where maikos or geishas in training are. While you can easily sign up for an appointment with a geisha for dinner or tea or arrange to watch a performance, it can get a bit expensive. If you're a bit low on the budget but want to see one of these highly mysterious female entertainers, you still can. And Gion is the perfect location to potentially spot them.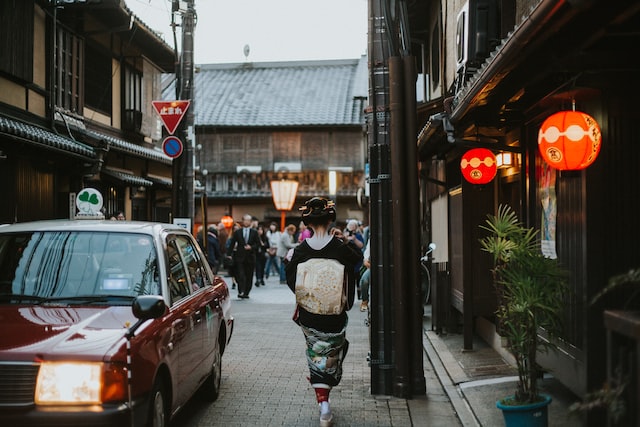 To improve your chances of spotting a geisha, make sure to head out near sundown. It is usually around this time when geishas and maikos tend to head out to their respective appointments. The teahouse or ochaya lining Shinbashi-Dori street are popular appointment settings for geishas and their clients. If you walk along the Shirakawa canal, you may sometimes hear laughter, music and the buzz of activities inside these teahouses as the geishas go about entertaining their clients.
Explore Gion at night
People that want to get to know more about the Gion district can sign up for a short walking tour. It's a great way to experience the numerous culturally, historically, and religiously significant spots in the district.
It's common for these walking tours to take place in the evening. This is, after all, when the Gion starts to bustle with activity. It's common for the tours to take visitors through the Shirakawa Canal and its scenic streets and pass by the many well-preserved traditional architectures in the district. The tour guides will also offer more information about geisha, their daily life, and the traditional rules that they are expected to live by.
You don't really need to pay for a walking tour to explore Gion at night. Just taking a stroll by yourself or with some company is one great experience you'd like to try at least once. You'll be surprised how much the district transforms as darkness falls and the crowd fades.
A stroll down Hanami-koji Street is certainly in order. You'll love the magical feel created by the dimly lit lanterns lining the street. You can also head out to the Shirakawa riverside and enjoy some fresh evening breeze. There are numerous clubs and bars in the area if a good quality cocktail is your idea of capping the night.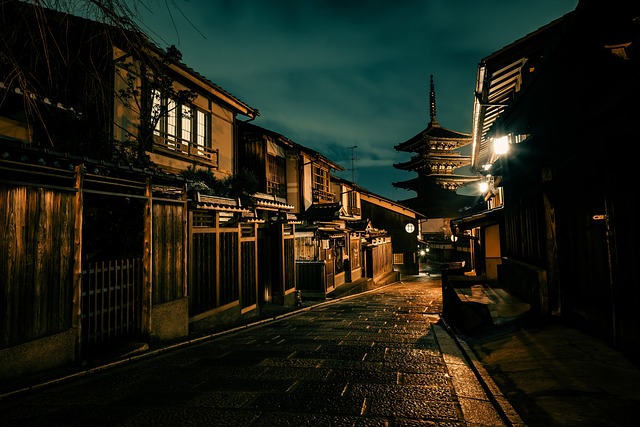 Visit Gion Corner
If you want a surefire way to see a geisha or a maiko while in Gion, then signing up for one of their performances is the way to do it. The geishas are known for their theater show in Gion Corner which highlights Japanese performing arts. If you visit Kyoto in April and October, you can even get a chance to witness their Miyako Odori dance.
Throughout the year, visitors can also experience an hour-long theater performance— a great introduction to Japanese arts and tradition. The theater show features 7 Japanese performing arts including flower arrangements, tea ceremonies, classical Japanese music, and dance performances.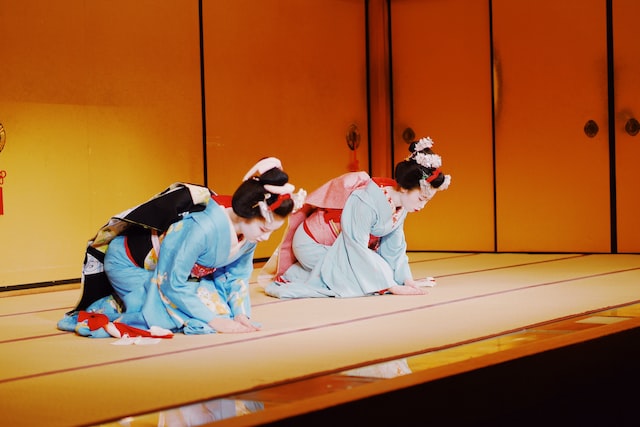 Attend a festival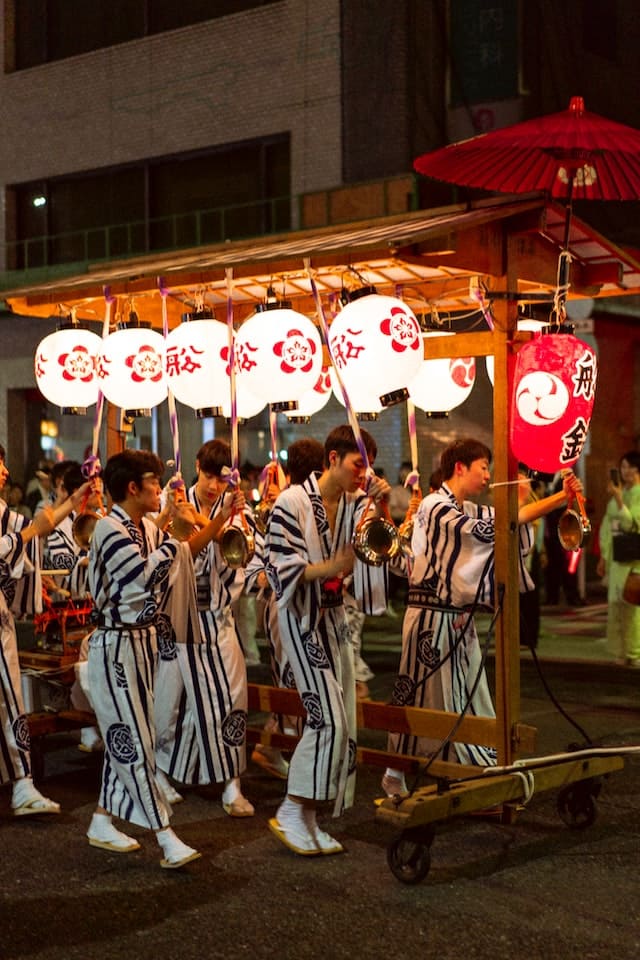 If you're in Kyoto in July, you're in for a treat! This is when one of Kyoto's biggest festivals takes place— Gion Matsuri. The entire month of July is dedicated to a variety of revelry and festivities. Witness as the streets of Gion come alive with vendors selling scrumptious street foods and party-goers.
Do take note of some of the most important dates concerning the celebrations. Yamaboko Junko, the biggest float procession of the festival, takes place on July 17. Before the big date, however, street-wide parties take place in the district to kick things off. Yoiyama takes place on the 16th, Yoiyoiyama on the 15th, and Yoiyoiyoiyama on the 14th.
Eat Curry Udon at Okaru or Curry Rice at Ygrec Yoshiki Curry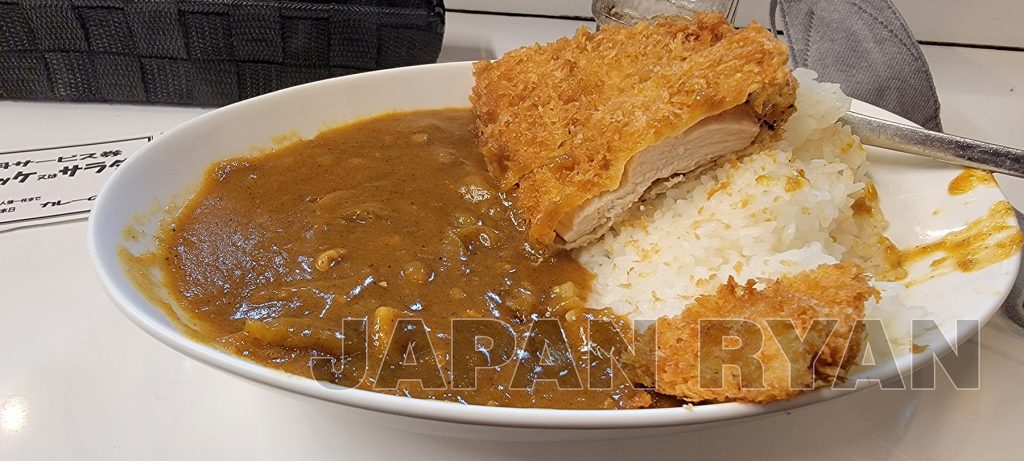 Japanese curry is a popular dish in Japan that is known for its rich and savory flavor. The dish is made from a mixture of spices, vegetables, and meat that are simmered together. These two spots are popular among locals and you may see Maiko or Geisha there, or at least meet some of their customers.
Experience the heart of Kyoto
Most people know Gion as the geisha district of Kyoto. However, there is more to this scenic district than that. Whether it's dining, shopping, or reveling in some of the city's well-preserved traditional architecture, it has plenty to offer. If you want to explore Kyoto and experience some of the charms of old Japan, you'll never go wrong with making Gion your base.