Located west of Tokyo, Hakone is situated in Japan's Fuji-Hakone-Izu National Park. It is also one of the country's most popular tourist destinations. Aside from its iconic views of the revered Mount Fuji, Hakone is also known for its hot springs, scenic views, and traditional Japanese inns.
Whether you're looking to relax in a hot spring, take in the stunning views, experience some traditional Japanese culture, or just unwind and get away from the bustles of the city, Hakone is the perfect place to visit.
There are many things to do in Hakone. It doesn't hurt that this beautiful town is only less than 100 km from Tokyo. This makes it very accessible and quite easy to plan a weekend trip to. While you'll never run out of interesting sights to see and experience when in this scenic town, below are some of the top things you shouldn't miss out on when in Hakone:
Take a dip in the hot springs
Hakone is famous for its hot springs or onsen, and there are many to choose from. Their waters are known to be rich in minerals and are believed to have therapeutic properties.
Many of the ryokan or traditional Japanese inns in Hakone have their own private hot springs for visitors to soak in. Even if you're not staying the night, some of these places may accommodate visitors who are just there for the day.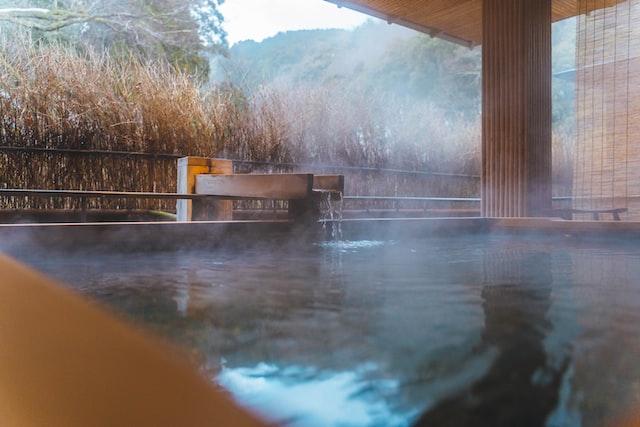 For the best experience, look up the different inns in the area ahead of time and look for those with a view of Mount Fuji. It can't get any more therapeutic and relaxing than that.
Enjoy the views from the Hakone Ropeway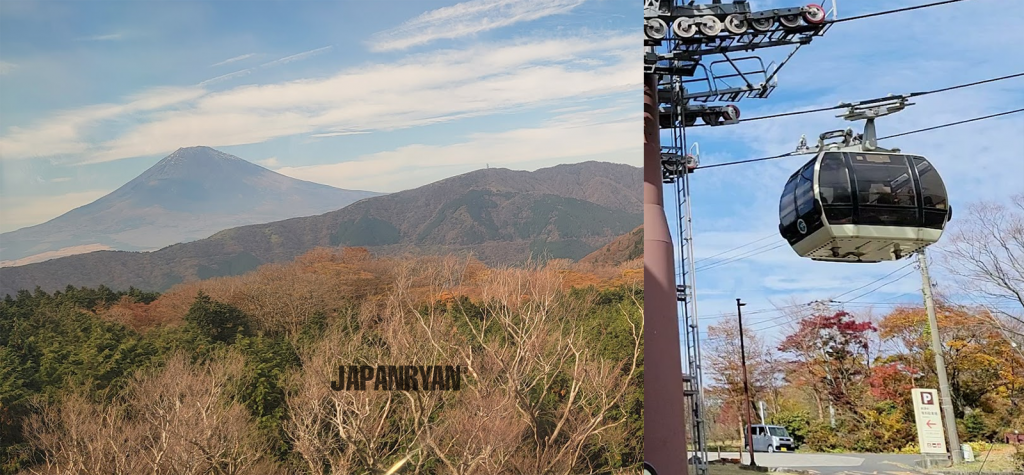 One of the first things you're going to do on your way to your accommodations in Hakone is take a unique variety of transit up the mountainside. First you'll take the Odakyu Line from Tokyo, which is just like any other train. However, once you reach Odawara Station you switch to the Hakone Tozan Train, which is a train designed for mountain scaling, which actually stops and changes directions on its way up the mountain due to the incredible slope.
Once you reach Gora you'll then be able to take a cable car which travels up an incredible 20% grade, pulled up the mountain by a cable. Lastly, once you reach Sounzan Station you can take the Hakone Ropeway which has see-through suspended cars that can take you to the highest convenient point at Owakudani Station.
On a clear day on the ropeway, you can even get an excellent view of Mount Fuji in the distance.
Experience traditional accommodation
If you want to experience the Japanese traditional accommodations, then staying at a ryokan is a must. And Hakone happens to have plenty of them to choose from!
Traditional Japanese inns are usually small establishments replete with straw floors and futon mats for sleeping. It's common for these places to serve traditional Japanese meals. This makes for a perfect setting to experience Japanese culture!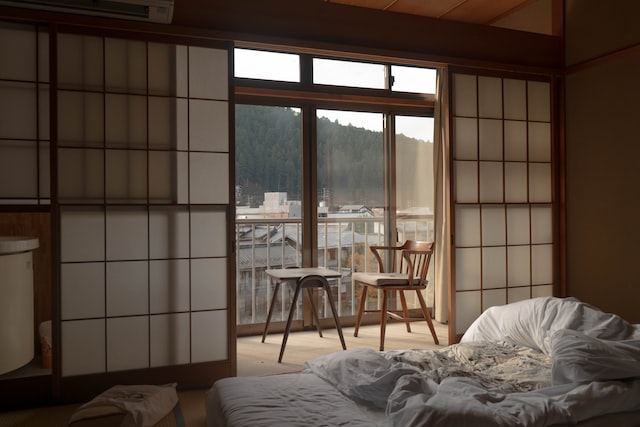 You'll even get to wear a yukata during your stay! The causal kimono is often worn by guests around the ryokan's communal area, which certainly adds more authenticity to the experience.
If you don't want to stay in a Ryokan, or you don't know that much Japanese, it's also really easy and convenient to find a good AirBNB in the area.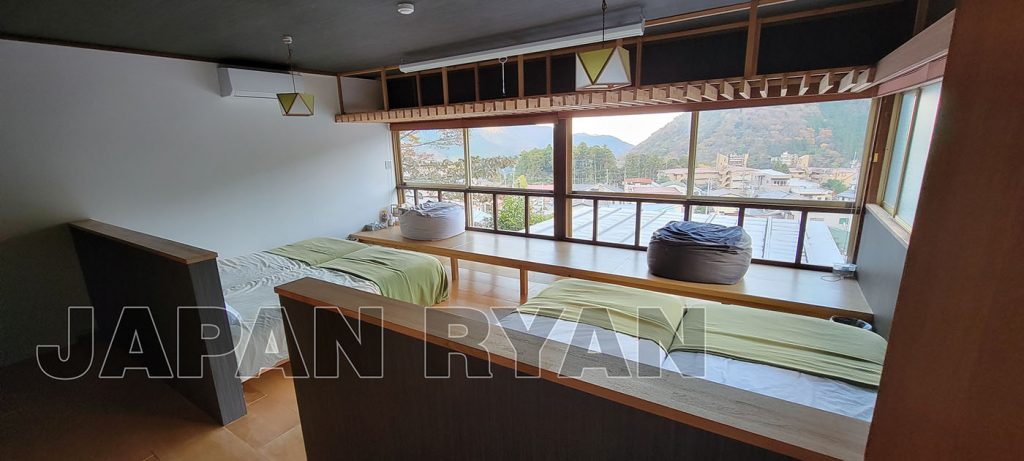 Last time we visited, we rented a small house on the side of a cliff, overlooking part of the mountains. We had a beautiful view and were greeted by a warm sunrise every morning.
Enjoy a Private Onsen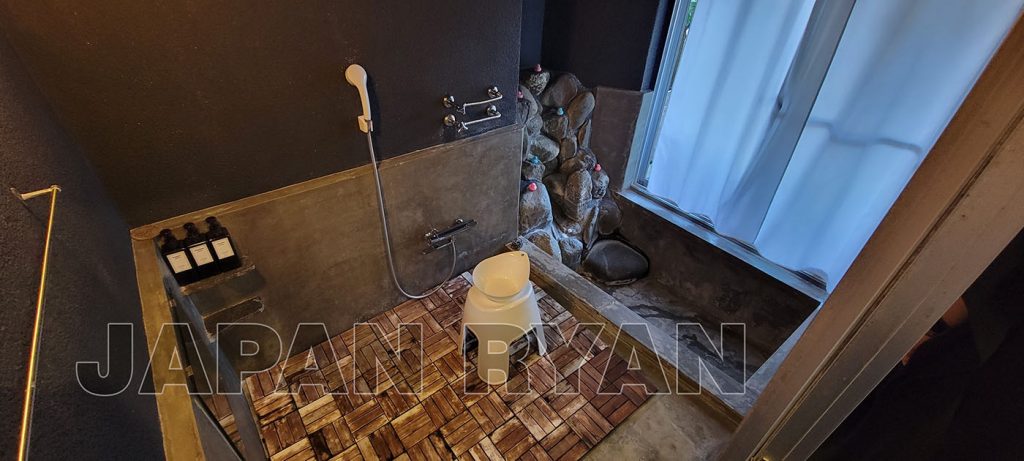 A private onsen is a traditional Japanese hot spring bath that can be reserved for exclusive use by individuals or small groups. Here are a few steps to enjoy a private onsen in Hakone.
I got one by booking a private house through a website like AirBnB. (Called "Air-B" in spoken Japanese). This allowed us unlimited access to the deep stone bath, with waters drawn from the Hakone mountain water source.
Many people will get one by finding a ryokan. Hakone is famous for its hot springs, and many traditional Japanese inns, called ryokans, offer private onsen experiences. You can find a ryokan that offers private onsens either by researching online or asking for recommendations from friends. Also, you may have to reserve time in the onsen in advance with the staff.
You could also book a room with a private onsen. Most ryokans in Hakone have private onsens available for guests to reserve. You can book a room with a private onsen in advance through the ryokan's website or by contacting them directly.
Remember to follow the rules. Private onsens typically have specific rules and etiquette that you should follow, such as removing your shoes before entering, washing your body thoroughly before entering the bath, and avoiding tattoos or exposing too much skin.
Once you've booked a room with a private onsen, you can enjoy the hot spring bath at your leisure. The private onsen is typically located in your room or in a separate area within the ryokan, and you'll have it to yourself for a designated amount of time.
A private onsen is a unique and relaxing experience that allows you to enjoy the benefits of a hot spring bath in a private and peaceful setting.
Visit the museums
Thanks to Hakone's popularity among tourists as a hot spring town, many museums are established around the area. These places are known for covering a broad range of exhibitions, which could take quite some time to cover.
Okada Museum of Art
The notable private collection pieces displayed here range from contemporary art to antiquity. You'll love their extensive collection of East Asian paintings, sculptures, and ceramics. There's even a beautiful Japanese garden within. If you find yourself parched and hungry from all the exploring, drop by their teahouse and café for some refreshments.
Hakone Open-Air Museum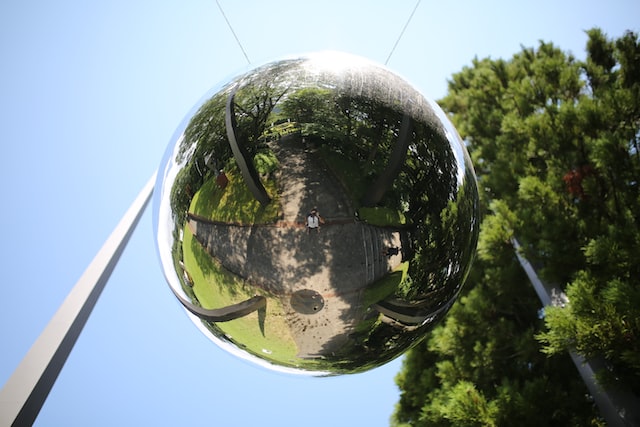 A must-see for art lovers, this large outdoor museum features sculptures by famous artists from around the world. Set against the stunning backdrop of Mt. Fuji, the place mixes outdoor installations with indoor galleries. Among the many famous names you'll see here are Rodin and Picasso. Pro tip: Spend at least two hours here, to fully appreciate the displays.

POLA Museum of Art
The displays inside this museum are private collections of POLA cosmetics group's late owner, Tsuneshi Suzaki. Some of the most notable names housed inside the museum include Picasso, Renoir, Monet, and Cezanne. The beautiful natural setting contrasts with the museum's striking architecture which also happens to display contemporary paintings and sculptures.
Hakone Glass Museum
This quaint museum features a landscaped garden around a pond made to look like a canal. Imitation Italian buildings surround the pond which houses a variety of Venetian glassware. Admittedly, the museum's collection may not be interesting enough for everyone, but the tranquil setting makes it a worthy visit. Add to that the on-site restaurant and café and you've got a nice little stop if you want to grab a bite while enjoying the view.
Visit the Hakone Shrine
Located along Lake Ashi's shore, this Shinto shrine dates back to 757. It was only in 1667 that it got relocated to its present location.
It is a beautiful and peaceful place, worth a visit for its traditional architecture and stunning setting. Don't forget to buy an omamori when in the shrine. This small amulet is meant to protect its owner. You can also buy a few as souvenirs and gift it to loved ones.
Make sure to head down to the Torii of Peace or Heiwa no Torii. This incredibly famous torii is located along the waterfront. Partially submerged in the lake water, it is notable for its bright red color, even visible when on a lake cruise. Expect a queue of people waiting for their turn to take photos especially if you're then during the weekend or holidays.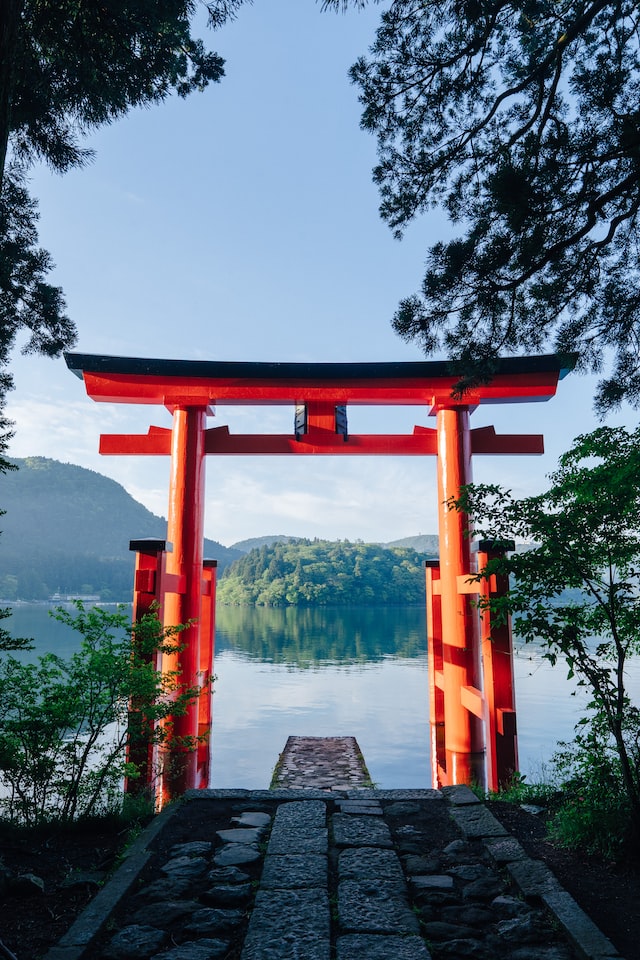 See a reconstruction of the Hakone Tokaido checkpoint
Back in the Edo period, Tokaido used to be one of the major routes that connect Tokyo (once Edo) to the then capital Kyoto. Out of the major checkpoints, the old Tokaido road used to see the most trade.
Today, a reconstruction of the checkpoint gives people a glimpse of what it used to be like in its glory days. It's located along Lake Ashi's shore, which serves as a stunning backdrop.
If you're a fan of Japanese traditional architecture, then this is where you'll see replicas of Edo period fences, gates, and other structures. There are even officer's quarters and a lookout tower, a nostalgic reminder of a time long past.
Take a cruise on Lake Ashi
Lake Ashinoko or Lake Ashi is one of the most popular attractions in the area. The caldera was formed 3000 years ago when Mount Hakone last erupted.
If you're lucky, you can get a stunning view of Mount Fuji, especially on days with low humidity. The best way to experience the scenic spot is to get on a boat cruise. It's free if you have a Hakone Free pass or will cost ¥1000 otherwise.
It usually takes about 30 minutes to complete the cruise. Be sure to look out for the Heiwa no Torii along the way and snap some pictures for posterity!
Check out Owakudani
Also known as the Great Boiling Valley, this is a highly active volcanic area even though it last erupted millennia ago. The area is peppered with bubbling pools of sulfuric water and sulfuric fumes rising up from the ground.
The area is popular for its black sulfur eggs. These eggs are literally black from being boiled in the area's sulfuric waters. They're a nice, albeit a little salty, treat which you can nibble on while enjoying the mesmerizing views. Apparently, eating an egg adds 7 more years to your life.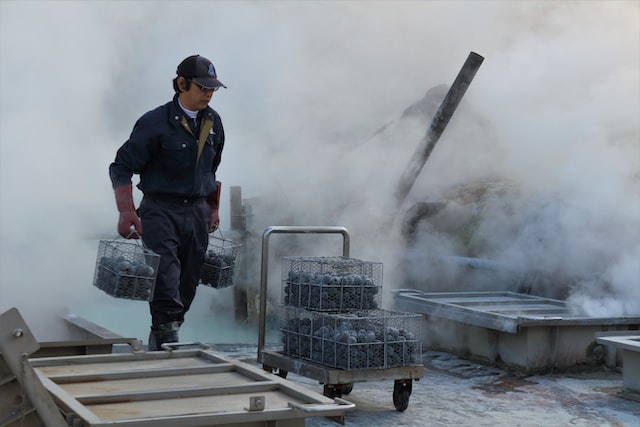 If you do plan on getting here, make sure to check the weather ahead of time. You'll need to get on the Hakone Ropeway cable cars to get here. They can get interrupted when the wind is strong. So, it doesn't hurt to take note of the weather forecast before planning your trip here.
Visit Odawara Castle
Make the most of your Hakone trip by visiting nearby Odawara Castle. Just 20 minutes away from Hakone-Yumoto Station, this used to be a critical stronghold during the Sengoku period.
In compliance with the Meiji government directive, it was pulled down around 1870-1872. In 1960, the structure was rebuilt based on historic models and drawings of the historical castle.
Open any time of the year, it is most beautiful during the spring. The cherry and plum trees surrounding the structure all come in bloom, giving the structure a magnificent color burst.
Getting to Hakone
It's possible to enjoy Hakone on a day trip. But if you have a few days to spare, a 2-3 day trip from Tokyo would be even better. This will give you enough time to not just explore the area's sweet spot. It is also a chance to stay overnight and enjoy the luxuries of traditional Japanese accommodations.
Tourists would do best by picking up a Hakone Free Pass. If you're coming from Tokyo, then this is a great way to save money. This includes a plethora of things including unlimited public transport for free in Hakone. You'll even get discounts in many of the spots in Hakone if you have the pass.
You'll want to head to Hakone-Yumoto Station from Tokyo. While you can always rent a car and drive to the place yourself, it is still most convenient to get there by train.
Getting around Hakone is easy as public transports are aplenty. From buses and ropeways to trains and cable cars, getting from one spot to the next is a breeze.
A great destination to destress and unwind
Overall, Hakone is an incredibly relaxing and beautiful place to visit. The hot springs and stunning views make it the perfect place to unwind and escape the hustle and bustle of city life. If you're looking for a place to relax and rejuvenate, Hakone is the place for you!
After a nice weekend trip to Hakone, head on back to Tokyo and Shinjuku.