Aside from the delicious food, shopping is one of the main reasons to visit Osaka. The city is home to a multitude of shopping districts and malls, offering everything from high-end designer goods to affordable everyday items. It is hardly surprising when people go all out when shopping in Osaka.
Whether you're looking for the latest fashion trends, electrical appliances, or gadgets, your options are aplenty here. The city is home to a wide variety of shopping options, from large department stores to small independent boutiques. Read on as we explore some of the city's best shopping areas where you can get the most bang for your buck.
Shinsaibashi
Perhaps one of the coolest, if not the coolest, areas in all of Osaka, it's the place to be for people that love street fashion, urban designs, and music. This one-stop shopping spot has everything from musical instruments to streetwear. It's where you'll find the city's Apple Store too.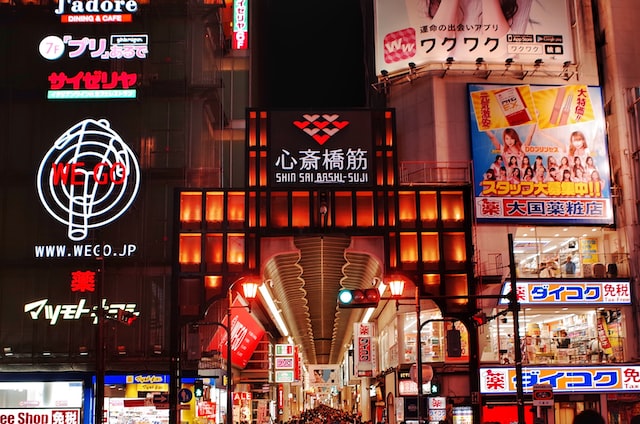 Easily accessible via the Midosuji subway line, it's easy enough to spot based on the noticeably tall buildings flocking the district. It's also close to everybody's favorite, Dotonbori.
What's even more interesting is how this entire shopping street stretches all the way to Namba for more than 600 meters. The district is named after the then-Shinsaibashi Bridge built in 1622, later removed in 1964.
This popular shopping arcade enjoys a long history of being a commercial center. Today, it is closely linked with chic brand goods and high fashion retailers. The area is also known for featuring a wide range of popular fast-food chains, ramen joints, and a variety of local restaurants.
Perhaps the most popular hangout among the younger shoppers is Amemura, which is known for its selection of trendy yet affordable goods selection. You'll find some of the big names along this street including Uniqlo, H&M, Ralph Lauren, and Zara along with more stores that sell everything from kimonos and hanging scrolls to local crafts.
Umeda
If you're looking for glitz and glamor and everything in between, then this is one spot in Osaka you can't afford to miss! Located in Kita Ward, Umeda has everything you could possibly need for your retail therapy.
With some of the biggest shopping centers in the city, it is hardly a surprise to find it at the top of everybody's shopping destination. Dotted with high-rise department stores, Umeda is great for some general shopping.
Home to six major department stores, most of these establishments are linked together by walkways underground. This makes it a breeze to go from one spot to the next. Various shops also line the walkway, making it so easy to go overboard with your shopping spree if you don't keep a tighter purse.
Perhaps the two most famous department stores in the area are Hanshin and Hankyu, which happen to be long-time competitors. If you want clothes with reasonable price tags or are looking for bargain finds, then Hanshin is more ideal. On the other hand, if top-quality goods and high-end brands are more your thing, head straight for Hankyu.
If a good mix of fashion shopping and indulging your inner foodie is what you're looking for, head to Daimaru Umeda on the south of Osaka Station. It's also home to the Pokemon Center selling everything from souvenirs to the lastest goods.
Another department store you can't miss when in the area is HEP Five. Popular among younger customers, it is hard to miss with the massive red Ferris wheel atop its roof. If you're done with shopping for the day, hopping on the Ferris wheel may be a good idea. It's a great spot to get a glimpse of the city and its many attractions from up high.
Sennichimae Doguyasuji
If you've explored Tokyo, one of its notable shopping areas is Kappabashi, which is also referred to as "Kitchen Street". It's where professionals, amateurs, and hobby cooks head when shopping for everything they need in their kitchen. Anything related to cooking, running a restaurant, or preparing food can be found here.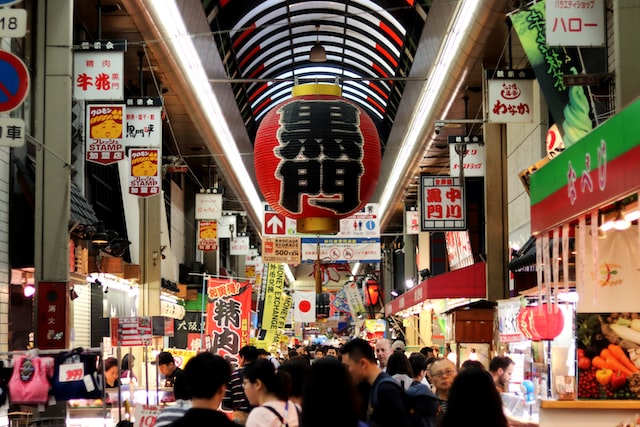 As it turns out, Osaka has its own version of Kappabashi too! Sennichimae Doguya-suji is a shopping street known for its wide array of kitchenware and utensils.
Stretching about 150 meters, this shopping street is heaven for every aspiring cook hoping to build their dream kitchen. Anything to make your cooking time easier and more efficient, you can find it here. From fancy dishes to delicate cutlery, they have it all. If you've missed your chance to drop by Tokyo's Kappabashi, it's high time you experience Sennichimae Doguya-suji!
Tenjinbashi-suji
Located near the Tenjinbashi-suji 6 Chome Station, Tenjinbashi-suji shopping street is considered the mother of all shoutengai— an outdoor shopping center. This shopping spot is also considered the longest shoutengai in the country at 2.6 kilometers long.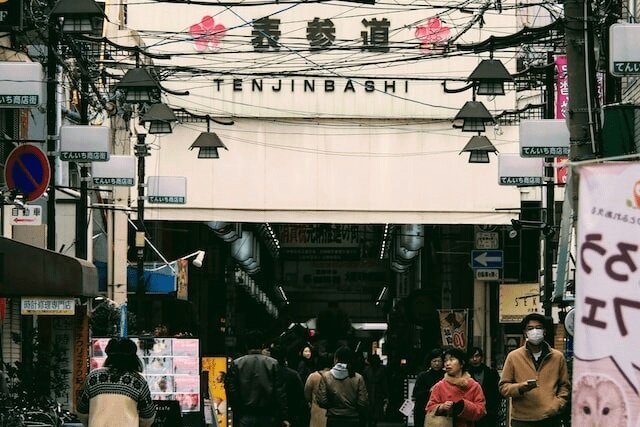 Despite its length, the place is easily accessible and is a shopper's heaven with more than 600 shops. Stores along this shopping stretch offer everything from souvenirs to clothing. You can also find shops selling everything from Japanese dishes to more modern fares, and a whole lot more!
In addition, the area is also a popular shopping destination for those looking for kitchenware and other utensils. Whether you're looking for traditional utensils to more modern cutlery, there are a plethora of choices here. And at such great prices too!
In the summer, many locals flock to this part of Osaka to shop for kimonos, fabrics, and other summer-friendly clothing. Several traditional Japanese kimono shops can be found in the area. Here, customers can try on a jinbei or a yukata for traditional occasions and celebrations requiring one.  
Honmachi
Looking forward to some cheap yet delicious food? Rearing for some wholesale shopping? You'll love spending a day or more shopping at Honmachi.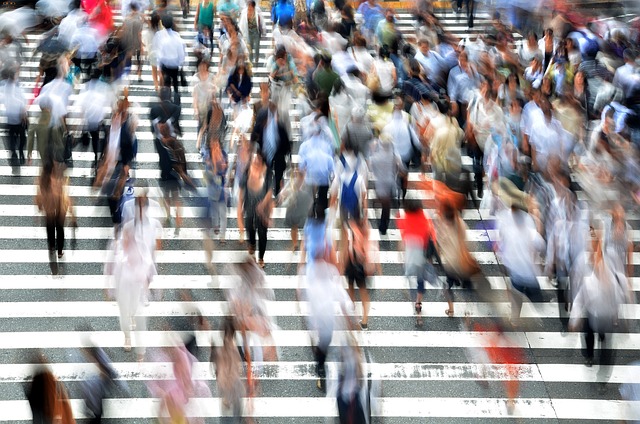 A historically upscale spot, Honmachi is located in the Midosuji line, very accessible from both Shinsaibashi and Umeda. The area is split into upper and lower Honmachi. Meanwhile, the lower area is ideally accessed through the Tanimachi line.
If you want to experience some unique Japanese shopping, the popular Hi Hi Town is always worth a visit. The myriad of shops it hosts make for a fun browsing. And the tasty food available for both locals and tourists alike is impressively wallet-friendly.
The food selection inside ranges from traditional Japanese dishes to many of Osaka's most beloved street food. From kushikatsu to takoyaki to the beloved Oden, you'll have plenty of options to fill you up.
Stop by Semba Center Building for some indoor shopping fun. Stretching up to 1000 meters long, it is a unique indoor shopping setup as it is combined into a highway. Stores selling wholesale textiles at unbelievably cheap rates and a whole host of unique finds await you inside.
Honmachi is a great place to head to if you're aiming to experience Osaka-specific shopping. Note, however, that most stores close on Saturdays. Also, most activities die down around 5opm on weekdays. So, plan your schedule accordingly.
Minoh
Want to experience the quieter side of Osaka? If you've had enough of the glitz and the glamor and the hustle and bustle of downtown Osaka, Minoh is the place. It's located on the outskirts of the city and a place to enjoy some quieter shopping.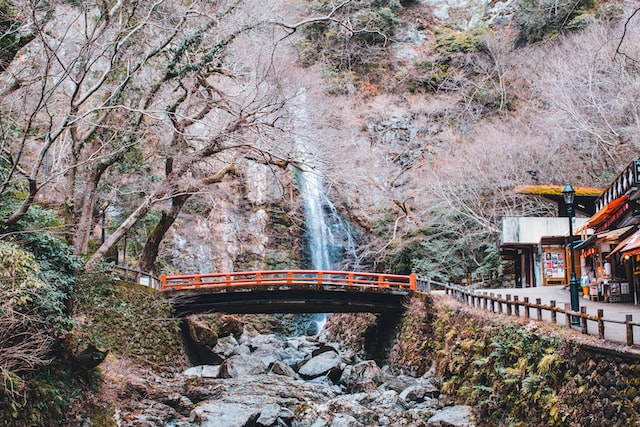 A suburb 30 minutes away from Umeda, Minoh is accessible via the Hankyu Minoh Line and Hankyu Takarazuka Line. Q's Mall is a local favorite where popular collectibles, fashion, and retail stores can be found. If you're looking for good electronic buys, Joshin offers some tax-free shopping.
If stationery and apparel shopping is what you're going for, head over to Senri Chuo. It's a shopping complex that is only 10 minutes away by taxi. You'll love their cultural and natural landscapes inside. If you're lucky, you might even run into some wildlife while strolling about.
A must-have on your way back is the Fried maple Leaves. A Minoh staple snack, it is made from maple leaves that are coated in a batter and then deep-fried. Think tempura but with maple leaves.
A shopping trip like no other
Osaka is one of Japan's most vibrant and exciting cities. From the bustling streets of Shinsaibashi to the lively atmosphere of Dotonbori, there's always something to see and do in the city. And if shopping is what you're here for, then you won't be disappointed! From small independent shops to shopping districts that seem to stretch on forever, whether you're looking for luxury goods, trendy affordable items, or a unique souvenir you can take back home, there is nothing like shopping in Osaka. So, what are you waiting for? Start planning your shopping trip to Osaka today!