Wafuku ("wa" means Japanese and "fuku" means clothing) is the name for traditional Japanese clothing. Kimono is the instantly recognizable traditional garment and is considered the national costume of Japan.

History
Nara Period (710-794)
Kosode (small sleeves) is a garment worn in this era. It was worn first as underclothes and later as an outer garment by both men and women.
Heian Period (794 – 1185)
There is a new kimono technique called straight-line-cut method developed in this era. This method involves cutting pieces of fabric in straight lines and sewing them together. Kimono makers using this technique did not concern themselves with the wearer's body. Advantages of wearing straight-line-cut kimonos are that it is (1) easy to fold and (2) could be worn in layers to provide warmth in winter and kimonos made of breathable fabric were comfortable in summer.
Kamakura Period (1192 – 1338) – Muromachi Period (1338 – 1573)
Men and women started wearing brightly colored kimonos.
Edo Period (1603 – 1868)
Japan was divided into feudal domains ruled by lord during the ruling of Tokugawa warrior clan. Samurais of each domain were identified according to the color and patterns of their uniforms. They consisted of three parts: a kimono; a sleeveless garment, known as a kamishimo, worn over the kimono to make the shoulders stand out; and a hakama, a trouser-like split skirt. Kimonos became and art form and became valuable that parents handed the kimonos down to their children as their heirlooms.
Meiji Period (1868 – 1912)
Japan was highly influenced by foreign countries. Government officials and military personnel were required by the law to wear Western clothing official citizens. Ordinary people are encouraged by the government to wear Western clothing and adopt Western habits. However, people who wear kimono during formal occasions required to use garments decorated with the wearer's crest to identify the wearer's family background.

Occasions For Wearing Kimono
Child's Birth
The parents, siblings, and grandparents go to shrine together to report child's birth between 30 and 100 days after the child is born. The baby is dressed in a white under kimono with a brightly colored yuzen-dyed kimono on top if it is a girl and black kimono with the family crest if it is a boy.
Shichi-Go-San Festival
This festival takes place in November where parents take their five-year-old, three-year-old, and seven-year-old children, dressed in kimonos, to the local shrine to thank the gods for keeping their children healthy and making them grow.
Coming-of-Age Day
This happens during the second Monday of January where young people, at the age of 20, visit a shrine to celebrate their passage into adulthood. On this event, girls wear furisode (kimono with long sleeves) and boys wear haori (half-coats) and hakama with their family crest as decorations.
Wedding
Bride and groom will often change their costumes. The bride wears a shiromuko, a heavy, embroided white kimono and an elaborate hairpiece. The groom wears a black kimono that carries family crest, hakama and a haori (half-length black coat). For male guests, Western suits with a white tie are worn.
Funerals
Men and women wear plain black kimono. Men can also wear a black suit with a black tie.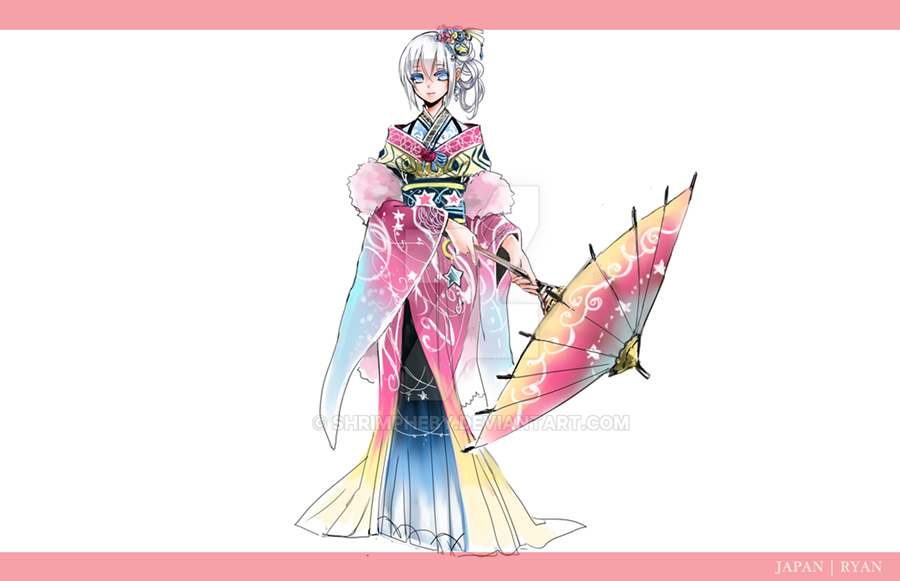 Nowadays, kimonos are rarely seen in Japan. People usually wear kimonos on special occasions only such as wedding and funeral.
Wearing a Kimono for Fun
It's not illegal to wear a kimono for fun! In Kyoto you'll find lots of shops offering kimono rental services for the day, and they'll help dress you up and everything! You're not likely to find this service very common in Tokyo, and while it does exist it will look weirder. Kyoto is a very cultural place, and so wearing a Kimono in Kyoto won't make you stand out.
Many Japanese people will wear a Kimono just for fun too. It's a bit like wearing a Tuxedo for fun. It's not terribly common, but there are people who do it and it's not really frowned upon. It's more like "Why did you dress up so fancily for today?" – Just kind of odd. But if you want to look stylish, a Kimono is an option.