Japan is a popular travel destination for its rich history, vibrant culture, and beautiful landscapes. Booking an AirBNB in Japan is an excellent way to experience local life, have a comfortable stay, and save money. I prefer them to hotels because most of the hotels in Japan are very pricey.
Here are some tips to help you book an AirBNB in Japan.
Locations are not exact.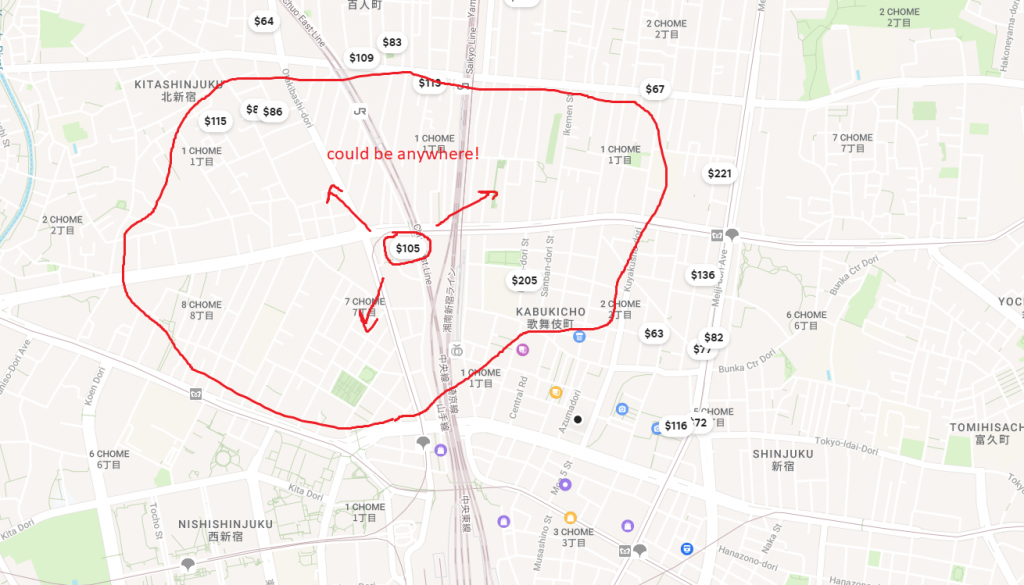 The most important thing to understand is that, for safety reasons, AirBNB does not disclose the exact address of the property until you've booked it. This means these markers on the map could be several blocks away from the actual location of the place!
Read the description of the AirBNB carefully for key information, such as "X minutes from X station", as this will help you be sure you find an AirBNB you like.
Consider the location of the AirBNB carefully. Most of the popular tourist destinations in Japan, such as Tokyo and Kyoto, have a high demand for AirBNBs. Make sure you book your AirBNB in a convenient location near public transportation, restaurants, and attractions.
Budgeting
Set a budget for your stay and stick to it. AirBNBs in Japan can range from budget-friendly options to luxury apartments. Consider your needs and preferences when choosing your AirBNB.
Watch Out For Dorm Style Rooms
Some AirBNBs will actually be shared spaces, like a dormitory. While these are great for budget-conscious travelers who travel lightly, you should not stay in them if you have valuables with you. I have had friends get stuff stolen from a dorm style room.
Sometimes its not obvious these are shared dorm spaces, but read the description closely and look out if the price to amount of space is too good to be true. These types of rooms are similar to European hostels, where you make friends and stay with strangers, but they come with very little to no privacy.
Amenities
Make sure you check the amenities offered by the AirBNB. Some popular amenities in Japan include air conditioning, Wi-Fi, and kitchen facilities. You should also check the availability of essential items like towels, bed sheets, and toiletries.
Size
Consider the size of the AirBNB based on your group size. If you are traveling solo or with a partner, a small studio or one-bedroom apartment will suffice. If you are traveling with a large group, consider booking a larger apartment or house.
Check the reviews
Read the reviews from previous guests to get a good idea of the AirBNB's comfort, cleanliness, and location. Look for reviews that are recent and have been written by guests who have similar needs and preferences to yours.
Host communication
Before you book an AirBNB in Japan, make sure to communicate with the host. Ask any questions you may have about the AirBNB, such as check-in and check-out times, local attractions, and transportation options. A responsive and helpful host can make your stay much more enjoyable.
Book in advance
AirBNBs in Japan are in high demand, especially during peak travel seasons. Book your AirBNB as far in advance as possible to avoid disappointment. If you are booking last-minute, be prepared to pay a higher price for your stay.
Payment options
Make sure you understand the payment options offered by the AirBNB. Some AirBNBs in Japan require a full payment upfront, while others allow for partial payments. Read the payment terms and conditions carefully before you make your booking.
Cancellation policy
Be aware of the AirBNB's cancellation policy. Some AirBNBs have strict cancellation policies that may result in a loss of your deposit or full payment if you cancel your booking. Make sure you understand the cancellation policy before you make your booking.
House rules
Make sure you understand the house rules before you book your AirBNB. Some AirBNBs in Japan have strict rules regarding noise levels, smoking, and pets. Make sure you adhere to the house rules during your stay to ensure a smooth and enjoyable experience.
Booking an AirBNB in Japan is a great way to experience local life, have a comfortable stay, and save money. By following these tips, you can ensure that you book an AirBNB that meets your needs and preferences. Have a great trip to Japan!